Iron Mountain Stock: Reliable Ultra-High-Dividend Stock Up 55% YOY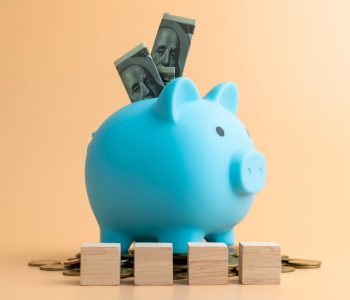 Iron Mountain Inc Reports Record Results
Iron Mountain Inc (NYSE:IRM) is a bullish, high-yield dividend stock that never seems to catch a break from analysts. More often than not, you'll hear that IRM stock is overvalued and that the company can't afford to maintain its frothy dividends.
But Iron Mountain has managed to grow its share price and its dividends over the years. And thanks to record fourth-quarter and full-year revenue, adjusted funds from operations (AFFO), and adjusted earnings, the company's outlook is bright. There's every reason to believe that Iron Mountain stock will continue to trounce the broader market and that its 4.5% dividend will keep yield hogs happy.
A real estate investment trust (REIT), Iron Mountain is the global leader in storage, asset lifecycle management, and information management services. Iron Mountain's real estate network includes 1,460 facilities in 63 countries, totaling 95 million square feet—the equivalent of 1,650 NFL football fields.
The company is trusted by more than 225,000 customers worldwide to store and protect their assets, including critical business information, highly sensitive data, and cultural artifacts. The company has 95% of the Fortune 1000 companies as customers and boasts a customer retention rate of 98%. (Source: "Investor Presentation Q4: 2021," Iron Mountain Inc, last accessed April 19, 2021.)
In January, Iron Mountain closed on its acquisition of ITRenew, a global leader in mission-critical data center lifecycle management, for $725.0 million. (Source: "Iron Mountain Closes Acquisition of ITRenew," Iron Mountain Inc, January 26, 2022.)
The acquisition provides Iron Mountain Inc with a significant opportunity to capitalize on the large and growing asset disposition market. Iron Mountain's management estimates that the IT asset disposition total addressable market is $30.0 billion and that it will expand at a compound annual growth rate (CAGR) of 11% over the next five years.
Record Q4 & 2021 Revenue & Adjusted Funds From Operations
For the fourth quarter ended December 31, 2021, Iron Mountain's revenue increased by nine percent year-over-year to a record $1.2 billion. Its fourth-quarter net income was $61.5 million, compared to $247.0 million in the same prior-year period. (Source: "Iron Mountain Reports Fourth Quarter and Full Year 2021 Results," Iron Mountain Inc, February 24, 2022.)
The company's AFFO went up by 40% year-over-year to $267.0 million, or $0.92 per share. Its adjusted earnings before interest, taxes, depreciation, and amortization (EBITDA) went up by 15% year-over-year to a record $431.0 million.
Iron Mountain Inc's funds from operations (FFO) per share in the fourth quarter of 2021 were $0.75, a 23% increase over its FFO per share of $0.60 in the fourth quarter of 2020.
"We are pleased to have delivered exceptional performance in the fourth quarter, marking a record year both in terms of revenue and profitability – in spite of COVID still impacting some of our traditional services," said William L. Meaney, president and CEO. (Source: Ibid.)
Iron Mountain Inc's full-year 2021 revenue went up by eight percent to a record $4.5 billion. Its full-year net income rallied by 32% year-over-year to $453.0 million, or $1.55 per share. Its full-year AFFO climbed by 14% year-over-year to $1.0 billion, or $3.48 per share.
The company's adjusted 2021 EBITDA went up by 10.8% year-over-year to $1.6 billion, while its 2021 FFO increased by 14.0% year-over-year to $2.76 per share.
For full-year 2022, Iron Mountain Inc expects to report:
Total revenue in the range of $5.1 to $5.2 billion, for year-over-year growth of 14% to 17%
Adjusted EBITDA in the range of $1.8 to $1.85 billion, for year-over-year growth of 10% to 13%
AFFO in the range of $1.0 to $1.1 billion, for year-over-year growth of seven percent to 11%
AFFO per share in the range of $3.70 to $3.82, representing year-over-year growth of six percent to 10%
Iron Mountain Inc Maintains Quarterly Payout at $0.6185
Iron Mountain's web site lists some key reasons why people should invest in IRM stock. For one, management says they've raised the company's dividend in nine consecutive years. (Source: "Corporate Overview," Iron Mountain Inc, last accessed April 19, 2022.)
That's true, but not current. Management hasn't raised Iron Mountain stock's quarterly payout since November 2019. They've held the distribution at $0.6185 per share for the last 10 quarters. (Source: "Dividend History," Iron Mountain Inc, last accessed April 19, 2022.)
Will the company begin raising its dividend anytime soon? In the not-too-distant future, I imagine. Management said its long-term target AFFO payout ratio is in the low to mid-60s and that the company will sustain its dividend at the current level until that target ratio is reached.
Iron Mountain's AFFO payout ratio has been improving. In the fourth quarter, it stood at 67.2%. In full-year 2021, it averaged around 71.0%. That represents a year-over-year improvement of nearly 12%. So, if the company can maintain that trajectory, it's possible that Iron Mountain Inc will boost its dividend later this year (or at least in 2023).
While investors love ultra-high-yield plays like IRM stock because of their reliable dividends, they must also be loving Iron Mountain stock because its price has been on fire lately. Trading near record levels, IRM stock is up by:
14% over the last month
28% over the last six months
Five percent year-to-date
55% year-over-year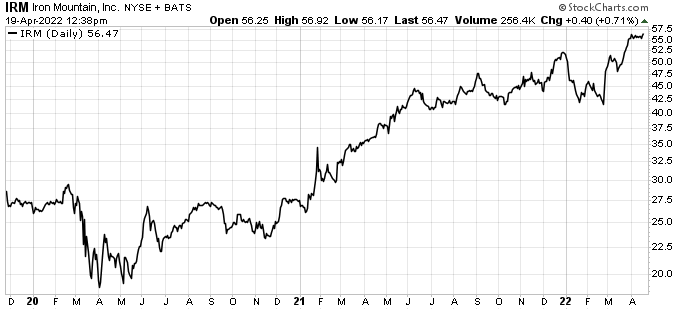 Chart courtesy of StockCharts.com
The Lowdown on Iron Mountain Stock
IRM stock is an excellent stock for investors who seek income and growth.
Iron Mountain Inc has a rock-solid balance sheet, it reported record fourth-quarter and full-year 2021 results, and it has expanded its total addressable market. Because of strong growth trends, management has provided midpoint guidance for 2022 that includes revenue growth of 16% and adjusted EBITDA growth of 12%.