Iron Mountain Inc: This 7.4% Yield Keeps Growing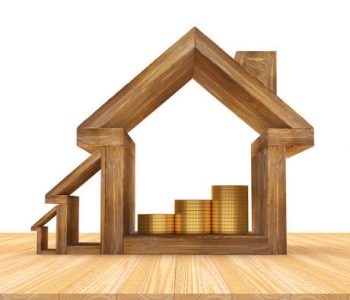 iStock.com/Ravitaliy
Is This Dividend Yield Safe?
I tend to avoid most high-yield stocks. In fact, most of the big payout names that cross my desk get tossed in the trash.
You just don't often see safety and high yields get mentioned in the same sentence too often. But today's stock, which sports a tidy 7.4% payout, should inspire faith, at least as far as we care about the distribution.
Iron Mountain Inc (NYSE:IRM) is a real estate investment trust that stores paper documents for businesses. It's a quiet but profitable business; once companies store their documents with Iron Mountain, it can be time-consuming and expensive to switch to another company.
For shareholders, this has translated into a steady stream of income. Iron Mountain has paid steady, growing distributions since 2000. Last month, management boosted the payout by four percent to $0.59 per share.
In the dividend investing world, the safest distribution is one that has just been raised. So the recent action by Iron Mountain executives should give unitholders lots of confidence.
In 2017, IRM stock paid out $440.0 million in distributions while generating $752.0 million in adjusted funds flows from operations (AFFO), a common measure of profitability in the real estate business. That comes out to a payout ratio of 58%.
Generally, I like to see companies pay out 90% or less of their cash flow in dividends. That ensures the business can continue making payments to shareholder even in the event of a bad year or two. So Iron Mountain's 58% payout ratio sits well within my comfort zone.
In 2018, analysts project that the company will generate $890.0 million in AFFO and pay out $673.0 million in distributions.
IRM stock's higher payout ratio still seems modest for a real estate business. Management could easily raise the dividend further if they wanted to.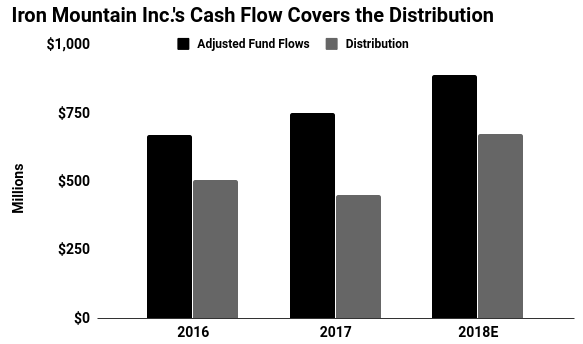 (Source: "Investor Relations," Iron Mountain Inc, last accessed November 21, 2018.)
The only thing that has me worried? Debt.
The trust has $5.60 in liabilities for every dollar of equity on the books. That leverage ratio stands a little high compared to peers and could put the distribution in jeopardy if interest rates rise.
But given Iron Mountain Inc's solid cash flow, conservative payout ratio, and respectable track record, IRM stock's 7.4% yield looks safe for now.