Iron Mountain Inc: This S&P 500 Company Yields 9%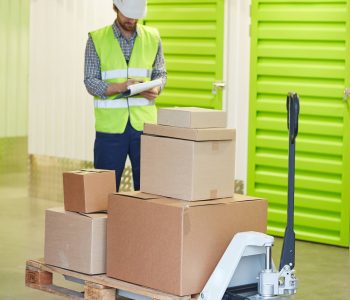 A High-Yield Stock That Could Be Special
If you've been hunting for dividends, you've probably realized that big companies tend to be on the lower end of the yield spectrum.
That is, if you go for stocks that command hundreds of billions of dollars of market capitalization, don't expect to get much in terms of yield. The reason is, mega-cap companies often have entrenched market positions and have demonstrated their resilience through thick and thin. As a result, they have large followings in the investment community. And as investors buy these companies' shares, they bid up their stock prices, causing their dividend yields to drop.
It doesn't help that we've been living in a low-interest-rate environment for more than a decade. And the economic impact from the COVID-19 pandemic means the U.S. Federal Reserve will probably keep rates down for quite some time.
When people earn next to nothing from savings accounts, dividend stocks become appealing. This only adds fuel to investors' enthusiasm toward reliable dividend-paying companies, putting more downward pressure on their yields.
To give you an idea, the average dividend yield of stocks in the S&P 500 (which consists of the biggest companies trading on U.S. stock exchanges) is just 1.85% at the moment. That figure is substantially lower than the index's historical average yield of 4.3%. (Source: "S&P 500 Dividend Yield," multpl.com, last accessed July 23, 2020.)
But even in this low-yield environment, there are companies—and I mean large, established ones—with hefty payouts. Iron Mountain Inc (NYSE:IRM) serves as a great example.
Iron Mountain is in the storage and information management business. Headquartered in Boston, the company has been around since 1951, so it has a fairly long history. In fact, it is one of the most established players in the industry.
Iron Mountain has a real estate network of about 1,480 facilities totaling over 90 million square feet. It serves more than 225,000 customers in six continents, including approximately 95% of the Fortune 1000 companies. (Source: "Investor Presentation Q2 2020," Iron Mountain Inc, last accessed July 20, 2020.)
Iron Mountain was added to the S&P 500 in January 2009 and has remained a component since then.
Yet, if an investor loads up on IRM stock today, they'll be locking in a much more generous yield than the benchmark's average.
You see, Iron Mountain has a quarterly dividend rate of $0.6185 per share; that's $2.474 per share annualized. With a share price of $27.60, simple math shows that Iron Mountain stock is offering an annual dividend yield of about nine percent.
Is the Dividend Safe at Iron Mountain Inc?
The big question now, of course, is whether the dividend is safe.
On that front, the first thing to note is that the storage and information management business tends to be recurring in nature. If a company chooses to store its valuables at an Iron Mountain facility, it's probably going to keep the stuff there instead of moving it around all the time. The high switching cost helps with customer retention.
In the case of IRM's records management business, the customer retention rate is 98%, and more than half of the boxes in its facilities stay there for 15 years on average. The recurring business model sets the company up well for paying recurring dividends. (Source: Ibid.)
Second, Iron Mountain has a solid history of dividend growth. The company has raised its quarterly dividend rate in each of the last nine years. (Source: "Dividend History," Iron Mountain Inc, last accessed July 20, 2020.)
Obviously, the outbreak of COVID-19 has changed the outlook for many businesses, and past performance does not guarantee future results.
In light of the uncertain operating environment, IRM's management announced in May that they had withdrawn their previously-issued guidance for 2020. (Source: "Iron Mountain Reports First Quarter 2020 Results," Iron Mountain Inc, May 7, 2020.)
However, the company is still determined to return cash to investors. In a virtual investor conference in June, Chief Financial Officer Barry Hytinen said, "From a long-term perspective, our priorities are to have a sustainable dividend. So, over the next few years, I think you should read that as being sustainable and flat in this environment." (Source: "Iron Mountain Incorporated (IRM) CEO Bill Meaney Presents at 2020 Nareit REITweek Virtual Investor Conference (Transcript)," Seeking Alpha, June 2, 2020.)
That is, Iron Mountain Inc probably won't be increasing its dividend, given the current circumstances. But if the company can maintain its current level of payout, that would make its nine-percent yield very appealing to income investors.