Iron Mountain Inc: Market-Trumping Stock at Record Levels; Pays 6.5% Dividend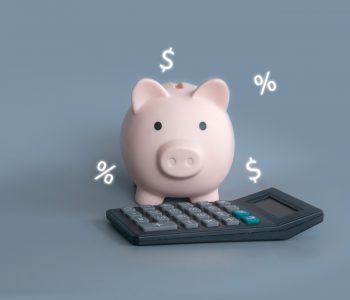 Iron Mountain Stock Has Raised its Annual Dividend for 9 Years
If knowledge is power, Iron Mountain Inc (NYSE:IRM) helps hundreds of thousands of customers stay at the top of their game. And thanks to the company's diversified business model, unmatched customer base, and 98% customer retention rate, it has been able to provide investors with strong share-price growth and a frothy dividend, which currently stands at 6.5%.
Iron Mountain is the global leader in storage and information management services. Trusted by more than 225,000 organizations around the world, the company stores and protects billions of valued assets, including critical business information, highly sensitive data, and cultural artifacts. It has a real estate network of nearly 93 million square feet across approximately 1,450 facilities in 56 countries. (Source: "Investor Presentation: Q1 2021," Iron Mountain Inc, last accessed April 20, 2021.)
Iron Mountain is an excellent company that not only weathered the coronavirus pandemic, but came out the other side stronger, with an even brighter future.
IRM stock has been on a tear over the last 12 months. Trading at record levels, Iron Mountain stock is up 52.7% year-over-year and 30% year-to-date. By comparison, the S&P 500 is only up 45% year-over-year and 11% year-to-date.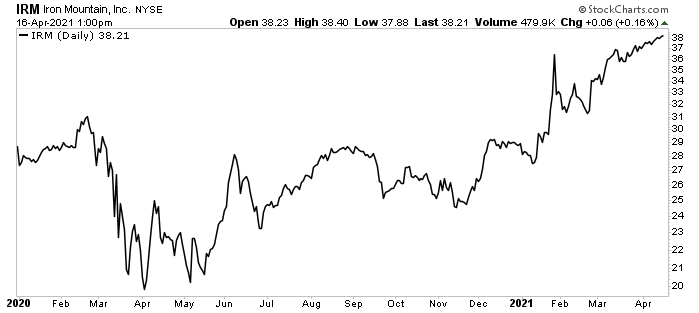 Chart courtesy of StockCharts.com
Despite the massive share-price gains, IRM stock continues to pay a frothy, high-yield dividend of 6.5%, or $2.47 per share (annualized).
Iron Mountain makes a point of saying on its investor relations web site that it has raised its annual dividends for the last nine years, which suggests that management wants to take that to a record 10 years.
The last time the company raised its quarterly dividend, though, was in the fourth quarter of 2019. Management has left Iron Mountain stock's dividend at $0.6185 since then. Despite leaving the dividend unchanged for six quarters, Iron Mountain paid out an annual dividend of $2.45 in 2019 and $2.47 in 2020. This technically leaves the company in a position where it can say it has continued to raise its annual dividends. (Source: "Dividend History," Iron Mountain Inc, last accessed April 20, 2021.)
While this may be disappointing for income hogs, it's important to note that it also means the company kept its dividend at a record-high level during the worst economic crisis in nearly 100 years. At a time when many companies have been slashing or ending their dividend payouts, maintaining a record-high dividend is a vote of confidence by the board of directions.
To keep its annual dividend increases intact, Iron Mountain will have to raise IRM stock's quarterly dividend payout in one of the next three quarters. And by all accounts, there's every reason to believe it will.
In February, the company announced its financial results for the 2020 fourth quarter and full year. Its income from continuing operations was $246.8 million in the fourth quarter, compared to $37.1 million in the fourth quarter of 2019. (Source: "Iron Mountain Reports Fourth Quarter and Full Year 2020 Results," Iron Mountain Inc, February 24, 2021.)
The company reported fourth-quarter net income of $246.8 million ($0.86 per share), compared to $37.1 million ($0.13 per share) in the same prior-year period.
Iron Mountain's funds from operations (FFO), a figure used by real estate investment trusts (REITs)—similar to cash flow from operations—came in at $0.66, compared to $0.67 in the fourth quarter of 2019. Its adjusted FFO was $190.8 million ($0.66 per share) for the fourth quarter, compared to $233.1 million ($0.81 per share) in the fourth quarter of 2019.
Again, IRM stock paid out a quarterly dividend of $0.6185, so the company's fourth-quarter AFFO was more than enough to cover the payout.
Iron Mountain Inc's full-year AFFO was $887.5 million ($3.07 per share), compared to $867.0 million ($3.01 per share) in 2019. Remember, in 2020, Iron Mountain's annual dividend payout was $2.47 per unit. This gives the company plenty of financial wiggle room to not just maintain its high dividend payout, but to increase it.
"We couldn't be more pleased with the way our Mountaineers navigated the challenging environment in 2020, brought on by COVID-19," said William L. Meaney, president and CEO. (Source: Ibid.)
He added, "…as we look to 2021 and beyond, I've never been more optimistic about our opportunities for growth at any other time in our history, even with the anticipated continued headwinds due to COVID-19 impacting the revenue from our traditional service areas."
The Lowdown on Iron Mountain Inc
For years, Wall Street bears have been chiming in about how overvalued and outdated Iron Mountain Inc is. But the company continues to prove them wrong year after year.
Trading at record levels, Iron Mountain stock has, over the last 10 years, expanded at a compound annual growth rate of approximately 10%. Despite the coronavirus pandemic crippling the global economy in 2020, Iron Mountain reported solid full-year results. Whereas 2020 was a year of resilience, investors can expect 2021 to be a year of growth. That would be a boon for IRM stock's price and its growing, high dividend yield.