Iron Mountain Inc: This "Cash Cow" Now Pays 8.1%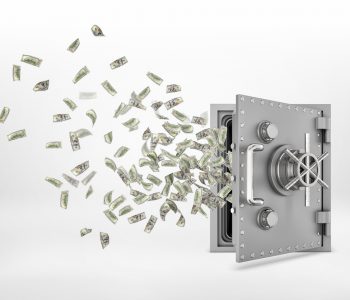 iStock.com/Gearstd
Start Milking Iron Mountain Inc for Steady Income
If you're looking for more investment income, then you need to investigate this quiet stock market niche: cash cows.
Cash cows are mature businesses with little room for expansion. Because they have to invest little in new properties, plants, or equipment, investors can "milk" these operations for ongoing income.
As a result, these stocks sport some of the highest yields around. In my paid-subscription newsletters, I've highlighted cash cow companies with payouts of 12%, 15%, and even 21%. And today's column highlights one of my favorites.
Iron Mountain Inc (NYSE:IRM) is one of the largest storage businesses in the world. The partnership owns over 1,400 facilities worldwide, totaling more than 90 million square feet of real estate. (Source: "Durable Business Drives Cash Flow and Dividend Growth," Iron Mountain Inc, last accessed July 16, 2019.)
Iron Mountain's temperature-controlled vaults hold some unusual assets, including fine artwork, vintage Hollywood films, and priceless historical documents.
Management makes their real money, however, in document storage. Customers pay a fee between $0.10 and $0.22 per cubic square foot each month. Multiply that by the 700 million cubic feet of records sitting in the company's vaults (enough to fill the Houston Astrodome 18 times) and you start to appreciate the size of this income stream.
This business gushes cash flow. Iron Mountain's properties amount to dull, gray warehouses that sit on the outskirts of cities. Compared to more glamorous properties like office towers or shopping malls, these facilities require little in the way of upkeep or fancy finishings. As a result, almost every dollar of income flows straight to the bottom line.
High switching costs keep margins thick. Aside from the hassle of moving to different vendors, customers have to pay a fee between $1.65 and $2.77 per cubic square foot to retrieve any documents. That has translated into a 98% customer retention ratio, with new sales and replacement volumes consistently outpacing withdrawals every year.
This has created quite the income stream for shareholders. Since 2010, the company's distribution has increased more than sevenfold. Today, Iron Mountain stock pays a quarterly distribution of $0.61 apiece, which comes out to an annual yield of almost 8.1%.
This business model has resulted in impressive capital gains, too. If you had invested $10,000 in Iron Mountain's initial public offering back in April 1999, your position would be worth $44,000 today. By comparison, the same investment in the S&P 500 would only be worth $22,100.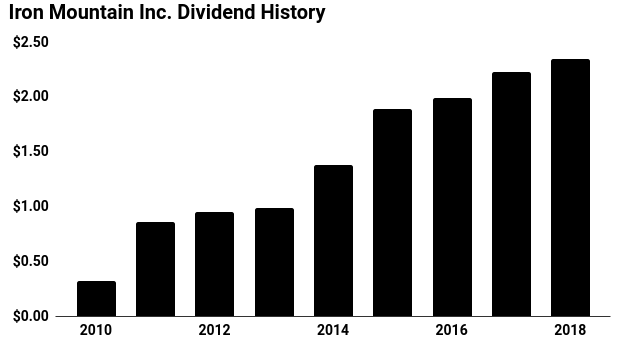 (Source: "Iron Mountain Incorporated (IRM)," Yahoo! Finance, last accessed July 16, 2019.)
Currency fluctuations present the biggest risk here. Because Iron Mountain has developed a large business worldwide, a strong U.S. dollar suppresses the value of those international profits. This explains why IRM stock has underperformed the broader stock market over the past few years.
I don't expect this problem to last forever, though. Management continues to build out its business, adding customers, hiking rent prices, and gobbling up new properties. In the meantime, shareholders can be content milking this business for its exceptional dividend.
That's the benefit of investing in a "cash cow" business.