Iron Mountain Inc: The Best 7.8% Yielder on the Market?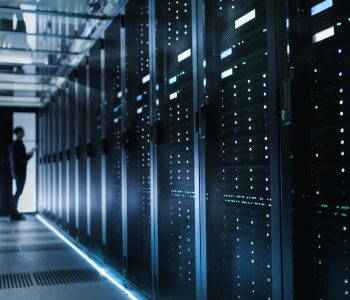 iStock.com/gorodenkoff
IRM Stock: Is the Share Price Misleading?
In today's market, high-yield stocks are usually not the safest bets. I mean, if a company is solid and offers a yield much higher than its peers, income seekers would be rushing to buy its shares, bidding up the stock price and lowering its yield.
Still, while investors should approach high yielders with caution, it doesn't mean we should ignore them completely. For instance, Iron Mountain Inc (NYSE:IRM) currently offers an extremely generous payout relative to its share price. And I believe its stock is worth considering for even the most risk-averse income investor.
Iron Mountain Inc
Headquartered in Boston, Iron Mountain is in the storage and information management business. While we don't really see IRM stock mentioned in the news that often, the company is one of the biggest players in its industry.
It has been around since 1951, and now has a network of 1,450 facilities totaling more than 90 million square feet. Over the years, Iron Mountain's presence has expanded to approximately 50 countries around the world. The company now has a total customer base of around 225,000, including 95% of Fortune 1000 companies. (Source: "Durable Business Drives Cash Flow and Dividend Growth June 2019," Iron Mountain Inc, last accessed June 12, 2019.)
Other than its established market position, another thing that makes Iron Mountain stand out is the recurring nature of its business. You see, when a new customer signs up to use the company's storage service, chances are it's not just going to be a one-time sale. Instead, the customer will likely keep their valuables at Iron Mountain's facilities and make payments to the company on a regular basis.
As a matter of fact, Iron Mountain currently boasts a staggeringly high 98% customer retention rate. Furthermore, 51% of the boxes that were stored at the company 15 years ago still remain at its facilities. (Source: Ibid.)
But this shouldn't really come as a surprise. For a customer who has valuable items that need to be stored away, they would be looking for a trusted name in the business. Iron Mountain Inc, which has been in business for more than six decades, fits the bill perfectly. And since switching storage providers can come at a substantial cost, when a customer gets on board, they tend to stay with the company for a very long time.
And as you would expect from a decades-old company with a recurring business model, Iron Mountain has the ability to pay generous dividends.
Returning Cash to Investors
Right now, Iron Mountain has a quarterly dividend rate of $0.61 per share, which comes out to an annual yield of 7.8%.
Of course, as I mentioned earlier, a 7.8% yield in today's low-yield environment won't seem like the safest bet. However, Iron Mountain does have a solid business in place, and if you take a look at its financials, you'll see that the company has no problem covering its payout.
In 2018, Iron Mountain generated adjusted funds from operations (FFO) of $874.0 million, representing a 16.2% increase from the $752.0 million earned in 2017. And since the company declared total dividends of $680.0 million for the year, it had a payout ratio of 90.4%. (Source: "Iron Mountain Reports Fourth-Quarter and Full-Year 2018 Results," Iron Mountain Inc, February 14, 2019.)
In other words, the company was paying out less money than it earned, which is exactly what conservative income investors want to see.
Mind you, Iron Mountain is paying not just a steady dividend, but an increasing one. The current quarterly rate of $0.61 per share was the result of a four-percent dividend hike announced last October. Over the past five years, IRM stock's quarterly payout has more than doubled. (Source: "Dividend History and Tax Treatment," Iron Mountain Inc, last accessed June 12, 2019.)
Obviously, this also means that the company is going to pay more dividends in 2019 than it did in 2018. Still, management is confident about the safety of their dividend policy.
According to Iron Mountain's first-quarter investor presentation, management projected that the company's adjusted FFO would be in the range of $870.0 to $930.0 million in full-year 2019. Meanwhile, they plan to pay $703.0 million in dividends to Iron Mountain stock investors for the year. If the company achieves this guidance range—which is highly likely, given the recurring nature of its business—it should have no problem covering its dividend payments in 2019. (Source: "Q1 2019 Financial Results," Iron Mountain Inc, April 25, 2019.)
The Bottom Line on IRM Stock

At the end of the day, keep in mind that Iron Mountain Inc has chosen to be regulated as a real estate investment trust. That means it is required by law to pass at least 90% of its profits to shareholders through regular dividend payments. Therefore, if the company makes more money down the road, investors will likely get bigger dividend checks in the mail.
Add it all up and you'll see that IRM stock stands as one of the best high yielders in today's market.