Iron Mountain Inc: 2020 Could Be a Big Year for This 8.2% Yielder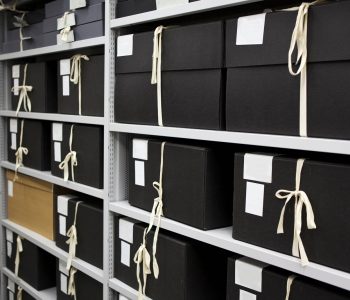 Iron Mountain Stock Could Deliver Big Returns
Just over two months into the New Year and some companies have already delivered serious returns to investors.
Check out Iron Mountain Inc (NYSE:IRM), a storage and information management services company headquartered in Boston. Iron Mountain was founded in 1951 and went public in 1996, so it is not exactly a new name to stock market investors. And yet, this nearly-seven-decade-old company has seen its share price surge almost 10% year-to-date.
The best part is, this could just be a start.
Here's why.
Iron Mountain's business model is very easy to understand. It owns a real estate network of almost 1,450 facilities in about 50 countries around the world. With these facilities—which total over 90 million square feet—Iron Mountain helps companies store and protect critical business information, highly sensitive data, and cultural and historical artifacts. (Source: "Iron Mountain Reports Fourth Quarter and Full-Year 2019 Results," Iron Mountain Inc, February 13, 2020.)
Other than secured record storage, Iron Mountain also provides information management, digital transformation, secure destruction, data centers, cloud services, and art storage and logistics.
If you take a look at the IRM stock chart, you'll see that its shares haven't been hot commodities for most of the past year. But with the company's latest earnings release, that could be about the change.
Iron Mountain Inc (NYSE:IRM) Stock Chart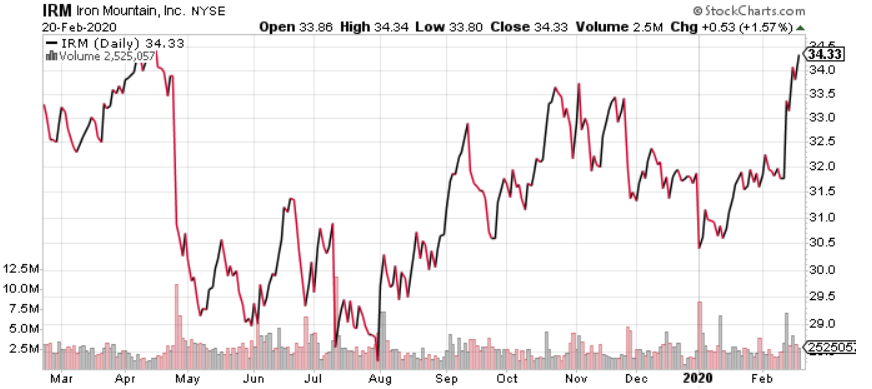 Chart courtesy of StockCharts.com
Iron Mountain reported fourth-quarter and full-year 2019 results on February 13, 2020. The report showed that, in the fourth quarter, IRM's revenue grew 1.9% year-over-year to $1.08 billion. Excluding the impact of exchange rate fluctuations, total revenue was up 2.7%. (Source: Ibid.)
Top-line growth also translated to the bottom line. In the fourth quarter, the company's adjusted earnings came in at $0.31 per share, up 24% from the year-ago period.
And like many companies that are in the real estate business, Iron Mountain Inc also reports funds from operations (FFO). In the fourth quarter, the company generated $0.65 per share of FFO, which represented a year-over-year increase of 16%.
To put those numbers in perspective, Wall Street analysts were expecting revenue of $1.07 billion and FFO of $0.63 per share from the company. In other words, Iron Mountain beat both the top-line and FFO expectations from Wall Street.
In the trading session following the company's latest earnings release, Iron Mountain stock shot up 4.8%.
Looking ahead, management expects Iron Mountain Inc to earn $4.4 to $4.5 billion of revenue in full-year 2020, which would represent approximately a three to five percent increase from the $4.3 billion it earned in 2019. At the same time, Iron Mountain's adjusted funds from operations (AFFO) are expected to grow by between nine percent and 12% for the year to the range of $930.0 to $960.0 million.
If the company delivers on those growth numbers, it will give investors a good reason to continue liking this decades-old stock.
The Real Reason to Like IRM Stock
Of course, no one can predict a stock's price movements with certainty. And as we have seen plenty of times, even companies with booming businesses can see their share prices decline.
And that brings us to the real reason why I'm talking about Iron Mountain stock on Income Investors: dividends.
You see, even though Iron Mountain is not as well known as the blue-chip dividend stocks, it is actually one of the most generous dividend payers in the entire stock market. Paying investors almost $0.62 per share on a quarterly basis, IRM stock offers an annual dividend yield of 8.2%.
The payout has been on the rise, too. In just the last five years, Iron Mountain's quarterly dividend rate has increased by 30%. (Source: "Dividend History and Tax Treatment," Iron Mountain Inc, last accessed February 13, 2020.)
And if you are wondering whether the company can afford those dividend hikes, don't worry. In 2019, Iron Mountain generated AFFO of $856.0 million while paying approximately $705.0 million in total dividends. That translated to an AFFO payout ratio of 82%, leaving a margin of safety.
I should also point out that Iron Mountain's business model makes it well positioned to pay reliable dividends. Think about it: when a company stores its valuable assets with IRM, chances are it wants to keep the stuff there for quite some time.
In fact, Iron Mountain boasts a customer retention rate of 98%, and more than half of the boxes stay at its facilities for 15 years on average. (Source: "Investor Presentation January 2020," Iron Mountain Inc, last accessed February 28, 2020.)
Ultimately, like all stocks, IRM could go up or down in 2020. But with a safe and growing dividend stream that already yields 8.2%, Iron Mountain Inc represents a solid income opportunity.