Why Investors Are Happy to Hang On to Walt Disney Co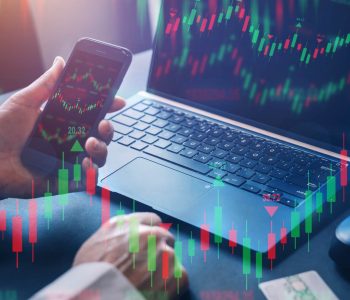 After Rough Patch, Disney Stock Is Making a Comeback
This past spring, when the COVID-19 pandemic brought the U.S. economy to a standstill, some investors vowed to stick by Walt Disney Co (NYSE:DIS).
They're probably glad they did.
Selling in a panic rarely pays off. And while luck appears to be on their side this time—new vaccines look poised to end the pandemic in the near future—the rebound in the stock market highlights why I believe in a buy-and-hold investing strategy.
DIS stock, in particular, has rebounded. Shares of the entertainment giant fell from a high of $151.00 per share back in November 2019 to $85.80 by March 2020. But since then, Disney stock has recovered all of its losses from its COVID-19 swoon. In fact, at the time of this writing, the shares trade at fresh all-time highs.
Despite the ongoing uncertainty surrounding COVID-19, I remain a big fan of DIS stock. And I continue to list it as a marquee member of the Automated Income model portfolio.
Here's why:
Admittedly, COVID-19 continues to wreak havoc on the company's operations. Theme park sales? Awful. Toy merchandise revenues? A disaster. Cruise ship bookings? Don't look. Box office numbers? Ugh. TV ad revenue? Blah. (Source: "The Walt Disney Company Reports Third Quarter and Nine Months Earnings for Fiscal 2020," Walt Disney Co, August 4, 2020.)
You don't need an MBA to figure out that this is bad news for earnings. This summer, the company posted its first quarterly loss since the dotcom bubble burst in 2001. And in November, management released another round of dreadful earnings results.
Yet despite the doom and gloom, you can still find a few bright spots. The company's streaming service, "Disney+," has turned out to be a huge hit. As of October 3, the division reported 73.7 million paid subscribers. That's up from 60.0 million from the previous reporting period. (Source: "The Walt Disney Company Reports Fourth Quarter and Full Year Earnings for Fiscal 2020," Walt Disney Co, November 12, 2020.)
Movie studios have mostly resumed their normal operations. Cameras have started rolling once again on live-action shoots. Animators now draw from their home offices. This leaves executives in a good position, no matter what happens in the coming months. If theaters reopen, they have plenty of films in the pipeline to generate revenue. But if society remains in a COVID-19 lockdown, they can simply send new shows and movies straight to Disney+.
But there's good reason to believe COVID-19 won't be an issue in, say, a year's time. Recently, several biotech companies, including Pfizer Inc. (NYSE:PFE) and Moderna Inc (NASDAQ:MRNA), revealed that they had developed safe, effective COVID-19 vaccines. That news sent Disney shares surging more than six percent as traders began pricing in the reopening of the company's theme parks and cruise lines. Not to mention the bump in advertising revenues from Disney's mammoth ESPN TV network.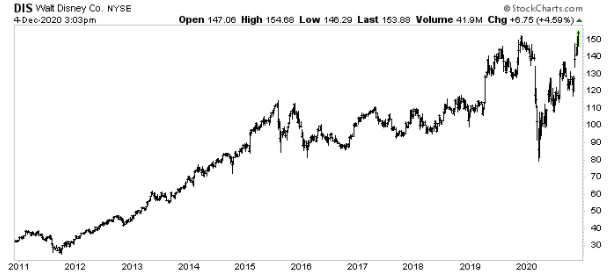 Chart courtesy of StockCharts.com
All of which should mean a big payday for Walt Disney Co shareholders in the near future. In a bid to conserve cash, Disney executives suspended the company's dividend and stock buyback program last spring. (Source: "Disney Suspends First-Half Dividend Amid Covid-19 Disruption," Barron's, May 6, 2020.)
But with the business poised to resume normal operations soon, the cash payouts will start up again shortly. That's why Wall Street has already started bidding up shares.
Lesson learned: Holding the course tends to pay off over the long haul.