Invest in Real Estate: Collect Monthly Rental Income Without Dealing With Tenants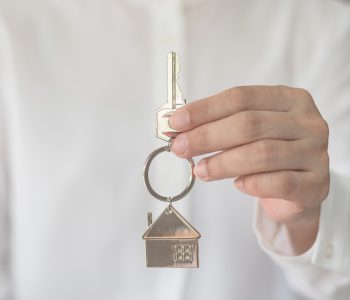 iStock.com/noipornpan
Hate Tenants? Here's a Better Way to Invest in Real Estate
Investing in real estate seems like a great idea. That is, until you consider the hassle of dealing with tenants.
Everyone has heard those landlord horror stories of a renter trashing their apartment or not paying their rent. Regulators often stack the rules in favor of tenants, making it almost impossible to evict anybody.
But even if you snag a good tenant, investing in real estate can be a hassle, based on the contract. Besides the issues of property damage and late payments, menial tasks like mowing the lawn and unclogging the toilet may be the responsibility of the landlord.
Thankfully, there's a better way.
Real estate investment trusts (REITs) represent one of my favorite asset classes. For those unaware, these are partnerships that buy properties and collect rent from tenants. Each month, they pass on their income to owners. And because many trade publicly on stock exchanges, you can buy and sell them like any other stock.
I keep a large percentage of my net worth in REITs. Every 30 days, I receive a check for a few hundred dollars, which covers some of my monthly bills and even funds a nice vacation. And for those of us looking to invest in real estate, they provide a compelling alternative to traditional rental properties. Here's why.
All About REITs
REITs are notable for often earning better returns than mom-and-pop investors.
Large partnerships can spread their fixed costs over a wide base of sales. Their raw size also allows them to negotiate better deals with suppliers and borrow funds at lower rates.
REITs own better properties as well. As individual investors, few of us will ever buy a downtown office building in New York or a ritzy shopping mall in downtown San Francisco. But with the click of a mouse, REITs allow us to become part owners in some of the world's best trophy assets.
This has translated into outstanding returns for unitholders. Since 1999, REITs have delivered a compounded total return of 9.9% annually. That performance beat every other asset class, including stocks, bonds, and gold.
REIT owners also benefit from having less stress. Rental properties often require borrowing hundreds of thousands of dollars on top of a hefty down payment, never mind the hassle of chasing down deadbeat tenants.
With REITs, in contrast, you can get started with just $20.00. A professional management team handles all of the day-to-day operations. Once you set up your investments, the checks roll in like they're on autopilot.
The best part? Income.
By law, REITs must pay out at least 90% of their profits to unitholders. As a result, some of these partnerships gush income.
The typical REIT yields between four and six percent. Savvy investors, though, can find bigger payouts with a little digging. And as executives raise rents on tenants, those income streams grow over time.
| | | |
| --- | --- | --- |
| Name & Stock Ticker | Industry | Yield |
| Global Net Lease Inc (NYSE:GNL) | Office | 11.4% |
| Iron Mountain Inc (NYSE:IRM) | Storage | 7.4% |
| HCP, Inc. (NYSE:HCP) | Health Care | 5.0% |
| Realty Income Corp (NYSE:O) | Retail | 3.9% |
| Crown Castle International Corp. (NYSE:CCI) | Cell Phone Towers | 3.7% |
(Source: Yahoo! Finance, last accessed April 25, 2019.)
The Bottom Line on Real Estate Investment Trusts
The downsides?
When you invest in these partnerships, you're handing over control to executives. A bad management team can result in lackluster returns.
Different types of properties also come with different types of risks. "Plain Jane" rental properties tend to deliver recession-proof income (people have to live somewhere), but more exotic assets, like warehouses, office towers, and shopping malls, could suffer in a downturn.
The trick is to do your homework. Investing in real estate requires more due diligence than picking the highest upfront yield, but those who are willing to dig into the numbers can enjoy lucrative income streams. I do much of that heavy lifting in my Retirement Riches, Automated Income, and Passive Monthly Income advisories. REITs as a group have delivered some of the best returns for my subscribers, well outpacing most stocks.
My approach: if you want to invest in real estate, take a look at this asset class. Who wants to spend their retirement dealing with tenants? REITs provide a much better alternative.