International Business Machines Corp.: Can IBM Stock Sustain Its Dividend?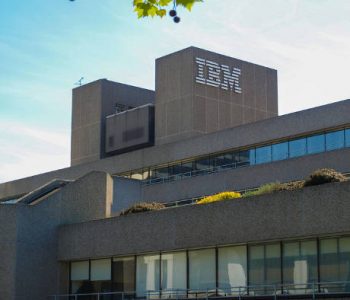 IBM Stock: A Future Bet Worth Making
Is International Business Machines Corporation's (NYSE:IBM) dividend growth under threat?  This is a crucial question for long-term investors in IBM stock as this technology giant tries to reinvent itself when demand for its desktop computers and big servers is waning.
The biggest challenge for this 105-year-old technology company came from cloud computing, a technology that allows companies to outsource their data management services, eliminating the need for investing in expensive in-house infrastructure and providing them with a flexibility to focus on their core businesses. This shift is making IBM's core revenue-generating businesses, including its heavy servers and mainframes, redundant for its largest cooperate clients.
As this threat started to emerge more seriously for IBM in early 2013, investors in IBM stock began to shun the company's shares. IBM stock lost half of its value in the next three years from its all-time high achieved in early 2013.
But despite this challenging environment, IBM continued to generate cash and rewarded investors with dividend increases each quarter. Since 2010, IBM has more than doubled its quarterly dividend per share. (Source: "Dividends (2010 – )," International Business Machines Corporation, July 28, 2016.)
And it seems bulls are getting the message; they've started to circle the IBM stock again after the disastrous last three years. IBM stock surged about 15% so far this year, outperforming both Microsoft Corporation (NASDAQ:MSFT) and Intel Corporation (NASDAQ:INTC) with a huge margin.
So what has changed in IBM's business model which is making it an attractive dividend option for income investors once again?
Chief Executive Officer Ginni Rometty provided this answer earlier this year, when she presented her vision about transforming IBM into the leading cognitive solutions and cloud platform provider. "IBM is transforming its business into a cognitive solutions and cloud platform company," she said. "Our strong profit and cash flow performance allow us to make the investments required to drive this transformation, while continuing to return significant capital to shareholders." (Source: "IBM Reports 2016 Second-Quarter Earnings," International Business Machines Corporation, June 30, 2016.)
IBM Stock: Shift to Cognitive Computing Helping Sales
Cognitive computing helps companies to improve customer engagement and enhance research capabilities. Cognitive computing makes machines more adaptive and intelligent, unlike traditional computing applications, which perform according to preconfigured programs.
IBM is trying to take the bigger share of this growing business by aggressively acquiring startups in this space. In the first half of this year, IBM spent $5.4 billion on acquiring new companies.
According to Winter Green Research, the global healthcare decision support market alone will increase to more than $200.0 billion by 2019 as a result of new cognitive computing technologies.  (Source: "2015 IBM Annual Report," International Business Machines Corporation, last accessed September 16, 2016.)
Rometty efforts to make money by helping companies to make sense of a large trove of unstructured data have started to pay off.
Revenue at IBM's analytics, cloud, and mobile divisions rose by 26% last year and generated $29.0 billion, representing 35% of IBM's total revenue. And during the past 12 months, IBM's "strategic imperative" unit, which includes its data, cloud, and engagement businesses, produced sales which contributed 38% of the company's total revenue mix. (Source: Ibid.)
The Bottom Line on IBM Stock
Analysts who are covering IBM stock are also impressed by its performance. Morgan Stanley upgraded its recommendation on IBM stock earlier this year from "neutral" to "buy," saying investors were discounting the potential upside which IBM stock offers through the company's emphasis on analytics and the cloud. (Source: "IBM Jumps After Morgan Stanley Ups Rating, Says Transformation Underappreciated," TheStreet, February 18, 2016.)
With an improving business outlook and strong cash generation capability, it's highly unlikely that income investors will see a cut in IBM dividend in the near future. I believe IBM stock is a bet worth considering for dividend investors.