INTC Stock: Is Intel Corp's Dividend Worth Holding On To?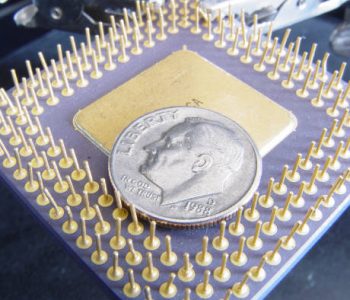 Intel Stock: Emerging Strongly From PC Market Downturn
Investors haven't been bullish on Intel Corporation (NASDAQ:INTC) stock this year, as one of the top chip-making companies struggles to cope with a slowing demand for personal computers. But by focusing on just the Intel stock price, many investors have missed an important aspect of this great technology story: it has paid uninterrupted dividends for the past 24 years.
However, given the negative action on Intel's stock price, investors are zeroing in on the company's ability to maintain its dividend payout in the long run. Over the past month, Intel stock has fallen about nine percent as worldwide PC shipments declined about four percent in the third quarter of 2016. (Source: "PC Competitors Position for Share and Growth, Despite Challenges, According to IDC," BusinessWire, October 11, 2016.)
But if you analyze the company's latest earnings report, you'll find that all isn't that bad for Intel, which has shown many times that it can quickly reposition its strategy to defend its core earnings.
Despite challenging conditions in the PC market, Intel's PC shipments rose in the third quarter. Last month, the company reported that revenue from Client Computing Group, its PC chip segment, rose 4.5% year-over-year to $8.9 billion. (Source: "Intel Reports Record Quarterly Revenue of $15.8 Billion, Up 9 Percent Year-Over-Year; Operating Profit of $4.5 Billion," Intel Corporation, October 18, 2016.)
In the same quarter, Intel has also reported that its cash position remains strong as it generates about six billion in cash from operations, suggesting that company's large acquisitions have started to pay off. Last year, Intel acquired Altera Corporation to boost its data center business and expand its presence in a variety of markets, ranging from communications to consumer electronics.
Though the company is still dominating in its core business of making chips, sales form the Data Center group in the third quarter rose to $4.5 billion, a gain of 10% on a year-over-year basis, while Internet of Things Group revenue surged 19% to $689.0 million year-over-year. (Source: Ibid.)
So why are investors still having second thoughts on the future of this technology giant, despite some clear signs that it's turning the corner? I think the main reason is that the technology sector can be tricky for investors seeking dividends since the sector is packed with high-growth, high-risk players that invest in growth instead of returning cash to investors. You can count on your fingers the number of companies with a stable history of dividend increases like Intel, International Business Machines Corporation (NYSE:IBM) and Microsoft Corporation (NASDAQ:MSFT).
Another reason for Intel to have a lackluster response from investors is that Intel has a long way to go before it can claim that it has found another solid revenue generating source to compensate for the slowing revenue from its core PC business, which still accounts for more than half of Intel's revenue. But there is no doubt that Intel's future growth lies in cloud computing and the chips that drive it. And I don't think it'll take too much time for Intel, which has excellent brand recognition, to help its cloud computing and data businesses expand quicker into higher-growth markets outside of personal computers.
Intel's stock trades at a forward price-to-earnings ratio of 12.3 and has a dividend yield of about three percent, one of the best payouts you can get from the top technology companies.
Final Word on Intel Stock
INTC stock presents a decent opportunity for those investors seeking to diversify their holdings away from typical dividend paying stocks such as energy, mining, and consumer goods companies. Over the longer term, Intel's focus on cloud computing and data centers is definitely going to pay off. The potential of future growth, healthy dividend, and reasonable valuation provide a good trade-off between high growth and a stable dividend.