Intel Stock: 1 Absurdly Simple Reason to Own Intel Corporation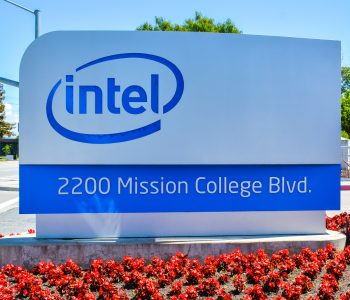 iStock.com/jejim
Will Intel Stock Provide More Than Just Dividends?
In recent years, Intel Corporation (NASDAQ:INTC) stock hasn't been a hot commodity. Intel stock is trading at pretty much the same level as it did in the beginning of 2015.
In fact, some say that the only reason to own INTC stock now is to collect its dividends. But with a three-percent yield, Intel stock does not really look that attractive in the eyes of income investors either.
So, why should investors consider this decades-old legacy tech company?
Well, because the company has the ability to dominate growing markets.
Let me explain…
The importance of having a growing market is often overlooked. When analyzing a company's business, we often check whether it has any competitive advantage because durable competitive advantage can protect a company's profits from its peers. However, what's equally important is the trend of the overall market.
In almost any tech startup's investor presentation, you will find the term "total addressable market," or "TAM." In my opinion, this term is not just important to a tech startup, but to every type of business. Think about it, no matter how good you are at making a product, if there is no one out there willing to buy it, you would not be able to turn it into a successful business no matter how strong your competitive advantage is.
Intel knows the importance of having a growing market and has taken full advantage of it. Its first success was with the personal computer (PC) industry.
Back in the day, computers were cumbersome instruments about the size of a room. They were also prohibitively expensive to most consumers. Today, they are portable devices that many people cannot live or work without.
In other words, the PC industry has enjoyed tremendous growth over the years. And Intel was making money every step of the way. In fact, when International Business Machines Corp. (NYSE:IBM) introduced its first mass-produced personal computer, it was powered by Intel's 16-bit "8088" microprocessor.
And that was just the start. Intel has completely dominated the central processing unit (CPU) marketplace till this day. According to PassMark Software Pty Ltd, Intel currently has a 77.5% market share in the CPU business. (Source: "AMD vs Intel Market Share," CPU Benchmarks, last accessed August 8, 2017.)
Of course, growth in the PC market is no longer that strong. If you look at shipments data, you'd see that the industry is actually showing signs of slowdown. (Source: "Gartner Says Worldwide Shipments Declined 4.3 percent in Second Quarter of 2017," Gartner, Inc., July 12, 2017.)
Usually, when the market for a company's core product slows down, so will the company's financials. But for Intel, that's not really the case.
In fact, Intel just earned a record full-year revenue of $59.4 billion. (Source: "Intel Reports Record Full-Year Revenue of $59.4 Billion; Reports Record Quarterly Revenue of $16.4 Billion," Intel Corporation, January 26, 2017.)
How is that possible?
The answer is simple. While the PC industry might be contracting, Intel has found other markets with strong growth potential.
Cloud computing is one of them. More and more businesses are choosing cloud-based solutions over on-premise ones. The demand for cloud-based services is growing at a very fast pace.
When it comes to companies enjoying growth in the cloud computing industry, you are probably thinking of Amazon.com, Inc. (NASDAQ:AMZN) or Microsoft Corporation (NASDAQ:MSFT).
Sure, these two are the most dominant players in the business. But do you know which company makes the processors that power the servers in Amazon and Microsoft's data centers?
Also Read:
Intel Stock Dividend 2017: INTC Yield, Dates, Splits, Prediction, and Everything You Need to Know
7 Best Growth and Income Stocks for 2017
Yep. It's Intel again.
As it turns out, Intel controls nearly 99% of the market for server chips. Its Data Center Group, which includes platforms designed for enterprise and cloud, is now the company's second-biggest segment, generating $17.2 billion of revenue last year.
Another fast-growing industry is the Internet of Things, or IoT. Again, companies making smart devices are the ones making headlines. But for these devices to be connected, they need to be able to process information. Intel's IoT segment designs platforms geared towards a number of IoT markets, such as transportation, industrial, retail, and home, just to name a few. The company's IoT segment delivered 15% of revenue growth last year, and the growth is expected to continue as the market expands.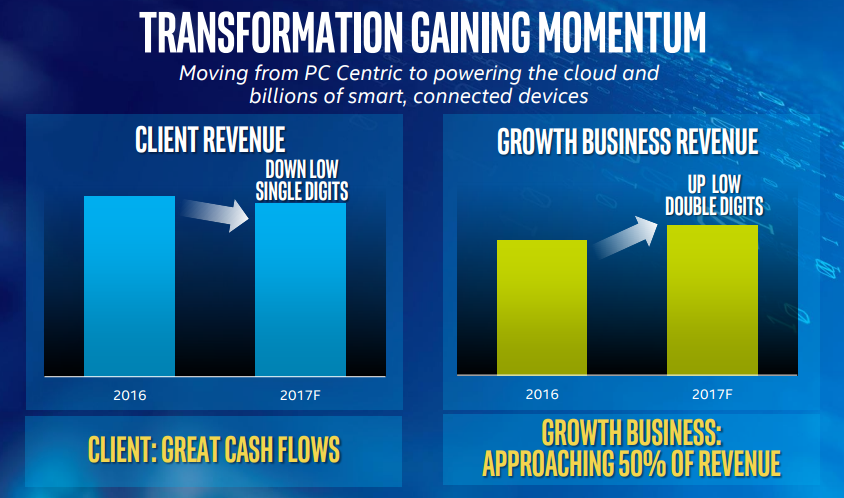 (Source: "Bank of America Global Technology Conference," Intel Corporation, last accessed August 8, 2017.)
Bottom Line on Intel Stock
At the end of the day, keep in mind that Intel stock offers great value. Thanks to investor concerns about the slowing PC industry, INTC stock is nowhere near expensive. Trading at around $36.40 apiece, the company has a price-to-earnings ratio of just 13.9 times, significantly lower than the industry's average P/E of 21.8 times. Moreover, its price-to-sales, price-to-book, and price-to-cash flow ratios are also much lower than the industry's averages.
Value cannot be ignored forever. Once people realize that the company could take advantage of the growing cloud computing and Internet of Things markets—just like it did with the PC market—they may reward Intel stock with higher valuations. And that would allow the company to deliver investors some capital gains on top of its regular dividends.