Intel Corporation: Two Reasons Why Investors Should Own INTC Stock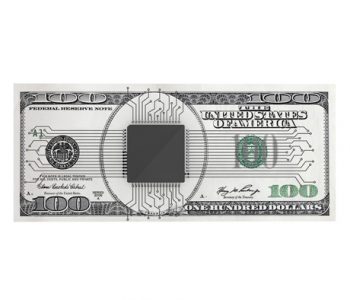 Here's Why Investors Shouldn't Give Up on Intel Stock
Intel Corporation (NASDAQ: INTC) stock doesn't look nearly as exciting as the fast-growing tech stocks in the market today. But if investors decide to give up on Intel stock, they could be missing a big opportunity.
You see, in today's market, there is no shortage of fast-growing tech stocks. However, those stocks might not be a good fit for long-term investors. Some of them don't even have earnings, and yet they can trade at huge valuations.
Then there's the income problem. For those companies that do have earnings, they have to reinvest them because of the fast-changing nature of the industry. By reinvesting a large part of their profits (and sometimes borrowing more to invest), there's not much room left to return value to shareholders.
Intel stock, on the other hand, looks like the exact opposite of these fast-growing tech stocks. The company has been around for nearly five decades and is hugely profitable.
Best of all, Intel stock has the ability to return value to shareholders. The company currently pays $0.26 per share on a quarterly basis, translating to an annual dividend yield of 2.84%.
Intel has also been raising its payout. Over the past 10 years, INTC stock's quarterly dividend rate has increased 160%. That's a compound annual growth rate (CAGR) of over 10%!
Even when everything was deep in the doldrums during the Great Recession, the company did not slash its payout to dividend investors.
Of course, past performance doesn't guarantee future results. If you take a look at where Intel stock is trading at right now, you'd see that it's not exactly an investor's favorite.
Trading at $36.63 on Monday morning, INTC stock has a price-to-earnings (P/E) multiple of just over 17 times, significantly lower than the broad line semiconductor industry's average P/E of 25 times.
The argument is that Intel built its presence by supplying the "x86" series of microprocessors found in most personal computers (PCs) today. Since the PC industry is slowing down, so could Intel's business.
But does that mean the company is lacking in growth potential? Not really.
Intel might be known as the company that makes the processors in computers, but its chips are also found in other devices, such as servers.
And that leads to one of the biggest growth drivers for Intel today: cloud computing.
When you think of the cloud computing industry, Amazon.com, Inc. (NASDAQ:AMZN) and Microsoft Corporation (NASDAQ:MSFT) are probably the first ones to come to mind. But take a guess on which company makes the chips that power the servers in Amazon and Microsoft's data centers? Yep, it's Intel.
As a matter of fact, Intel is more dominant in the server chip business than it is in the PC chip business. According to an estimate from International Data Corporation, Intel had a 99.2% unit share in the server-class microprocessor market. (Source: "Gradual Change in Server Microprocessor Market; IDC Expects Competition and Evolving Workloads to Change Supply Ecosystem in 2017," International Data Corporation, May 31, 2016.)
Cloud computing is one of the fastest-growing fields in tech today. And by dominating the server processor market, Intel is reaping rewards from that growth as well. In the third quarter of 2016, revenue from Intel's "Data Center Group" surged 10% year-over-year to $4.5 billion. (Source: "Intel Reports Record Quarterly Revenue of $15.8 Billion, Up 9 Percent Year-Over-Year; Operating Profit of $4.5 Billion," Intel Corporation, October 18, 2016.)
The Bottom Line on Intel Stock
Right now, the PC business is still the biggest segment of Intel. But the Data Center Group segment has become a major growth driver. Bringing in $4.5 billion, the segment accounted for more than 28% of Intel's total revenue for the quarter.
And don't forget that Intel's PC business might not be as bad as the market thinks. In the third quarter, the company's "Client Computing Group" revenue actually grew five percent year-over-year.
Here's the bottom line: INTC stock is not the hottest ticker but, with its handsome payouts and dominance in one of the fastest-growing fields in tech, you might not want to give up on Intel stock just yet.