Intel Corporation: The Top Tech Stock for Income Investors?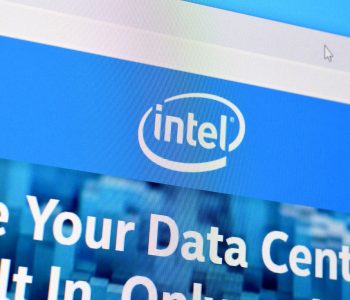 INTC Stock Deserves a Look
Given the impressive growth rates found in the technology sector, everyone wants a piece of the action. But if your goal also includes earning passive income, tech investing can be a bit tricky. The reason is that, while there's no shortage of tech companies growing rapidly, many of them don't pay a penny in dividends.
And this shouldn't come as a surprise. The fast-changing nature of the tech sector means companies often need to reinvest their profits (if they have any) just to stay relevant. As a result, they simply don't have enough financial resources to set up a regular dividend policy.
Still, that doesn't mean income investors have to shop elsewhere. If a tech company has built a durable competitive advantage and is generating recurring profits, it can become dividend-investor-friendly.
Intel Corporation (NASDAQ:INTC) is a good example of such a tech company.
Headquartered in Santa Clara, California, Intel is one of the largest semiconductor chipmakers in the world. The company established its presence by dominating the microprocessor business for personal computers (PCs).
Today, that business is part of Intel's "Client Computing Group." Over the years, the company has also built other operating units, such as "Data Center Group," "Internet of Things" "Non-Volatile Memory Solutions Group," and"Programmable Solutions Group."
Intel last reported earnings in October. The report showed that, in the third quarter of 2019, the company generated $19.2 billion of revenue, setting a new record for the company. (Source: "Intel Reports Third Quarter 2019 Financial Results," Intel Corporation, October 24, 2019.)
The strong top-line result was driven by the company's data-centric segments, which delivered a six percent year-over-year revenue growth.
Not everything was perfect, as Intel's PC-centric revenue slipped five percent year-over-year in the third quarter. However, this was consistent with management's guidance.
At the bottom line, the company generated an adjusted net income of $1.42 per share for the quarter, up 1.4% from the $1.40 per share earned in the year-ago period.
A Dividend Giant From the Tech Sector
Of course, the main reason we like Intel stock at Income Investors is that it pays generous dividends. Right now, the company has a quarterly dividend rate of $0.315 per share, which comes out to an annual yield of 2.1%. (Source: "Dividends & Buybacks," Intel Corporation, last accessed January 3, 2020.)
To put that in perspective, the average dividend yield of companies in the S&P 500 index is just 1.8% at the moment. Intel has been a component of the benchmark index since 1976. (Source: "S&P 500 Dividend Yield," Multpl.com, last accessed January 3, 2019.)
Moreover, thanks to its growing business, Intel has managed to dish out bigger dividend checks as time has gone by. Consider that, in 2014, INTC stock paid total dividends of $0.90 per share. In 2019, the company's dividends totaled $1.26 per share. That translates to a 40% dividend hike in the last five years. (Source: "Dividends & Buybacks," Intel Corporation, op. cit.)
The company has no problem covering that payout. As mentioned earlier, Intel's adjusted earnings came in at $1.42 per share in the third quarter of 2019, an amount that covered its $0.315-per-share quarterly dividend more than four times over.
For full-year 2019, management expects the company's adjusted earnings to be around $4.60 per share. If Intel meets that projection, it would easily cover its total dividends of $1.26 per share paid for the year.
With a solid business and a conservative payout ratio, Intel Corporation should have no problem continuing its dividend-hike streak.
In the past, the company has usually announced dividend increases in late January, alongside its fourth-quarter earnings release. Therefore, I wouldn't be surprised to see another dividend hike from Intel later this month.
Intel Corporation (NASDAQ:INTC) Stock Chart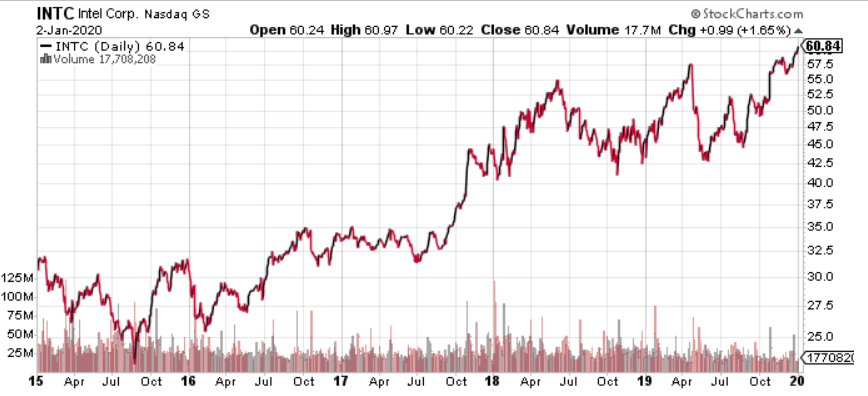 Chart courtesy of StockCharts.com
Bottom Line on Intel Corporation
Tech stocks can be quite volatile, and Intel Corporation is no exception.
While long-term investors of INTC stock are certainly laughing all the way to the bank, the company's shares experienced some big swings in the short term (as the above price chart shows). In other words, despite the company's rock-solid business, don't expect its shares to trend up forever.
Again, this is where dividends can start to shine. No matter where Intel's stock price is going, shareholders can expect to collect dividends from the company in the form of cold, hard cash.
That is, in the volatile world of tech stocks, Intel's dividends can provide investors with peace of mind.