Intel Corporation: This Could Be Big For INTC Stock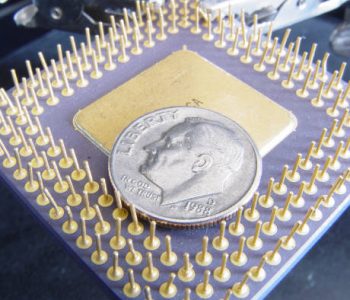 Intel Stock: A Case for Bigger Dividend Payout Building
It's tough to ignore Intel Corporation (NASDAQ:INTC) stock these days. The stock recently touched a price point not seen since 2000, when the tech bubble had burst, taking with it many powerful names which we don't even remember now.
Intel stock climbed to above $38.00 a share in recent trading sessions, producing about 16% in gains in the past six months. It also beat the S&P 500 and some of the big technology names, like Apple Inc. (NASDAQ:AAPL) and Alphabet Inc (NASDAQ:GOOGL) during this time.
INTC stock's capital gain comes on top of a healthy dividend yield of about three percent, which is tough to find in this environment, where interest rates are so low and most of the technology companies are not in a position to return cash.
During the past 10 years, investors in Intel stock have seen the dividend increase over 150%. With a quarterly cash dividend of $0.26 per share, Intel stock has an annual dividend yield of 2.8%. In the past five years, the company's quarterly dividend rate has increased 23.8%.
So what is making investors so excited this time about INTC stock, which, until last year, was under severe selling pressure?
I think a couple of factors are at play here, which are making Intel stock the darling of tech investors again.
Until a few years ago, Intel's bread and butter was making semiconductor chips for personal computers and laptops. But as the growth in this segment started to falter as customers shifted to use smartphones, Intel also shifted its focus to other segments of the technology business, namely data centers, the "Internet of Things," and programmable solutions.
INTC Stock: Sales Outlook Shows Restructuring Paying Off
The shift was coupled with some large acquisitions, including the $16.7 billion purchase of Altera Corp (NASDAQ:ALTR) last year to beef up its data center business and expand its presence in a variety of markets, ranging from communications to consumer electronics.
Though the company is still dominating in its core business of making chips, there has been some indication that its business restructuring has started to pay off.
Sales form the Data Center group revenue rose $4.0 billion, a gain of five percent on a year-over-year basis, while the Intel Security group revenue climbed 10%. Sales from its Programmable Solutions group also surged 30%. (Source: "Intel Reports Second-Quarter Revenue of $13.5 Billion," Intel Corporation, July 20, 2016.)
In a further sign that Intel is on a right track, the company raised its sales guidance for the third quarter last month, saying revenue is likely to be $15.6 billion, compared to the previous range of $14.9 billion, boosted by replenishment of PC supply chain inventory and some signs of improving demand. (Source: "Intel Raises Third-Quarter Revenue Expectations," Intel Corporation, September 16, 2016.)
These numbers are significant enough to show investors in Intel stock that the company is making the right decisions to make up for the declining sales in its core business, which were down three percent in the same period.
Despite recent gains in INTC stock, it doesn't look expensive on current valuations. Trading at $37.27 a share, the company has a price-to-earnings (P/E) multiple of 18x, which much lower than the semiconductor industry's average P/E of 27.72x. And if you take Intel's future earnings potential for the fiscal year 2017 into account, the company offers a forward P/E of  13.38x.
Final Word on Intel Stock
This positive momentum is gathering pace just before November, a month when Intel usually announces its dividend hikes. Intel's earlier dividend hikes included an over-eight-percent increase in November 2015 and a seven-percent increase in the previous year. However, given the company's much improved sales prospects, it won't be a too big a surprise if Intel rewards its investors with a bigger cash dividend. I'm keeping my fingers crossed.