Intel Corporation: Forget the Bears, Own INTC Stock for Dividends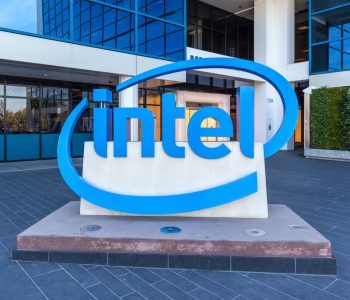 iStock.com/JHVEPhoto
Intel Stock Remains a Top Pick for Income Investors
In today's market, it's not uncommon for a company to release a perfectly good earnings report and still experience a substantial drop in its share price. Intel Corporation (NASDAQ:INTC) stock serves as the latest example.
For the second quarter of 2018, the company generated total revenues of $17.0 billion, which not only was a 15% increase year-over-year, but also marked a new record. (Source: "Intel Reports Second-Quarter 2018 Financial Results," Intel Corporation, July 26, 2018.)
Bottom-line growth was even more impressive. Excluding one-time items, Intel's net income came in at $1.04 per share in the second quarter of 2018, up 44% from the year-ago period.
Both top- and bottom-line numbers also managed to beat Wall Street's expectations. Analysts expected Intel Corporation to report earnings of $0.96 per share on $16.8 billion of revenue.
Growth like this was particularly impressive when you take into account that Intel has been in business since 1968. It's not every day that you see a legacy tech company delivering double-digit profit growth.
"After five decades in tech, Intel is poised to deliver our third record year in a row," said Bob Swan, Intel's Chief Financial Officer and Interim Chief Executive Officer. (Source: Ibid.)
Whichever way you look at it, the numbers in the company's latest earnings report should be considered good news. However, "Mr. Market" seemed to think otherwise.
In the trading session following the earnings release, Intel stock plunged 8.6%. This was an unusually large tumble, especially considering that INTC is a mega-cap stock commanding more than $200.0 billion of market capitalization.
Why You Should Still Have Faith in Intel Corporation
The main reason behind the drop in Intel stock was the concern that its competitor, Advanced Micro Devices, Inc. (NASDAQ:AMD), might take some market share away from Intel's data center business.
However, growth in Intel's data center business was nothing short of impressive. The company's Data Center Group, which offers platforms designed for the enterprise, cloud, communications infrastructure, and technical computing segments, grew its revenue by 27% year-over-year to $5.5 billion in the second quarter.
At the same time, Intel's other data-centric businesses, including the Internet of Things Group, Non-Volatile Memory Solutions Group, and Programmable Solutions Group, all delivered double-digit revenue growth in the quarter.
Even the company's Client Computing Group, its PC segment, grew its revenue by six percent. Previously, many analysts had said that the slowing PC industry would cause Intel to lose its growth momentum. But as we have seen over the last several years, that hasn't really been the case.
More importantly, though, there is a very obvious reason why investors, and particularly income investors, should still have faith in this Santa Clara, California-based tech giant: the company is well-positioned to return an increasing amount of cash to investors through dividends.
Intel Stock Returning Cash to Investors
Consider this: 10 years ago, Intel Corporation had a quarterly dividend rate of $0.14 per share. Today, the amount stands at $0.30 per share, for an increase of 114.3%. (Source: "Dividends & Buybacks," Intel Corporation, last accessed July 27, 2018.)
At the current price, INTC stock offers an annual dividend yield of around 2.5%.
When a company has such an impressive dividend growth history, management will likely want to continue that track record. And in the case of Intel, the company has plenty of resources to keep raising its dividends.
Last year, Intel Corporation generated adjusted earnings of $3.46 per share, representing a 28% increase year-over-year. Considering that the company declared and paid total dividends of $1.0775 per share for the year, it had a very conservative payout ratio of 31.1%. (Source: "Intel Reports Fourth-Quarter 2017 Financial Results," Intel Corporation, January 25, 2018.)
While Intel has raised its quarterly dividend rate by 10% this year, it is also making more money than before. In the first half of 2018, the company earned an adjusted net income of $1.91 per share, up 38% from the same period last year. The amount also covered its first-half dividend of $0.60 per share more than three times over.
In the latest earnings report, management also raised their guidance. They now expect Intel to generate total revenues of approximately $69.5 billion for full-year 2018. Earnings per share are expected to come in between $4.10 and $4.15 per share, which would be a sizable improvement from the $3.46 per share earned in 2017.
The Bottom Line on Intel Corporation
At the end of the day, there is always risk when you put money in the stock market. As we have seen plenty of times, even a company as solid as Intel Corporation can have wild swings in its share price.
Fortunately, Intel does offer investors something with certainty—dividends. No matter what the bears think, Intel stock investors have been getting cold, hard, cash deposited to their brokerage accounts. And that's why the company remains a top pick for income investors.