Intel Corporation Earnings: Will INTC Stock Increase Its Dividend?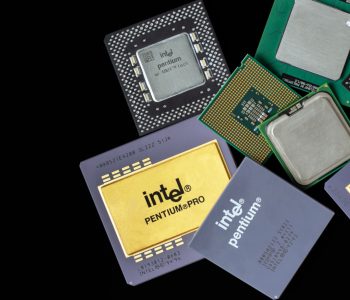 iStock.com/Andrei Berezovskii
Intel Stock Earnings Preview
Despite being a giant company commanding over $228.0 billion in market capitalization, Intel Corporation (NASDAQ:INTC) stock has had a choppy ride this year.
The Santa Clara, California-based chipmaker started 2019 trading around $47.00 per share, and it enjoyed a strong rally in the first few months, reaching over $59.00 in April. But then Intel stock experienced a serious tumble, and after a few more ups and downs, it's now at $51.55.
The good news is, while INTC stock has been volatile—which is not unusual in the tech sector—it offers a way for risk-averse income investors to make money: through dividends.
And since Intel will be reporting its third-quarter financial results on October 24 after the bell, let's take a look at what the latest news could mean for dividend investors.
Like most popular tickers, Intel faces a set of expectations from Wall Street in every earnings season. This time around, analysts expect the company to report earnings of $1.24 per share in the third quarter of 2019, which would represent an 11.4% decline from the $1.40 per share earned a year ago. (Source: "Intel Corporation (INTC)," Yahoo! Finance, last accessed October 21, 2019.)
At the top line, Wall Street expects Intel's third-quarter revenue to come in at less than $18.1 billion. Again, this would be a year-over-year decline because, in the third quarter of 2018, the company generated $19.2 billion in revenue.
Stats on Intel Corporation
| | |
| --- | --- |
| Earnings Per Share Estimate | $1.24 |
| Change From Year-Ago Earnings Per Share | -11.4% |
| Revenue Estimate | $18.1 Billion |
| Change From Year-Ago Revenue | -5.8% |
| Earnings Beaten in Past Four Quarters | 4 |
(Source: Ibid.)
While these expectations don't look that impressive, they shouldn't really come as a surprise. When Intel released its second-quarter earnings report in July, management issued their own guidance. For the third quarter of 2019, they projected that Intel would earn $1.24 per share on $18.0 billion of revenue. (Source: "Intel Reports Second Quarter 2019 Financial Results," Intel Corporation, July 25, 2019.)
In other words, if Intel meets Wall Street's expectations, it would also meet its own earnings guidance and actually beat its revenue projection.
And keep in mind that the company has a pretty good track record of outperforming what Wall Street thinks it can do. Over the past 12 months, Intel has beaten analysts' earnings-per-share estimates in all four quarters.
Of course, seeing INTC stock's roller-coaster ride in the past year, we know that an earnings beat doesn't necessarily translate to a surge in the share price. As a matter of fact, it's not unusual that a company beats both top-and bottom-line expectations from Wall Street and its stock price still drops on the news.
That's often because, in every quarterly report, there are many different things that investors care about other than just revenue and earnings per share.
In the case of Intel, investors will be watching how the company's data-centric businesses are doing. These segments include "Data Center Group," "Internet of Things," "Non-Volatile Memory Solutions Group," and "Programmable Solutions Group."
Some of these data-centric businesses have been churning out impressive growth rates. But keep in mind that, at Intel, its PC-centric business—"Client Computing Group"—is still the biggest revenue contributor. In the previous reporting quarter, the segment's revenue increased by 1.3% year-over-year to $8.8 billion.
Also, because investors are forward-looking, they will also be watching Intel's guidance. In the company's second-quarter earnings report, the full-year 2019 guidance was $69.5 billion in revenue and $4.40 in adjusted earnings per share. Any increase in that guidance could be perceived as good news.
Of course, with all the uncertainty going around in the markets, it's hard to say what the next move will be for Intel stock. What is certain, though, is that investors can still count on the company's dividends.
Will Intel Corporation Increase Its Dividend?
You see, things change rapidly in the tech sector, and companies often have to reinvest their profits (if they have any) just to stay relevant. But because Intel has already built a solid presence in its operating markets, it is established enough to return cash to investors on a regular basis.
Right now, the company has a quarterly dividend rate of $0.315 per share, which comes out to an annual yield of 2.4%.
What's more impressive than INTC stock's current yield is how the dividend has been growing. Over the last five years, the company's per-share payout has increased by 40%. (Source: "Dividends & Buybacks," Intel Corporation, last accessed October 17, 2019.)
And the tech giant has no problem covering its rising payouts. In 2018, Intel earned an adjusted net income of $4.58 per share. During the year, the company declared and paid four quarterly dividends totaling $1.20 per share, resulting in a very conservative payout ratio of 26.2%. (Source: "Intel Reports Fourth Quarter 2018 Financial Results," Intel Corporation, January 24, 2019.)
This year, Intel is on track to pay total dividends of $1.26 per share. If the company follows management's guidance and earns an adjusted profit of $4.40 per share, the amount would cover that payout more than three times over.
However you look at it, there's room for a dividend increase, despite the expected decline in Intel's bottom-line number. But given that Intel's board of directors usually reviews the company's dividend policy in January, investors will likely have to wait three more months for the next dividend hike.