Insurer Authorizes Special Dividend to Shareholders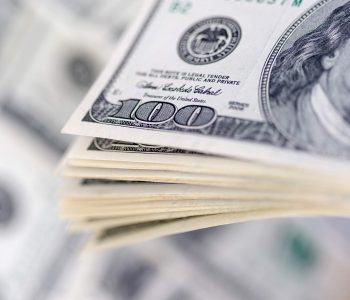 Investors Can Cash In on This Special Dividend Payment
I like companies that pay dividends. I like those companies even more when they supplement their payments with the occasional special dividend.
Case in point: RLI Corp (NYSE:RLI).
In November, this little-known company declared a quarterly cash dividend of $0.24 per share. In addition, the board approved a supplemental one-time distribution of $1.00 per share. That represents RLI's 11th consecutive special dividend.
"Despite the challenges that 2020 has presented, RLI has proven to be resilient and persistent in its commitment to creating value for all stakeholders," wrote RLI's chairman and CEO, Jonathan Michael, in a note to investors. (Source: "RLI Declares Regular & Special Dividends," Business Wire, November 11, 2020.)
"Our strong financial performance this year has enabled us to return over $45.0 million to shareholders, and we remain focused on identifying profitable growth opportunities."
Those payments, as you can imagine, have resulted in impressive investment results. Since 2001, RLI stock has delivered a total return, including dividends, of 1,912%. This has crushed the broader S&P 500, which posted a gain of only 163% over the same period.
But how does this quiet company make so much money?
RLI Corp benefits from a little-known quirk that people in the insurance industry call the "float." When you purchase an insurance policy, you pay your premium up front. But depending on the type of coverage you have, it could be years before you ever make a claim.
That's great news for your insurance company. Because of the lag time between when they collect premiums and pay out claims, they get to sit on a big pile of customers' money. This basically amounts to an interest-free loan, which they can invest as they see fit.
No other industry in the world enjoys this type of competitive advantage. Banks pay interest to depositors. Companies pay dividends to shareholders. But insurance companies pay literally nothing for the capital they receive from customers.
That explains why most of the world's wealthiest businesspeople, such as Warren Buffett, all work in insurance. And for shareholders, this edge reveals why insurance stocks dominate the list of all-time best-performing stocks. (Source: "Warren Buffett and the Insurance Business: A 52-Year Love Story," The Motley Fool, February 22, 2019.)
So what separates RLI from the pack?
The company specializes in a number of obscure niches, covering everything from the environmental liability of underground storage tanks and personal liability protection for corporate directors to worker's compensation and surety bonds. Due to their limited size, rival insurance companies tend to avoid these markets. As a result, RLI has the freedom to charge premium prices.
You can see the impact of this strategy in RLI's financial results.
Most insurance companies, it turns out, actually lose money on their underwriting operations, but between 1996 and 2019, RLI managed to pay out only $0.89 in claims on every dollar collected in premiums. That type of profitability puts the company in the same league as names like Markel Corporation (NYSE:MKL), W. R. Berkley Corp (NYSE:WRB), and Berkshire Hathaway Inc. (NYSE:BRK.B)—the three most respected names in the insurance industry. (Source: "RLI Investor Presentation – 3rd Quarter, 2020," RLI Corp, last accessed December 1, 2020.)
For shareholders, this has created a lucrative income stream.
Since 1976, RLI has paid a dividend every single year. Even during the financial crisis, executives managed to boost the payout. Today, RLI pays a quarterly dividend of $0.24 per share, which comes out to an annual yield of about one percent. (Source: "Stock Dividends," RLI Corp, last accessed December 1, 2020.)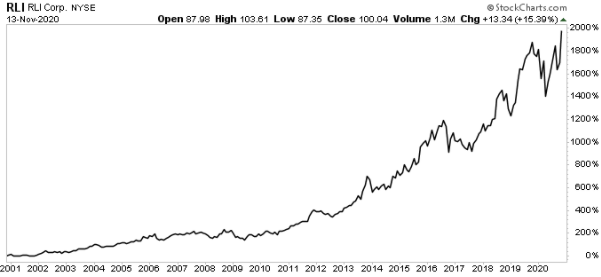 Chart courtesy of StockCharts.com
For the most piggish of yield hogs out there, that payout probably won't knock their socks off. But as I mentioned above, management supplements these payments with special dividends. Altogether, RLI has paid out a combined $1.1 billion in regular and special distributions to shareholders over the past decade. (Source: Business Wire, November 11, 2020, op. cit.)
I love this double-dividend policy. Because special distributions are less binding, executives have the flexibility to adjust them depending on business conditions. That allows them to conserve cash during a downturn—and, by extension, reward shareholders with big, fat checks when times are good.
Bottom line: RLI Corp has carved out a profitable niche. It's another one of those quiet, outrageously profitable businesses I love to write about in my newsletter Passive Monthly Income. For RLI stock holders, that niche will likely mean more and larger special dividends for years to come.