Insiders Quietly Buying JPMorgan Chase & Co.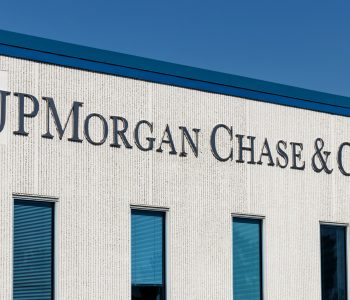 iStock.com/jetcityimage
Heavy Swarming Over JPMorgan Chase & Co.: Here's Why
If you want to make a lot of money in the stock market, it pays to follow the actions of insiders.
As an investor, I like it when executives put their money where their mouth is. Every manager says their business enjoys wonderful prospects and will deliver outsized returns for shareholders.
But how do you know when these honchos actually believe in their sales pitch? When they cough up some dollars and put themselves in the same boat as common shareholders.
Case in point: JPMorgan Chase & Co. (NYSE:JPM). Filings with the U.S. Securities and Exchange Commission (SEC) revealed that, in August, director Mellody Hobson bought 18,200 shares valued at $2.0 million. And she's not the only one bullish on the financial giant. Over the past year, other company insiders have purchased more than 3.4 million shares combined. (Source: "Insider Actions for JPMorgan Chase & Co.," MarketWatch, Sept 26, 2019.)
Admittedly, investors have good reason to avoid financial-industry stocks.
Banks make their profits by borrowing money on a short-term basis at a low interest rate and then lending out those funds in longer-term, higher-yielding deals. Unfortunately, the spread between short- and long-term interest rates has fallen to its lowest levels since the last financial crisis. These tight margins have hammered bank profits and, by extension, financial stocks.
Traders, however, may have overreacted.
In the case of JPMorgan stock, the bank now trades at just nine times its estimated 2020 profits. That represents the company's lowest forward earnings multiple since the financial crisis. Nowadays, everyone complains about the disappearance of reasonably priced stocks. Yet here, investors have the chance of a world-class business at a single-digit multiple.
And despite the overall pessimism, JPMorgan continues to fire on all cylinders. The company reported blowout second-quarter results that crushed Wall Street expectations and triggered a sharp rally. Commercial lending? Great. Credit cards? Solid. Investment banking? On point.
In the second quarter, the company posted a profit of $9.7 billion. That's a 16.1% year-over-year increase—jaw-dropping growth in an otherwise slow economy. (Source: "," JPMorgan Chase & Co., July 16, 2019.)
Looking forward, several catalysts could put the bank back in investors' good books. We've seen JPMorgan build out auxiliary businesses, like credit cards, wealth management, and private banking, which have less exposure to interest rates.
Executives have also trimmed costs by cutting headcounts, exploiting technology, and closing branches. This has allowed them to squeeze more profit out of every dollar in interest income.
Most importantly, Federal Reserve Chair Jerome Powell slashed the overnight lending rate in September by 25 basis points. That should widen the spread between short- and long-term yields, thereby boosting bank profits in upcoming quarters.
In the meantime, JPM stock investors will get paid well while they wait. Back in July, JPMorgan announced plans to return $40.0 billion to shareholders over the next year. The program is the largest-ever capital return plan in the history of the banking giant. (Source: "JPMorgan Chase Plans Dividend Increase and $29.4 Billion Capital Repurchase Program," JPMorgan Chase & Co., June 27, 2019.)
In fact, the announcement dwarfs the previous investor payout record by any U.S. bank over any one-year period, which Wells Fargo & Co (NYSE:WFC) set in 2018 with its $32.8 billion distribution.
"The strength of our franchise has allowed us to continue to use our capital to grow and invest in our businesses to support our customers, clients and communities around the world," wrote JPMorgan Chairman and Chief Executive Officer Jamie Dimon in a press release.
"We are pleased to have the capacity and flexibility to return excess capital to our shareholders as we maintain a fortress balance sheet that provides the ability to withstand extreme stress."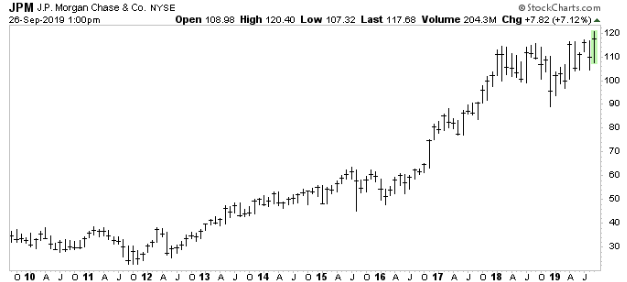 Chart courtesy of StockCharts.com
Dividends will comprise a big chunk of this program. JPMorgan's board of directors announced their intention to raise the quarterly dividend by 12.5% to $0.90 per share. That action, if given the green light, will raise the forward yield on shares to 3.1%.
Bottom line: bank stocks have amounted to nothing more than dead money for the past two years. Yet the most knowledgeable people at JPMorgan Chase & Co. have started buying shares hand over fist. That's a huge vote of confidence on the part of insiders.