How Income Investors Can Earn a 9.2% Yield Backed by "Uncle Sam"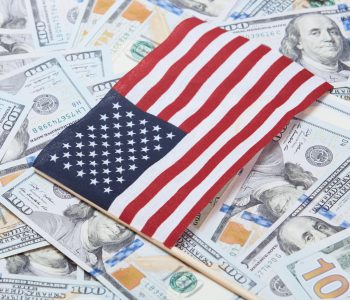 iStock.com/Zhenikeyev
Let "Uncle Sam" Boost Your Portfolio Return
When Americans make money, part of it goes to taxes. Everyone knows that. What's less talked about, though, is that there is a way for investors to get some money back from the U.S. government.
I'm not talking about tax returns. I'm talking about a company that pays investors a 9.2% annual yield that is backed by "Uncle Sam."
This may seem too good to be true, but it is happening. Thousands of Americans have already started collecting this generous stream of income. Now, I'm going to show you how to become one of them.
The company behind this 9.2% yield is Government Properties Income Trust (NASDAQ:GOV). Headquartered in Newton, Massachusetts, GOV is a real estate investment trust (REIT) that owns office properties.
Now, I know what you are wondering: "There are plenty of office REITs available in today's market. Why does this particular one deserve special attention?"
Well, while GOV is a real estate investment trust, its business is different from all the other office REITs. This is because the company is currently the U.S. Government's biggest landlord.
Just think about that. The U.S. Government is huge. For it and its agencies to run their operations, they need a massive amount of office space. Government Properties Income Trust provides that office space. In return, the company collects hundreds of millions of dollars a year in rental income.
By the end of the second quarter of 2017, GOV's portfolio consisted of 74 properties located across 31 states and Washington D.C. These properties totaled approximately 11.5-million square feet. (Source: "Investor Presentation August 2017," Government Properties Income Trust, last accessed September 26, 2017.)
High Dividends Backed By a Rock-Solid Business
In an era where the average S&P 500 company is yielding less than two percent, GOV's dividend policy makes it stands out. The company pays quarterly dividends of $0.43 per share. At the current price, that translates to an annual yield of 9.2%.
Of course, not all high-yield stocks are worth owning for income investors. But because GOV's business is backed by the U.S. Government, it offers a level of dividend safety that's hard to find among high-yield stocks.
If you have ever been a landlord before, you would know how important it is to have good tenants. Chasing down late payments is never a fun experience.
GOV is basically a giant landlord. And the U.S. Government is an investment-grade-rated tenant. In fact, approximately 88% of GOV's annual revenue comes from the rent paid by the U.S. Government, 13 state governments, and four other government tenants.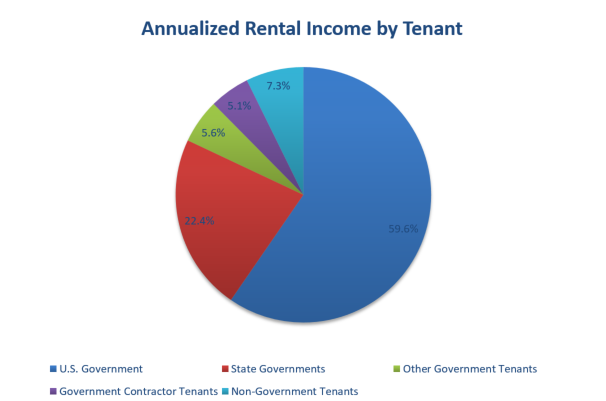 Source: "Investor Presentation August 2017," Government Properties Income Trust, last accessed September 26, 2017.
By having high-quality tenants with investment grade ratings, GOV adds stability to its revenue stream.
Furthermore, renting office space to "Uncle Sam" makes a great long-term business. In residential real estate, landlords would be happy if their tenants are willing to sign a one-year lease. The U.S. Government tenants, on the other hand, are known to occupy the same space for more than 20 years.
In the second quarter of 2017, Government Properties Income Trust earned a total rental income of $69.9 million, representing a nine-percent increase year-over-year. Normalized funds from operations came in at $0.60 per share, providing ample coverage of its $0.43 of dividend per share declared and paid during this period. (Source: "Government Properties Income Trust Annouces Second Quarter 2017 Results," Government Properties Income Trust, August 1, 2017.)
Property occupancy rate was at a solid 95% at quarter end, up 80 basis points from a year ago. Notably, GOV signed new and renewal leases for more than 288,000 square feet at average rents that were 13.5% higher than what was previously paid for the same space. With higher average rents, the company could generate higher rental income down the road.
Here's the neat part: despite earning millions of dollars in rental income from U.S. government agencies every year, the company doesn't pay a penny in corporate income tax. The reason why it can get away with this lies in its real estate investment trust corporate structure.
You see, to give all investors the opportunity to invest in large scale, diversified portfolios of income-producing real estate, President Eisenhower signed into law the REIT Act contained in the Cigar Excise Tax Extension of 1960. Today, as long as a REIT satisfies certain income and distribution requirements, it is exempt from federal and state corporate income taxes. (Source: "Real Estate Investment Trusts (REITs)," U.S. Securities and Exchange Commission, last accessed September 26, 2017.)
The Bottom Line on GOV Stock
Even though mainstream financial media seems to be ignoring this "Uncle Sam"-backed high-dividend stock, it's actually quite easy to lock in its handsome yield. The company trades on the NASDAQ under the ticker symbol GOV. Investors wishing to collect its generous payout can simply purchase GOV shares through their broker of choice.