This Income Investment Now Yields 15%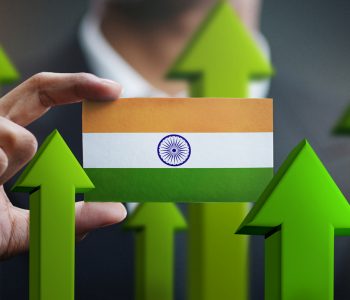 iStock.com/NatanaelGinting
The Income Investment You Likely Haven't Considered
If you had a list of the most "despised" income investments in the world, India would sit near the top.
The country's economy has started to slow after years of breakneck growth. Combined with a strong U.S. dollar, Wall Street's interest in the subcontinent has drifted elsewhere.
Today's indicator highlights just how far Indian stocks have fallen out of favor.
Here's the thing: years of underperformance have left Indian equities trading at bargain prices. This has set the country's stock market up for an explosive stock market rally.
And for dividend hunters, this means it's possible to find safe income investments paying double-digit yields.
Let me explain.
Tracking investor sentiment is all about following the money.
When people are excited about something, they pour money into it. And when an investment idea falls out of favor, they pull money out.
Today, investors hate India. Analysts once hailed the country as the greatest opportunity of the 21st century. But with growth slowing, Wall Street's interest in India just hit a multi-year low.
You can see how bad the situation has become with a little-known income investment called The India Fund, Inc. (NYSE:IFN).
IFN is a closed-end fund with around $611.5 million in assets as of this writing. (Source: "The India Fund, Inc. (NYSE:IFN)," Aberdeen Asset Management Inc., last accessed October 28, 2019.)
The fund provides an easy way for people to invest in India. You don't have to open a foreign bank account or travel to the other side of the world. With a few clicks, you own some of the country's largest, most profitable businesses.
But that liquidity comes with one big disadvantage: investors can flee just as quickly. Worse, closed-end funds have a fixed number of shares. If there are not enough buyers at any given moment, these names can trade at big discounts to their real liquidation values.
And that's exactly what we've seen in recent months. On October 28, IFN closed the trading session around $20.69 per share. But if the management company closed the fund today, investors would receive $22.98 per share.
In other words, investors can buy $1.00 of Indian stocks for $0.90.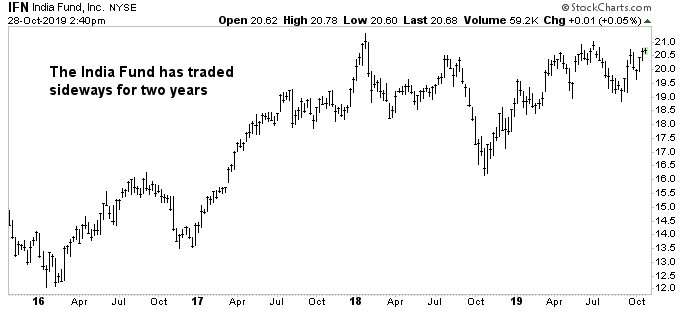 Chart courtesy of StockCharts.com
Based on this measure, investors haven't hated Indian stocks this much since the last financial crisis. They want out, and they're selling fast.
The thing is, I love these types of situations.
Investors hate India today. Investors would much rather put their money in something that's "working now" like cryptocurrencies, marijuana, or cloud computing.
But right now, the Indian stock market trades at only 18-times next year's earnings. That's cheaper than the United States, yet the country is growing three-times faster. The last time Wall Street hated Indian stocks this much, the broader market delivered triple-digit gains over the following 18 months.
Of course, we can't predict when this turn will occur. Or even if it will happen at all.
But even if no rally plays out, investors can get well paid while they wait.
It's not uncommon to see some blue-chip Indian stocks paying yields three to four times higher than their U.S. counterparts. The India Fund, for instance, has a trailing yield of almost 15%.
Investors should add this income investment to their watch list.