Income Investing: Warren Buffett's 5 Top Dividend Stocks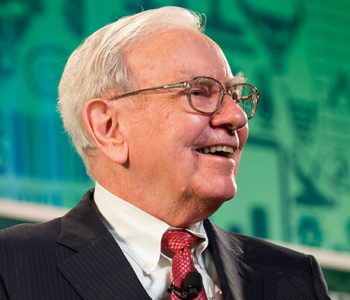 Warren Buffett's Best Dividend Stocks
Warren Buffett's Berkshire Hathaway Inc. (NYSE:BRK.A)(NYSE:BRK.B) isn't known as a top dividend stock, but that doesn't mean that Buffett doesn't understand the power of income investing.
"The Oracle of Omaha" has maintained a strict no-dividend policy at the insurance giant for years. Since 1962, Berkshire has paid out only one distribution to shareholders; Warren Buffett even joked he, "must have been in the bathroom," when that decision was made.
But while he may be stingy with shareholders, Buffett doesn't mind collecting dividends himself. Every year, the conglomerate earns billions in distributions. His portfolio has become a virtual "who's who" of top dividend stocks.
"A number of Berkshire shareholders — including some of my good friends — would like Berkshire to pay a cash dividend," Buffett wrote in his 2012 shareholder letter. "It puzzles them that we relish the dividends we receive from most of the stocks that Berkshire owns, but pay out nothing ourselves." (Source: "Berkshire's Corporate Performance vs. the S&P 500," Berkshire Hathaway, March 1, 2013.)
So if you're looking for yield, you could do worse than skimming through Berkshire's holdings. No, the company isn't a good idea for income investing, but Warren Buffett's portfolio is filled with some of the best dividend stocks around. Here are five:
| | | |
| --- | --- | --- |
| Stock | Current Yield | Market Cap |
| Visa Inc. | 0.7% | $188.4 billion |
| MasterCard Inc. | 0.8% | $104.1 billion |
| Kinder Morgan Inc. | 2.3% | $47.4 billion |
| Johnson & Johnson | 2.7% | $322.4 billion |
| Verizon Communications Inc. | 4.3% | $214.6 billion |
Source: Google Finance
Let's say a few words about these top dividend stocks.
Visa Inc. (NYSE:V) and MasterCard Inc. (NYSE:MA) are textbook Warren Buffett names. Starting a new credit card business is a chicken-and-egg problem; customers don't want a new card because they're not accepted at businesses and businesses don't want to adopt a new card because customers don't use them. As a result, established players can make money hand over fist.
Visa and MasterCard generate billions of dollars in cash flow each year. Most of those profits are paid out to shareholders in oversized dividends.
Kinder Morgan Inc.'s (NYSE:KMI) story hasn't changed in years. Pipelines are buried underground, and each day they carry oil from Point A to Point B.
In recent months, traders have fretted that the dip in energy prices will crimp profits. But Kinder Morgan is far more like a toll road operator than an oil driller. The company just collects a fee on every barrel that flows through its network, so cash flows are less exposed to the wild swings in oil markets. Buffett seems to be scooping up shares on the cheap.
The story is straightforward at Johnson & Johnson (NYSE:JNJ). J&J owns a large collection of pharmaceutical and consumer brands. Because this business is so recession-proof, the company has been able to raise its payout for 56 straight years.
Stable. Simple. Lucrative. Sure, it's boring, but if the economy stalls, a stock like J&J will offer some of the best returns around.
Verizon Communications Inc. (NYSE:VZ) cranks out one of the biggest dividends around. The stock is also looked down upon because future growth will be meager at best. The landline business died years ago and the wireless market is becoming saturated.
But when it comes to a stock like Verizon, you're paying for the yield and not much else. With a four-percent yield, you're beating the pants off Treasury bonds. Investors who buy and hold this top dividend stock will trounce most others as the years tick by.