ILPT Stock: High-Yield REIT Profiting From Exploding E-Commerce Sector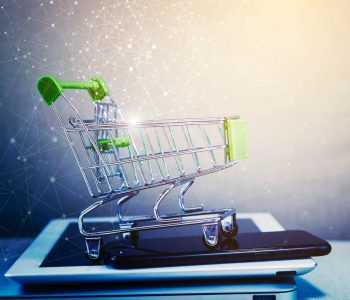 Industrial Logistics Properties Stock at Record Highs
Most people I know already loved to shop online before the COVID-19 pandemic arrived. Those same quarantined friends have gone crazy with online shopping since April 2020. And they aren't alone.
One of the joys of shopping online is getting whatever it is you purchased in about a day. The only way businesses can do this is if they have a geographic footprint that allows them to reach their customers in as short a time as possible. Just because you own a big e-commerce company doesn't mean you necessarily want to plunk down the money to build warehouses and logistics centers everywhere (and maintain them).
That's where a warehousing and logistics real estate investment trust (REIT) like Industrial Logistics Properties Trust (NASDAQ:ILPT) comes in.
Warehouses and logistics might not sound exciting, but if you're going to be a landlord, there's no shame in having an e-commerce giant like Amazon.com, Inc. (NASDAQ:AMZN) as your biggest tenant. Who would complain about a steady revenue stream? (Source: "Investor Presentation: August 2021," Industrial Logistics Properties Trust, last accessed October 13, 2021.)
Best of all, e-commerce has been exploding, and the demand for warehouses has been growing in step. Between 2000 and 2020, U.S. e-commerce sales expanded at a compound annual growth rate (CAGR) of 18.3%. The outlook for the e-commerce sector is bright, which is good news for Industrial Logistics Properties stockholders.
Income hunters are bullish on ILPT stock. Trading at record levels, Industrial Logistics Properties stock is up by:
20% year-to-date
25% year-over-year
128% since bottoming in March 2020
About Industrial Logistics Properties Trust
Industrial Logistics Properties owns 291 properties that cover 35.2 million rentable square feet (equivalent to about 61 NFL fields). The occupancy rate is an astounding 99%, and there's a weighted average remaining lease term (WALT) of 9.2 years.
The trust has 65 industrial and logistics properties in 31 states. Those 18 million square feet are 100% leased with a five-year WALT. Together, the properties account for 49% of Industrial Logistics Properties Trust's annual rental revenues.
The rest of its portfolio comprises 226 well-located properties in Hawaii, near Oahu's central business district. Those 17 million square feet are 98% leased with a 13-year WALT and account for 51% of the trust's annual rental revenue. Suffice it to say, on an island, you can't create new land for warehouses, which makes Industrial Logistics Properties' footprint in Hawaii unique.
The company's Hawaii properties are well located and diversified to tenants in thriving industries. On the mainland, roughly 90% of its rental revenues come from logistics facilities.
Industrial Logistics Properties Trust's Top 5 Tenants

Tenant

% of Rental Income

Amazon.com, Inc.

9.9%

FedEx Corporation

4.5%

Restoration Hardware Holdings, Inc.

2.9%

American Tire Distributors, Inc.

2.5%

Servco Pacific Inc.

2.4%
(Source: "Investor Presentation: August 2021," Industrial Logistics Properties Trust, op cit.)
Industrial Logistics Properties is always expanding its property portfolio. Since 2019, it has acquired more than $1.0 billion of properties, covering more than 15 million square feet.
At the time of acquisition, the 40+ properties were 100% leased to major tenants, including Amazon.com, Whirlpool Corporation (NYSE:WHR), Cummins Inc. (NYSE:CMI), Procter & Gamble Co (NYSE:PG), and Stanley Black & Decker, Inc. (NYSE:SWK).
Industrial Logistics Properties Trust's 5 Tenant Types

Tenant Industry Type

% of Portfolio

Transportation & Shipping

18%

Food & Beverage

13%

E-Commerce

11%

Automotive

11%

Construction & Building Materials

10%
(Source: Ibid.)
Industrial Logistics Properties' enviable tenant list and the growing demand for rental properties for the e-commerce sector are why the trust is able to consistently report great financial results.
For the second quarter ended June 30, the company reported net income of $0.29 per share, a 26% increase over the $0.23 per share in the same prior-year period. Its normalized funds from operations (FFO) were $0.47 per share, the same as in the second quarter of 2020. (Source: "Industrial Logistics Properties Trust Announces Second Quarter 2021 Results," Industrial Logistics Properties Trust, July 28, 2021.)
As of June 30, the trust had approximately $30.5 million in cash and cash equivalents, as well as $506.0 million available to borrow under its revolving credit facility.
During the second quarter, the company acquired one parcel of developed land in Dallas, TX for $2.2 million. Industrial Logistics Properties Trust also acquired a newly built net leased property near the Rickenbacker intermodal terminal and airport in Columbus, OH for $31.5 million. This property is 100% leased to a single tenant with a remaining lease term of approximately seven years.
John Murray, president and CEO, noted, "ILPT's second quarter results continue to illustrate the strong demand for our properties with solid leasing momentum and occupancy of 99% at quarter end. We executed 564,000 square feet of leases and rent resets, which resulted in weighted average rental rates that were approximately 18% higher than prior rental rates for the same space with a weighted average lease term of nearly eight years." (Source: Ibid.)
These excellent results, which are underpinned by rising rents and long-term leases, have helped ILPT stock provide investors with reliable, high-yield dividends.
In July, the company announced a quarterly cash distribution of $0.33 per share, or $1.32 annualized. At the current price of Industrial Logistics Properties stock, this works out to a high-yield dividend of 4.9%. (Source: "Industrial Logistics Properties Trust Announces Regular Quarterly Dividend on Common Shares," Industrial Logistics Properties Trust, July 15, 2021.)
The Lowdown on Industrial Logistics Properties Trust
As explained above, Industrial Logistics Properties is a landlord to e-commerce and industrial juggernauts. Thanks to a major shift from physical stores and shopping centers to e-commerce platforms, the demand for industrial and logistics real estate has been exploding.
While ILPT stock will, like the broader stock market, experience periods of volatility, its diverse tenant base and long lease agreements should provide the company with steady cash flow. And that should provide Industrial Logistics Properties Trust with more than enough financial wiggle room to continue paying out frothy, high-yield dividends.