The Quiet Business Delivering Outsized Dividend Income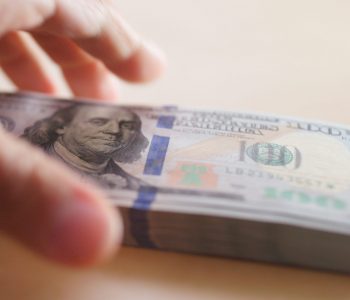 If You Like Income, There're Few Businesses Better Than Illinois Tool Works Inc.
If you scan the names I have recommended to subscribers of my paid advisory Retirement Riches, you might spot a common theme. The best-performing stocks all represent quiet, unassuming businesses that throw off steady income: Kimberly-Clark Corp (NYSE:KMB; paper products), Deere & Company (NYSE:DE; farming equipment), Union Pacific Corporation (NYSE:railways). 
I want to highlight another textbook example in Illinois Tool Works Inc. (NYSE:ITW).
This industrial manufacturer has quietly made shareholders a fortune over the past few decades. And if you like earning globs of dividend income, there might not be a better business in the world. Here's why…
Illinois Tool Works can trace its roots back to 1912 in a small parts factory in Chicago. The company hit it big when it started making washers for auto manufacturers just as the industry began to take off. Over the following years, management diversified into radios, farm equipment, and electrical switches. (Source: "Our History," Illinois Tool Works Inc., Last Accessed October 7, 2020.)
Today, Illinois Tool Works is an industrial behemoth with $14.1 billion in annual sales. The company's automotive equipment division (22% of revenues in 2018) produces plastic and metal components and fasteners. Then there's food machines (15%), which is a leader in dishwashers, refrigeration systems, and cooking equipment for commercial businesses. Construction (12%) produces a variety of materials, including wood, concrete, steel, and engineered lumber.
Other divisions supplement these cash flows, including Testing & Measurement Equipment (15%), Polymers & Fluids (12%), Welding (12%), and Specialty Products (14%). (Source: "Illinois Tool Works 2018 Annual Report," Illinois Tool Works Inc. Investor Relations, 2019.)
The secret to Illinois Tool Works Inc.'s success comes down to finding profitable niches.
None of the products mentioned above make for the most stimulating conversion around the office water cooler. But by focusing on making tools and parts with little competition, Illinois Tool Works has managed to generate outsized margins year after year. 
Illinois Tool Works Inc. also benefits from high switching costs.
It's expensive to retrain employees on a new piece of equipment. And switching out components could require shutting down a business for an extended period of time. As a result, customers tend to stay loyal year after year even if they can get significantly lower prices from competing parts suppliers. 
For shareholders, this has translated into outstanding returns.
Last year, Illinois Tool Works' gross margins topped 42%. And since 2014, the business has generated $0.51 in profit on every dollar of shareholder capital invested into the business.
This puts the business in the same league of companies such as Johnson & Johnson (NYSE:JNJ), Coca-Cola Co (NYSE:KO), and Procter & Gamble Co (NYSE:PG). 
What is management doing with all of this money? For the most part, they pay it out to shareholders. 
Executives have mailed out a check to shareholders every year since 1990. Over the past decade, Illinois Tool Works Inc. has boosted its distribution roughly in line with profits at a 14% compounded annual clip. Today, shares pay out a quarterly distribution of $1.09 apiece, which comes out to a forward yield of 2.4%. (Source: "Dividend History," Illinois Tool Works Inc. Investor Relations, last accessed September 22, 2020.)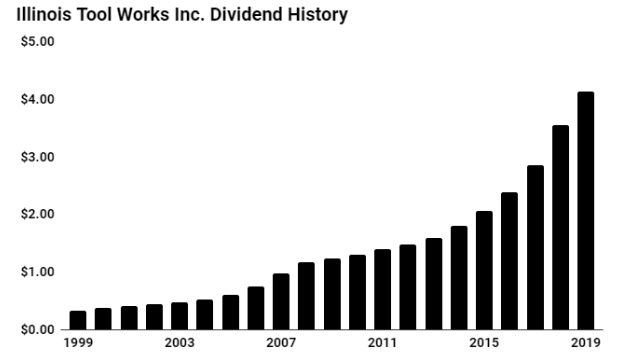 Source: Illinois Tool Works Inc. Investor Relations
In addition to paying out dividends, Illinois Tool Works also returns boatloads of cash to shareholders through its stock buyback program. Since 2000, the company has effectively reduced its total number of outstanding shares by more than half. So shareholders who bought and held over that time have effectively doubled their stake in a wonderful business. 
Of course, you can't call this dividend stock a sure thing.
Illinois Tool Works Inc. posted lower sales, margins, and profits during previous downturns. The current COVID-19 recession will likely take a small bite out of profitability, too. But I suspect shareholders willing to look beyond the next quarter or two will be well rewarded.
Bottom Line on Illinois Tool Works Inc.
Illinois Tool Works Inc. represents another little-known business that doesn't have a big following among dividend investors. But behind the company's unassuming facade is a money-machine that has quietly made shareholders rich over the past few decades. And it will likely continue to throw off buckets of cash to investors in the coming years as well.