If You Had Invested $10,000 in Raytheon 10 Years Ago, Here's How Much You'd Have Now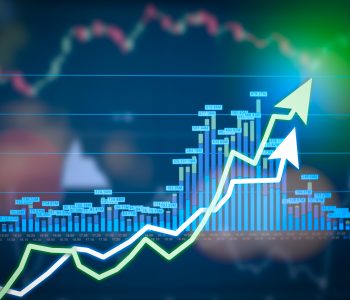 iStock.com/FroYo_92
Raytheon Company Paying Dividends
It's a scary world out there, except for defense contractors. Last year, President Donald Trump approved one of the largest-ever increases in the U.S. military budget. And with a growing number of conflicts around the world, weapon makers have reaped the benefits of growing defense spending.ei
Raytheon Company (NYSE:RTN), maker of the popular "Patriot" cruise missile, sits among those doing well.
In March, the company hiked its annual dividend by 8.8%, from $3.19 to $3.47 per share. (Source: "Raytheon Company increases dividend by 8.8 percent; 14th consecutive annual increase," PR Newswire, March 21, 2018.)
That makes sense, given that Raytheon shares have soared in value over the past decade on the back of record profits.
How well have shareholders done over that time? Since 2008, Raytheon stock has delivered a total return—include dividends and capital gains—of 329%. If you had invested $10,000 in shares at the start of this period, your position would be worth $42,900 today.
Of course, past returns don't predict future results. Any stock can under- or out-perform during any given stretch of time. Still, investors have good reason to remain bullish on defense contractors, and Raytheon in particular.
Governments around the world feel nervous. North Korea has its finger on the nuclear button. Terror attacks continue to rock Europe. Conflict has turned several countries in the Middle East (a dangerous neighborhood at the best of times) to rubble.
That situation has created a bonanza for defense contractors. Global military spending hit a record $1.7 trillion in 2017, according to a recent report by the Stockholm International Peace Research Institute. That figure comes out to about 2.2% of global domestic product (GDP), or $230.00 per person. (Source: "Military spending highest since end of Cold War," New Straits Times, May 24, 2018.)
Raytheon will likely capture a large slice of this growing international business. The company's Patriot system and its duopoly in missiles with Lockheed Martin Corporation (NYSE:LMT) allow it to consistently win contracts abroad. International customers now account for more than 40% of Raytheon's backlog orders, versus only 28% in 2012.
Analysts get especially excited about this growth. International contracts typically come with higher margins, which lays the foundation for higher profitability. This explains much of the recent run in Raytheon stock, as you can see in the chart below.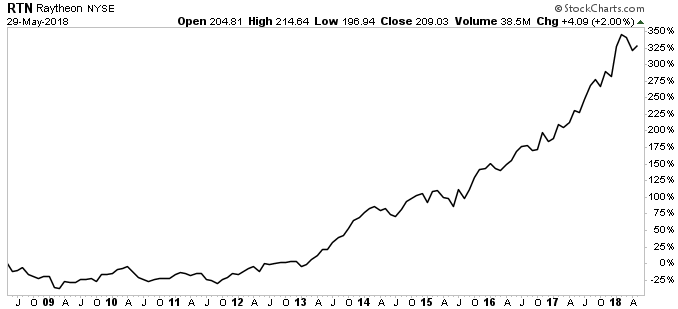 Chart courtesy of StockCharts.com
For investors, much of these profits will likely get passed on as distributions. With a yield of just 1.7%, Raytheon doesn't represent a great income stream for most dividend hunters. That situation, though, could be about to change.
With a recent dividend hike in hand, Raytheon has now delivered 14 straight distribution increases. And over the past decade, management has grown the payout at a 12% annual clip.
Assuming that the executives can maintain this pace (likely, given their booming industry), this distribution trickle could become a raging river of cash flow.
So, for those of us scared by the daily news headlines, owning some shares of Raytheon stock might provide a little comfort.