Icahn Enterprises Stock: Inflation-Crushing 14.8%-Yielder at Record Price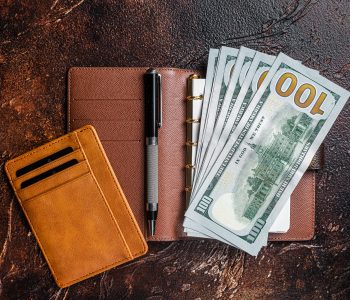 IEP Stock Perfect for Growth & Income?
If I had a spare $19.0 million, I'd reluctantly plunk it down to have lunch with Warren Buffett, the chairman and CEO of Berkshire Hathaway Inc (NYSE:BRK.B)—as someone did last year for charity.
Buffett might not be very chatty these days, though; Berkshire Hathaway stock has been seriously underperforming the S&P 500 lately. Admittedly, this is an anomaly; BRK stock typically outperforms the S&P 500. Nevertheless, my biggest question for Buffett would be: "Why do you love to invest in dividend stocks, which will give you more than $6.0 billion in dividend income this year, but you refuse to pay dividends to investors in your own company?"
If you're looking for big stock market gains and reliable dividends, it might be a good time to take a look at Buffett's peer, Carl Icahn, the billionaire founder and controlling shareholder of Icahn Enterprises LP (NYSE:IEP).
Since the start of 2022, the broader stock market hasn't exactly been performing well, what with inflation, rising interest rates, and fears of a recession weighing down investor sentiment.
Yet, over the last 14 months, Icahn Enterprises stock has rallied by an impressive 27.1%. Over the same time frame, Berkshire Hathaway stock has inched up by just 4.6% while the S&P 500 is in correction territory, down by 13.1% in that period.
IEP stock is also up by:
Two percent year-to-date
Nine percent over the last six months
Five percent year-over-year
As of this writing, Icahn Enterprises stock is trading just $0.38 below its December 2013 record high of $54.67.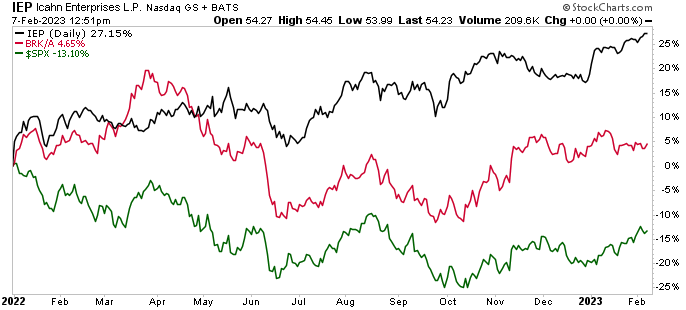 Chart courtesy of StockCharts.com
Moreover, Since 2005, Icahn Enterprises LP has declared 70 consecutive quarterly dividends and has increased those dividends a number of times. In the fourth quarter of 2022, the company declared another dividend of $2.00 per share, which works out to a current yield of 14.8%,
That's more than double the current inflation rate of 6.5% and more than 11 times the S&P 500's dividend yield of 1.6%. And, as mentioned earlier, Berkshire Hathaway stock doesn't pay any dividends.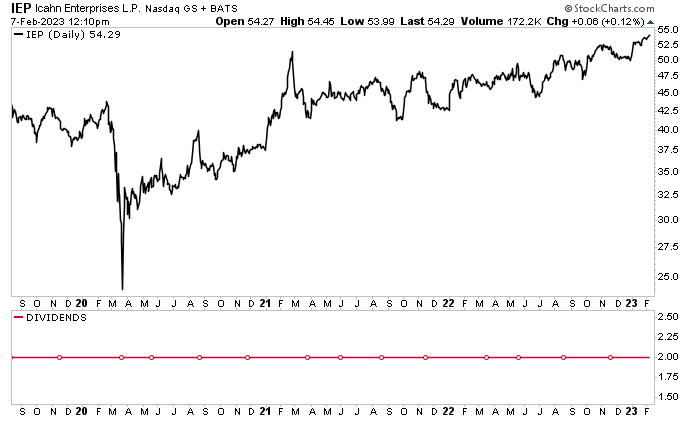 Chart courtesy of StockCharts.com
The big question you might be asking is, "How can Icahn pay out juicy dividends in quarters when it reports big net losses?" The company pays its distribution through available liquidity in its investment funds, which it can access on a daily basis. Those funds currently stand at $4.4 billion. (Source: "Investor Presentation: November 2022," Icahn Enterprises LP, last accessed February 7, 2023.)
About Icahn Enterprises LP
Icahn Enterprises is a holding company with seven operating segments: Automotive, Energy, Food Packaging, Home Fashion, Investment, Pharma, and Real Estate. Carl Icahn owns 85.5% of the company, which is worth about $15.6 billion.
Through its investment arm, Icahn Enterprises invests in public equity and debt securities and pursues an activist agenda. Some of the companies it has invested in over the years are Apple Inc (NASDAQ:AAPL), eBay Inc (NASDAQ:EBAY), Herbalife Nutrition Ltd (NYSE:HLF), Motorola Solutions Inc (NYSE:MSI), and Xerox Holdings Corp (NASDAQ:XRX).
Icahn Enterprises LP operates in the energy sector through CVR Energy, Inc. (NYSE:CVI), an independent refiner and marketer of transportation fuels, and CVR Partners LP (NYSE:UAN), a producer and distributor of nitrogen fertilizer products. The company conducts its business in the home fashion segment through its wholly owned subsidiary WestPoint Home LLC, which is behind the brands "Grand Patrician," "Luxor," "Martex," and "Vellux."Icahn Enterprises LP sells aftermarket automotive parts and provides automotive services through AAMCO Transmissions Inc., Pep Boys, and Precision Auto Care, Inc. 
The company also owns Viskase Companies, Inc., a global leader in processed meat casings.
Icahn Enterprises LP has a successful history of knowing when to exit a business, too.
In 2017, it sold American Railcar Leasing LLC for $3.4 billion, resulting in a pre‐tax gain of $1.7 billion
In 2018, it sold Federal‐Mogul for $5.1 billion, resulting in a pre‐tax gain of $251 million; Tropicana Entertainment for $1.5 billion, resulting in a pre‐tax gain of $779.0 million; and American Railcar Industries, Inc. for $1.8 billion, resulting in a pre‐tax gain of $400.0 million
In 2019, it sold Ferrous Resources Limited for approximately $550.0 million, resulting in a pre‐tax gain of $252.0 million
In 2021, it completed the sale of 100% of its equity interest in PSC Metals, LLC for $323.0 million
In January 2023, it filed for voluntary chapter 11 bankruptcy for Auto Parts Holdings LLC, an aftermarket parts distributor
Year-to-Date Net Income of $72 Million
For the third quarter ended September 30, 2022, Icahn Enterprises reported total revenues of $3.4 billion, a 28% increase over its third-quarter 2021 revenues of $2.6 billion. (Source: "Icahn Enterprises L.P. Reports Third Quarter 2022 Financial Results," Icahn Enterprises LP, November 3, 2022.)
The partnership reported a third-quarter 2022 net loss of $123.0 million, an improvement of $25.0 million over its third-quarter 2021 net loss. Meanwhile, it reported an adjusted earnings before interest, taxes, depreciation, and amortization (EBITDA) loss of $70.0 million, versus a third-quarter 2021 adjusted EBITDA loss of approximately $52.0 million.
For the first nine months of 2022, Icahn Enterprises LP reported total revenues of $11.0 billion, a 22% increase over the $9.0 billion it recorded for the same prior-year period. The company's net income in the first nine months of 2022 was $72.0 million, or $0.23 per unit, compared to a net loss of $122.0 million, or $0.47 per unit, in the first nine months of 2021. Its adjusted EBITDA in the first nine months of 2022 were $812.0 million, compared to $715.0 million in the first nine months of 2021.
The Lowdown on Icahn Enterprises Stock
Icahn Enterprises LP is a diversified holding company that continues to reward investors with long-term capital appreciation and reliable, ultra-high-yield dividends.
IEP stock's current dividend yield is 14.8%, and its average dividend yield for the last five years is 13.3%. Therefore, Icahn Enterprises stock is a no-brainer for dividend hogs.