Icahn Enterprises LP: 14.4%-Yielding Dividend Stock Poised for Big Gains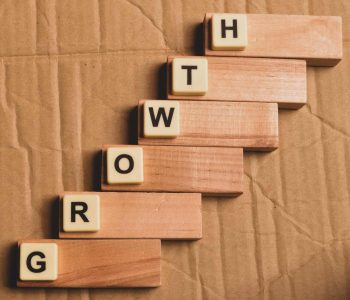 Icahn Enterprises Stock Dividend to Rise on Strong U.S. Growth?
Investors love to follow the smart money. Invest like Warren Buffett and maybe you'll get rich like him. The big complaint about Buffett and his company Berkshire Hathaway Inc. (NYSE:BRK.B) is that its stock doesn't pay dividends. Buffett loves to invest in dividend-paying companies and reap the quarterly rewards, but for his ferocious disciples, nothing. All they get is to bask in capital appreciation. One out of two ain't bad.
If you want to enjoy frothy dividends and see your initial investment rise, you might want to consider Icahn Enterprises LP (NYSE:IEP).
Led by investing legend Carl Icahn, who has a reported net worth of $15.0 billion, Icahn Enterprises is a diversified holdings company engaged in eight operating segments: Investment, Energy, Automotive, Food Packaging, Metals, Real Estate, Pharma, and Home Fashion. (Source: "Investor Presentation: May 2021," Icahn Enterprises LP, last accessed June 23, 2021.)
The Investment division is the largest, valued at $10.2 billion, followed by Energy ($4.9 billion), Automotive ($3.0 billion), Food Packaging ($471.0 million), Metals ($233.0 million), Real Estate ($494.0 million), Home Fashion ($224.0 million), and Pharma ($322.0 million).
Some of the company's holdings are Occidental Petroleum Corporation (NYSE:OXY), CVR Energy, Inc. (NYSE:CVI), Newell Brands Inc (NASDAQ:NWL), Herbalife Nutrition Ltd (NYSE:HLF), and Xerox Holdings Corp (NYSE:XRX).
Over the years, Icahn has purchased what he believes to be undervalued businesses, enhanced their operations, and sold them.
In 2017, Icahn Enterprises LP sold American Railcar Leasing LLC for $3.4 billion, resulting in a pre‐tax gain of $1.7 billion.
In 2018, the company sold Federal‐Mogul for $5.1 billion, resulting in a pre‐tax gain of $251.0 million; Tropicana Entertainment for $1.5 billion, resulting in a pre‐tax gain of $779.0 million; and American Railcar Industries for $1.8 billion, resulting in a pre‐tax gain of $400.0 million.
In 2019, it sold Ferrous Resources for aggregate consideration of approximately $550.0 million, resulting in a pre‐tax gain of $252.0 million. In 2020, Icahn Enterprises acquired all of the outstanding common stock of Vivus Inc. when it emerged from bankruptcy.
Part of Icahn Enterprises LP's goal is to have a portfolio that's diverse enough to help it weather cyclical and economic swings and, hopefully, black swan events. But nothing is foolproof.
As you can see in the following chart, IEP stock took a hit during the March 2020 broad-based coronavirus-fueled sell-off. Icahn Enterprises stock has since erased all of those losses, with a support level near the February 2020 high. As of this writing, IEP stock is up by 30% year-over-year, five percent year-to-date, and 95% since bottoming in March 2020.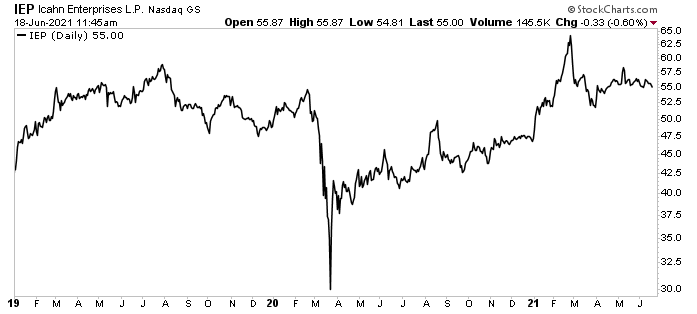 Chart courtesy of StockCharts.com
While it took IEP stock investors a while to recoup their losses, the outlook for Icahn Enterprises LP is bullish as the economy reopens after being shuttered due to COVID-19. In the near term, Icahn Enterprises stock needs to climb by 17% to get to its late-February high and climb by roughly 23% to reach its December 2013 all-time high of $68.24.
Judging by the company's financial performance, those previous highs are within reach. For the first quarter of 2021, Icahn reported revenue of $3.4 billion, versus a loss of $60.0 million in the first quarter of 2020. (Source: "Icahn Enterprises L.P. Reports First Quarter 2021 Financial Results," Icahn Enterprises LP, May 7, 2021.)
The company's first-quarter 2021 net income was $162.0 million, or $0.65 per share. In the first quarter of 2020, Icahn Enterprises reported a net loss of $1.4 billion, or $6.34 per depositary unit.
The company reported first-quarter adjusted earnings before interest, taxes, depreciation, and amortization (EBITDA) of $435.0 million, compared to an adjusted EBITDA loss of $1.3 million during the three-month period ended March 31, 2020.
For the three months ended March 31, 2021, the adjusted EBITDA attributable to Icahn Enterprises LP was $342.0 million, compared to a loss of $1.4 billion for the three months ended March 31, 2020.
The company is keen on rewarding investors with a high dividend yield. Icahn Enterprises' board of directors declared a $2.00 quarterly dividend, representing a yield of 14.4%. The trailing annual yield is 14.5% and the five-year yield is 12.0%.
That kicks the S&P 500's average dividend yield of two percent to the curb.
Is IEP stock's dividend safe? Icahn Enterprises LP had actually been raising its annual dividend over the last number of years. It paid $1.50 per quarter in 2017, raised it to $1.75 per quarter in 2018, and raised it to $2.00 in 2019. The company has held its quarterly payout at $2.00 since then.
While dividend hogs certainly don't like to see a dividend hold steady, you can hardly blame the company for preserving capital in 2020, the year that was racked by the worst economic crisis in roughly 100 years.
If anything, investors were probably quite pleased to receive $2.00 per share each and every quarter.
Will Icahn Enterprises stock resume its dividend increases anytime soon? Companies reward investors with rising dividend payouts when they make lots of money. And right now, with the economy reopening and inflation running hot, chances are good that Icahn Enterprises LP's portfolio of companies will start raking in even more money.
And if history is any indicator, Icahn Enterprises will start rewarding buy-and-hold investors over the coming quarters.
The Lowdown on Icahn Enterprises LP
As explained above, Icahn Enterprises LP is a diversified holding company that has rewarded investors with long-term capital appreciation and frothy dividends.
While IEP stock took a hit during the March 2020 stock market crash, it has since come roaring back. And the outlook for this dividend stock is bullish with the economy reopening. Carl Icahn is bullish on his own company, too. In May, he purchased 7.7 million shares of Icahn Enterprises stock for $443.4 million.