Icahn Enterprises LP: 14.6% Yielder Hasn't Missed a Payout in 66 Quarters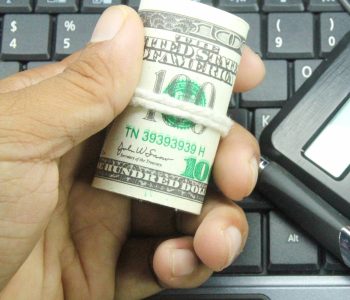 IEP Stock Is a Reliable, Inflation-Trouncing Play
Following the smart money is easy. Getting the smart money to give up some cash is a different story.
Investing legend Warren Buffett is notorious for buying stocks that provide dividends, but his own company, Berkshire Hathaway Inc. (NYSE:BRK.B), doesn't pay out dividends. Then there's Carl Icahn, who, through his eponymous Icahn Enterprises LP (NYSE:IEP), provides shareholders with capital appreciation and ultra-high dividends. Icahn might not have the same cachet as Buffett, but for income hogs, it's function before fashion.
Icahn Enterprises is a diversified holding company that has eight operating segments: Automotive, Energy, Food Packaging, Home Fashion, Investment, Pharma, and Real Estate. Its assets are worth approximately $21.0 billion. (Source: "Investor Presentation: December 2021," Icahn Enterprises LP, last accessed February 9, 2022.)
Through its investment arm, Icahn Enterprises invests in public equity and debt securities and pursues an activist agenda. Some of the companies it has invested in over the years are Apple Inc (NASDAQ:AAPL), eBay Inc (NASDAQ:EBAY), Herbalife Nutrition Ltd (NYSE:HLF), Motorola Solutions Inc (NYSE:MSI), and Xerox Holdings Corp (NASDAQ:XRX).
As of September 30, 2021, the fair market value of Icahn Enterprises LP's holdings in investment funds was approximately $4.6 billion.
The company operates in the energy sector through CVR Energy, Inc (NYSE:CVI), an independent refiner and marketer of transportation fuels, and CVR Partners LP (NYSE:UAN), a producer and distributor of nitrogen fertilizer products.
Icahn Enterprises LP's real estate segment is made up of investment properties and the development and sale of single-family homes. It also owns a hotel and timeshare resort in Aruba and a property in Atlantic City, NJ.
Icahn Enterprises operates in the home fashion segment through its wholly owned subsidiary WestPoint Home LLC, which is the company behind the brands "Grand Patrician," "Luxor," "Martex," and "Vellux."
Icahn Enterprises previously operated a metals division, but it exited that segment in December 2021, when it completed the sale of its 100% equity interest in PSC Metals, LLC to SA Recycling LLC for total cash consideration of approximately $323.0 million. (Source: "Icahn Enterprises L.P. Completes Sale of PSC Metals LLC," Icahn Enterprises LP, December 7, 2021.)
Icahn Enterprises has a successful history of knowing when to enter and exit businesses.
In 2017, it sold American Railcar Leasing LLC for $3.4 billion, resulting in a pre‐tax gain of $1.7 billion. In 2018, it sold Federal‐Mogul for $5.1 billion, resulting in a pre‐tax gain of $251.0 million; Tropicana for $1.5 billion, resulting in a pre‐tax gain of $779.0 million; and American Railcar Industries for $1.8 billion, resulting in a pre‐tax gain of $400.0 million.
In 2019, it sold Ferrous Resources for approximately $550.0 million, resulting in a pre‐tax gain of $252.0 million. In 2020, it acquired all of the outstanding common stock of drugmaker Vivus Inc when it emerged from bankruptcy.
66th Consecutive Quarterly Distribution
Icahn Enterprises LP's activist business strategy allows the company to maximize shareholder value both in terms of capital appreciation and dividends.
On January 1, 2000, the closing price of Icahn Enterprises' depositary units was $7.63. On December 23, 2021, Icahn Enterprises stock closed at $49.75. With the reinvestment of dividends, IEP stock posted a total return of 1,826%, annualized at 14%.
Over the same time frame, the S&P 500 advanced 389%, the Dow Jones Industrial Average 426%, the Russell 2000 Index 491%, and Berkshire Hathaway Class A shares approximately 693%. That translates to annualized returns of about seven percent, eight percent, eight percent, and 10%, respectively.
Icahn Enterprises stock continues to do well. As of this writing, it's up by 1.5% year-to-date and five percent year-over-year.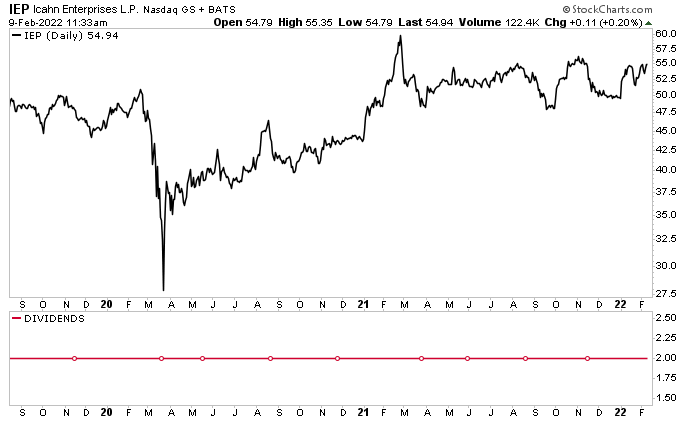 Chart courtesy of StockCharts.com
IEP stock is known for providing investors with safe, reliable, ultra-high-yield dividends. On November 1, 2021, Icahn Enterprises LP's board declared its 66th consecutive quarterly distribution since 2005: $2.00 per unit, for a yield of 14.6%.
The company has increased its dividend roughly eight times since 2005. The last time it increased the dividend was in 2019.
How can Icahn Enterprises maintain its frothy dividends even when times are tough? After all, in the third quarter of 2021, the company reported a net loss of $148.0 million, or $3.14 per depository note. Its adjusted earnings in the third quarter of 2021 were $88.0 million, compared to an adjusted loss of $550.0 million in the same prior-year period. (Source: "Icahn Enterprises L.P. Reports Third Quarter 2021 Financial Results," Icahn Enterprises LP, November 2, 2021.)
Thanks to the continued success of Icahn Enterprises LP's investment segment, which generated $375.0 million in the first nine months of 2021, the company has been able to maintain and grow its high-yield distributions.
And if the worst economic crisis in 100 years can't derail that payout, chances are excellent that Icahn Enterprises will continue to reward buy-and-hold investors with high-yield dividends and not-so-infrequent raises.
The Lowdown on Icahn Enterprises LP
As mentioned earlier, Icahn Enterprises LP is a diversified holding company that rewards investors with long-term growth and a reliable high-yield income.
The company's outlook is bright. A good sign is that, in 2021, its chair, Carl Icahn, purchased 35.9 million shares of Icahn Enterprises stock for a total purchase price of $1.9 billion.