IBM Stock: Bullish, High-Yielding AI Stock's Payout Hiked for 28 Years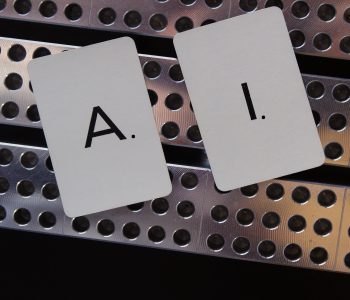 Why Undervalued IBM Stock Has High Potential
IBM (NYSE:IBM), aka International Business Machines, is synonymous with emerging technologies, e.g., computers, floppy disks, hard drive disks, automated teller machines (ATMs), and artificial intelligence (AI). When it comes to technological innovation, few companies have the lineage that IBM does.
And ever since late 2022, when "ChatGPT" helped AI stocks jump into the spotlight, investors have been looking for tech stocks that are at the forefront of the AI revolution.
IBM might not be getting the attention that NVIDIA Corporation (NASDAQ:NVDA), Alphabet Inc (NASDAQ:GOOG), and Microsoft Corp (NASDAQ:MSFT) have been getting, but it would be an oversight to ignore the company that developed "Deep Blue," a chess-playing AI system, and "Watson," a "Jeopardy"-playing AI system.
Heck, IBM's investor relations page even says, "Today's IBM has defined a clear strategy to lead in the era of hybrid cloud and AI." The company also mentioned "AI" numerous times in its first-quarter financial results press release. So, IBM obviously doesn't want you to forget that it helped lay the foundation for AI. (Source: "Investor Relations," IBM, last accessed June 6, 2023.)
The Armonk, New York-based company, which also goes by the moniker "Big Blue," is one of the world's largest information technology (IT) services companies. It's the dominant provider of mainframes and a leader in the public cloud, AI, software, and data management fields.
The company has a roster of 80,000 business partners to serve 5,200 clients—which includes 95% of the Fortune 500 companies. Even though IBM is a business-to-business company, its outward reach is massive. For example, IBM manages 90% of all credit card transactions globally and is responsible for 50% of all wireless connections worldwide.
What about AI? While IBM is content to let Google, Microsoft, and OpenAI create their own chatbots, its strategy is to help its customers harvest valuable data and create their own AI applications.
For instance, IBM is helping a bank develop better compliance and audit data. It's also building out a domain-specific data set for a chemistry company. To date, IBM has built 20 domain models. (Source: "This AI Play Is Hiding in Plain Sight. It Also Happens to Pay a Big Dividend," Barron's, June 2, 2023.)
IBM has also built a model to write code and make IT operations more efficient, and it's working with NASA to improve its weather modeling.
In an effort to maximize relevant data, businesses may need to run hundreds—or even thousands—of specific AI models at any time. And the speed at which AI innovates, newer, high-performance model architectures will need to replace previous models quicker than normal. This reinforces the need to train and deploy new AI models more quickly and efficiently.
IBM's "watsonx" AI platform is designed to do just that. Miles removed from the original Watson, watsonx trains, tunes, and deploys machine-learning models.
To encourage the adoption of AI, IBM Consulting recently launched its Center of Excellence for generative AI. The center has more than 1,000 consultants that help clients "drive productivity in IT operations and core business processes like HR or marketing, elevate their customer experiences and create new business models." (Source: "IBM Consulting Unveils Center of Excellence for Generative AI," IBM, May 25, 2023.)
The company also recently partnered with AI start-up company Hugging Face, which has a library of 130,000 AI models.
In addition to watsonx, IBM has AI products for virtually every possible application, including digital labor, proactive IT, cybersecurity automation, and AI infrastructure.
IBM's Software & Consulting Revenues Rose in Q1
IBM announced that its revenues for the first quarter (ended March 31) increased by 0.4% year-over-year to $14.3 billion. Its software revenue and consulting revenue both went up by three percent year-over-year, while its infrastructure revenue went down by four percent. (Source: "IBM Releases First-Quarter Results," IBM, April 29, 2023.)
The company's net cash from operating activity increased from $3.2 billion in the first quarter of 2022 to $3.8 billion in the first quarter of 2023. Its free cash flow inched up from $1.2 billion in the first quarter of 2022 to $1.3 billion in the first quarter of 2023.
IBM ended the first quarter of this year with $17.6 billion of cash and marketable securities, up by $8.8 billion since the end of 2022.
"Our first quarter results demonstrate that clients continue turning to IBM for our unique combination of an open hybrid cloud platform, enterprise-focused AI, and business expertise to unlock productivity and drive efficiency in their operations," said Arvind Krishna, the company's chairman and CEO.
He added, "This gives us confidence in our current growth expectations for revenue and free cash flow for the year."
IBM Stock Has Paid Dividends Every Quarter Since 1920
When it comes to returning value to shareholders through dividends, few companies have as storied a history as IBM. The company has paid dividends every year since 1920: 433 quarters and counting. (Source: "Cash Dividends (2020 – )," IBM, last accessed June 9, 2023.)
Most recently, on June 10, IBM stock paid out a quarterly distribution of $1.66 per share, for a yield of five percent. This was up from $1.65 in the previous quarter. It also represents the 28th consecutive year in which IBM has raised its dividend. (Source: "IBM Board Approves Increase in Quarterly Cash Dividend For The 28th Consecutive Year," IBM, April 25, 2023.)
Krishna noted, "Our consistent revenue growth, strong recurring revenue stream and solid cash generation enable us to invest in our business as well as return capital to shareholders through our dividend." (Source: Ibid.)
And compared to its peers, IBM stock's five-percent dividend yield is downright massive. As of this writing, Microsoft stock has a paltry 0.81% yield, NVIDIA stock has an even smaller 0.04% yield, and Alphabet stock doesn't pay dividends.
IBM Stock's Price Has 22.5% Upside
IBM has a deeper understanding of AI than virtually all of its competitors, but its share price hasn't been following the same trajectory as its peers.
At the moment, IBM stock is down by 3.5% since the start of 2023. Meanwhile, NVIDIA stock is up by 162%, Alphabet stock is up by 44%, and Microsoft stock is up by 40%.
In addition to being in the red, IBM stock is currently trading at a bargain, with a forward price-to-earnings (P/E) ratio of 14.0. In comparison, NVIDIA stock has a forward P/E ratio of 52.6, Alphabet has a forward P/E ratio of 23.5, and Microsoft has a forward P/E ratio of 30.4.
Despite the recent downward pressure on IBM's share price, the stock's outlook is robust. Analysts have provided a 12-month share-price target for IBM stock of $146.56 to $162.00 per share. This points to potential gains in the range of approximately 11% to 22.5%.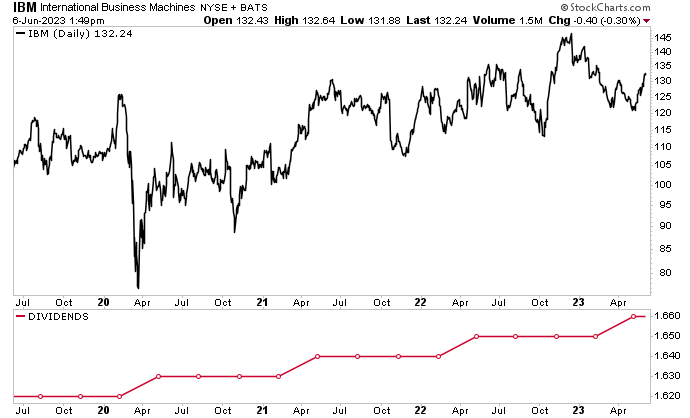 Chart courtesy of StockCharts.com
The Lowdown on IBM
Data is transforming every aspect of how we live, and as enterprises seek to integrate and analyze large volumes of data, they're turning to AI.
IBM is synonymous with technologies such as AI, machine learning, and deep learning. The company has been working on AI applications for at least 40 years. It recently launched a new version of its Watson AI platform, called watsonx, and has been helping its customers create their own AI applications. This will help the company stay a leader in the AI field.
IBM has been reporting solid financial results, and because of its financial growth expectations and free cash flow generation, the company is well positioned to continue returning value to IBM stockholders via dividends.