H & R Block Inc: A High-Yield Value Stock for Income Investors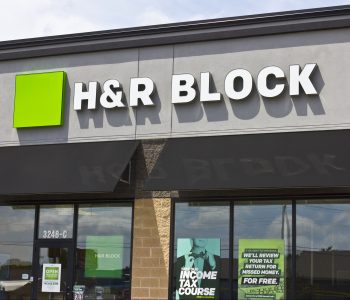 iStock.com/jetcityimage
Time to Check Out This Unique Dividend Stock
Since it's tax season, why not take a look at a company that makes money by helping people file their tax returns?
This one also happens to be a generous dividend payer.
Of course, I'm talking about H & R Block Inc (NYSE:HRB), the largest assisted tax preparer in the U.S.
H&R Block's history can be traced all the way back to 1955. Today, it has approximately 12,000 tax offices worldwide.
In the U.S., the company has around 10,000 tax offices, two-thirds of which are company-owned, with the remainder being franchised. Thanks to its huge presence, the company has an unrivaled customer reach in the tax preparation services business. Based on its current location footprint, most Americans live within five miles of an H&R Block office. (Source: "Investor Meetings," H&R Block Inc, July 20, 2018.)
And as the company grew its business over the years, it also returned a huge amount of cash to investors through dividends. In fact, H&R Block has been paying uninterrupted quarterly dividends to shareholders since it went public in 1962.
Right now, the company has a quarterly dividend rate of $0.25 per share, giving HRB stock an annual yield of four percent.
While there are higher-yielding stocks in the market, keep in mind that at the moment, the average dividend yield of all S&P 500 companies is a measly 1.94%. (Source: "S&P 500 Dividend Yield," Multpl.com, last accessed March 11, 2019.)
In other words, investors who purchase HRB stock today can lock in a yield twice as much as the benchmark index.
The best part is, HRB's payout has been on the rise, meaning investors who held the company's shares over the years are earning a higher yield on cost than when they bought the stock.
H&R Block Inc: A Dividend Growth Stock You Likely Haven't Considered
Consider that in H&R Block's fiscal year 2009, the company paid total dividends of $0.59 per share. In the current fiscal year (fiscal 2019), it is on track to pay total dividends of $1.00 per share. That would translate to a total increase of 69.5%. (Source: "Dividend Summary," H&R Block Inc, last accessed March 11, 2019.)
Also, since its fiscal 2016, H&R Block has raised its quarterly dividend rate every single year, at a compound annual growth rate (CAGR) of 7.7%.
If you are wondering whether the dividend is safe after all the increases, don't worry. In H&R Block's fiscal year 2018, the company generated $751.0 million in free cash flow while paying $200.5 million in total dividends. (Source: "H&R Block Reports Improved Results for Fiscal 2018 and Dividend Increase; To Provide Outlook for Fiscal 2019," H&R Block Inc, June 12, 2018.)
Therefore, the company was paying out just 26.7% of its free cash flow in its previous fiscal year. This has left a wide margin of safety.
Good Value for Money?
Now, we know that solid dividend growth stocks are highly sought-after. And as investors went to buy these stocks, their share prices have gotten expensive.
That brings us to another reason why income investors should check out H&R Block Inc right now.
According to data from Reuters, H&R Block has a price-to-earnings ratio of 12.88 times, a price-to-sales ratio of 1.70 times, and a price-to-cash-flow ratio of 8.12 times. In comparison, the industry it belongs to (personal services) has an average price-to-earnings ratio of 61.49 times, an average price-to-sales ratio of 2.23 times, and an average price-to-cash-flow ratio of 19.27 times. (Source: "H & R Block Inc (HRB.N)," Reuters, last accessed March 11, 2019.)
In other words, despite delivering growing dividends and solid financials, H&R Block stock is not expensive at all.
For value-conscious income investors, HRB stock deserves a serious look.