HP Inc: Why Income Investors Should Pay Special Attention to HPQ Stock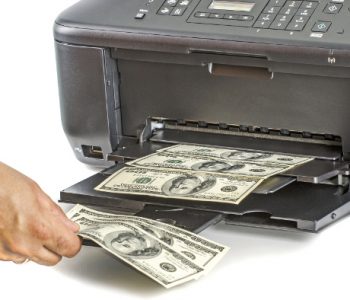 HPQ Stock: Personal Computers Business
In 2015, Hewlett-Packard split into two companies, with HP Inc (NYSE:HPQ) stock keeping the lower-margin legacy businesses, personal computers, and printers. However, "lower margin" is not to be confused with "unprofitable," as the company had third-quarter 2016 net revenue of more than $11.0 billion, plus $1.0 billion in free cash flow. (Source: "Q3 2016 Earnings Conference Call," HP Inc, August 24, 2016.)
With the rise of smartphones and tablets, personal computer sales have fallen. Some of the declines in sales are attributable to the PC being replaced by other devices, but most of the decline is due to the increased quality and performance of new PCs. People still need a PC to pair with their other devices, but they do not need to upgrade as often.
HP Inc is the world's second-largest manufacturer of PCs. They will continue to be in business as long as there is money to be made. As part of the recent restructuring, HP Inc stock has narrowed its product line and tightened the supply chain. They still have something for everyone, only in a narrower range of designs that are customizable to consumer's needs.
The company is focusing on creating distinctive high-end machines for graphics use and gaming. HP's "Omen" and "Spectre" lines are more profitable than entry-level computers, and purchasers tend to upgrade more frequently.
Printers Are Important for HP Inc Stock
Printer sales are experiencing the same industry-wide declines as PCs. The increase in sharing of digital media has reduced people's need for printed material. However, those who buy printers are looking for both greater utility and higher-quality printing. The trend plays into HP strength in all-in-one machines and color laser printing. Just like with PCs, high-end printers have a better profit margin. Every printer sold results in a follow-up stream of income from the extremely profitable sales of ink cartridges.
In a move to expand the upper end of its printer line, HP Inc has agreed to purchase Samsung Electronics Co Ltd's printer business for $1.05 billion. Samsung focuses on copier systems for business clients, so HP will gain access to a new customer base to which it can market its other hardware, plus the new business comes with more than 6,500 patents and 2,000 research and development engineers. Copiers are still a $55.0 billion business and HP is now positioned to receive a solid chunk of that revenue. (Source: "HP Inc. to Buy Samsung's Printing Business For Over a Billion Dollars," Fortune, September 12, 2016.)
HP is committed to being a major player in 3D printing. In May 2016, HP introduced the first full-production 3D printing system and the company is working with corporate partners such as BMW Group, Johnson & Johnson (NYSE:JNJ); Autodesk, Inc. (NASDAQ:ADSK); Nike Inc (NYSE:NKE); and Siemens AG to develop practical end-use solutions. 3D printing is estimated to be a $30.0 billion business by 2018. None of the early entrants into this field have the financial or research and development muscle of HP. This will be a new and growing source of profits for the company.
Final Thoughts on HPQ Stock
HP Inc stock provides income investors with a solid opportunity at a reasonable price. HPQ stock trades at a price-to-earnings ratio of only 8.91 and has a current dividend yield of 3.23%. The company has a commitment to return 50% to 75% of free cash flow to investors in the form of stock repurchases or dividends. HP's strategic plan has the company poised to not only be able to maintain its current level of free cash flow from legacy businesses, but also possibly slowly grow the legacy cash flow.
The expansion opportunities created by 3D printing and the Samsung acquisition can potentially increase total corporate free cash flow that can be used to increase the HPQ stock dividend. HPQ stock is a viable investment for income investors wanting a steady stream of rising income combined with an increased total return caused by share price appreciation.