How to Earn a Dividend Check Every Month of the Year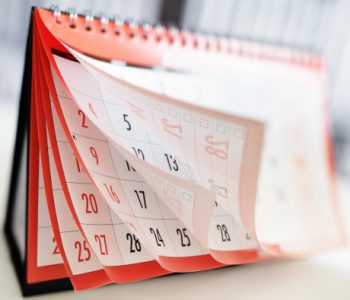 iStock.com/BrianAJackson
These Stocks Yield Up to 18.1%
Regular readers know I gush over dividend stocks, but they do have one drawback: quarterly payouts.
The right business can make for a great source of income. But with their infrequent payments, investors have long waits between distributions.
Most people probably don't care. For those of us who count on dividends to pay living expenses, however, it can be a headache. Monthly bills don't line up nicely with our lumpy investment income.
Thankfully, there's a solution.
By picking stocks that pay dividends in different months, we can scatter our distribution income throughout the year. Of course, you shouldn't buy an investment just for the payout dates. But by digging into dividend schedules, you can create a more uniform income stream from month to month.
Let's get started with some quick examples. Below, I've highlighted three top dividend stocks that pay out distributions in different months. With this simple portfolio, you would be able to collect a dividend check every single month of the year.
January, April, July, and October
BP Prudhoe Bay Royalty Trust (NYSE:BPT) is pretty simple to wrap your head around. The trust owns a number of oil wells on the Alaskan North Slope and collects income on behalf of unitholders. Rather than plowing earnings back into drilling new wells, BPT simply passes on all of the profits.
Owning a bunch of old properties has one big advantage: They don't cost much to maintain. Workers drilled the wells decades ago and installed all of the needed infrastructure. Now, unitholders can sit back and enjoy the fruits of that labor. Almost every dollar of revenue flows straight to the bottom line.
As a result, BPT constitutes a true cash cow. Today, units pay a quarterly distribution of $1.15 each, which comes out to an annual yield of 13.8%. Those payments fluctuate with commodity prices and will decline over time as these wells run dry. But for investors looking for a big upfront yield, you won't find many better options around.
February, May, August, and November
Enbridge Energy Partners, L.P.'s (NYSE:EEP) business serves as the arteries of the North American economy. The partnership owns thousands of miles of pipelines across the country, shipping valuable commodities like oil, natural gas, and jet fuel. Without the energy that Enbridge moves through its network, our lives would look very different.
Owning a pipeline is a lucrative business. Once underground, they don't cost much to maintain. Ongoing costs come in at just a fraction of sales. And while energy prices can swing wildly from year to year, the actual volume of crude oil moving across the country—and. by extension, pipeline revenue—remains remarkably consistent.
For investors, that translates into a tidy stream of income. Today, Enbridge Energy Partners pays a quarterly distribution of $0.35 per unit. That comes out to an annual yield of 12.1%.
March, June, September, December
CBL & Associates Properties, Inc. (NYSE:CBL) owns a portfolio of shopping malls anchored by struggling department store tenants. Profits have plunged over the past few years, weighed down by increasing vacancy rates, falling rental income, and a large debt load.
Management, however, sees some light at the end of the tunnel. In recent quarters, CBL has slashed costs, paid down debt, and diversified its tenant base. Those attempts have started to put a floor underneath profits, as evident by a small increase in same-center sales for the 12 months ended June 30.
No doubt, this stock comes with some uncertainty. Investors, though, get well compensated for the risks they're taking. CBL pays a quarterly distribution of $0.20 per unit, for an annual yield of around 18.3%. If management can pull off this turnaround, investors who overlooked this stock will be kicking themselves later.