How to Collect a 9.2% Yield From the IRS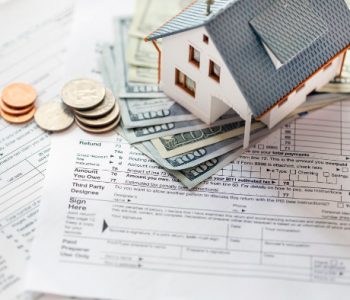 iStock.com/MariuszBlach
Earn a 9.2% Yield From "Uncle Sam"
You can't call me a fan of the government. As one of those "Don't Tread on Me" types, I resent how much the Feds collect in taxes. Never mind how much of that money gets flushed down the toilet.
But I can say one good thing about "Uncle Sam:" he generally pays his bills. For Government Properties Income Trust (NASDAQ:GOV), that has translated into a reliable income stream. And, with a yield topping 9.2%, investors should look into this name further.
This distribution could be one of the safest payouts around. Government Properties leases office space to federal, state, and local governments. The partnership's empire spans some 95 buildings across 31 states and Washington, D.C.
Also Read:
REIT ETF List: Earn Regular Income From These Real Estate ETFs
The IRS represents Government Properties' single biggest tenant by square footage, followed by the State of California and Citizenship and Immigration Services, a component of the Department of Homeland Security. Needless to say, none of these agencies will "go out of business" anytime soon. Owners don't really need to worry about getting paid. (Source: "Investor Presentation," Government Properties Income Trust, last accessed January 3, 2018.)
That income stream keeps growing, too. Almost every contract comes with inflation and property tax adjustments baked into the lease. So, if either of these costs gets out of hand, Government Properties can pass on the expenses to renters.
Moreover, management continues to grow earnings through the occasional acquisition. Despite a relatively bland economy, GOV has grown rental revenues 12% over the past four years to $258.2 million. Much of that growth gets passed on to owners in the form of higher distributions.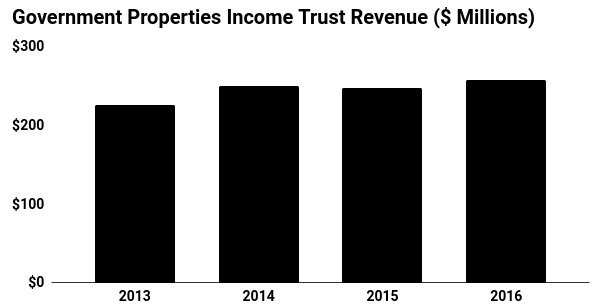 (Source: "Government Properties Income Trust," Google Finance, last accessed January 3, 2018.)

Of course, you can't call GOV stock a sure thing. Because these cash flows resemble bond coupons, units compete directly with fixed-income investments. So, if interest rates rise, GOV's unit price will likely take a hit.
Despite that problem, GOV stock still looks interesting. A 9.4% yield far exceeds what most bonds offer nowadays. And, because the company can raise rents over time, there is some built-in inflation protection.
And heck, I don't mind collecting money from the IRS for a change.