How to Collect 10.7% Yields from the U.S. Government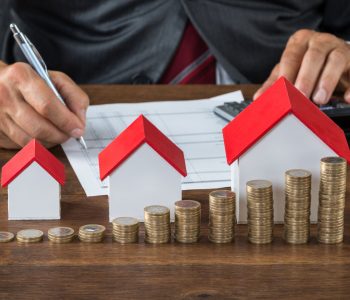 iStock.com/AndreyPopov
A 10.7% Yield Backed By "Uncle Sam"
Nobody can say many good things about the government nowadays.
Bureaucrats blow our tax dollars on silly projects. When you see how much money "Uncle Sam" takes from each paycheck, it's enough to make you groan.
But I can say one good thing about the folks in Washington: they usually pay their bills. And that's good news for Government Properties Income Trust (NASDAQ:GOV). This landlord leases out office properties to government agencies across the country, which has created quite the income stream for unitholders.
GOV probably has the safest tenant around.
The Internal Revenue Service (IRS) constitutes the firm's biggest renter by square footage. The next largest in order of size includes the U.S. Department of Citizenship and Immigration Services, the National Archives and Record Administration, and the Federal Bureau of Investigation (FBI). (Source: "Investor Presentation November 2017," Government Properties Income Trust, last accessed February 20, 2018.)
Needless to say, none of these agencies will "go out of business" anytime soon. These departments represent essential functions of the federal government, so they will likely be around decades or even a century from now. For GOV unitholders, that kind of certainty makes it easy to sleep at night.
Moreover, this business gushes cash flow.
GOV earns annual capitalization rates (an industry shorthand for measuring investment profits) around eight percent each year. And by signing up tenants to long-term leases, management can lock in these returns for decades or more.
These revenues keep growing, thanks to a combination of acquisitions, rent hikes, and cost-cutting measures. GOV protects itself further by baking inflation and property tax adjustments into the lease agreements. As you can see from the chart below, this has created quite the stream of rental income for owners.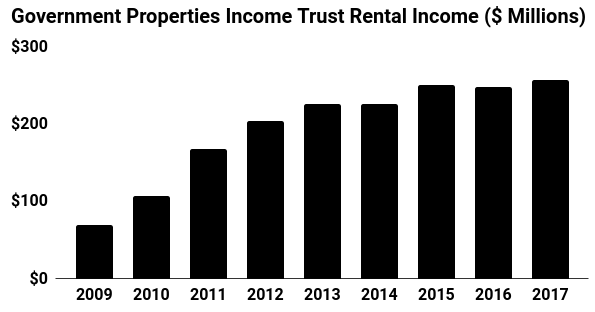 (Source: "Annual Reports," Government Properties Income Trust, last accessed February 20, 2018.)

You have to keep an eye on government spending here, of course.
The Trump administration has proposed some spending cuts in its upcoming budget. For that reason, analysts think GOV will have more limited growth opportunities going forward.
That said, state and local governments continue to get bigger each year. And for all of the worry about President Trump's upcoming budget, he has still proposed a big increase in overall spending. I'm not holding my breath for a radically smaller federal government, but maybe only a difference in how department funds get divvied out.
In any event, GOV unitholders can expect this 10.7% yield to keep rolling in for years to come.