How Some Investors of Intel Corporation Made an "Easy" Profit of 196%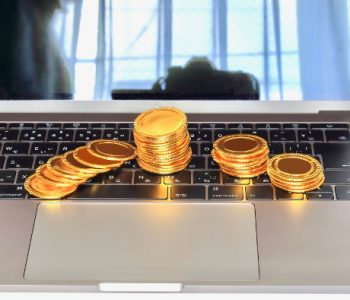 iStock.com/kudou
Intel Stock is a Top Pick for Income Investors
The tech sector is known for producing some of the biggest gainers, but most tech stocks aren't the go-to choices for income investors. The reason is simple: the volatility in the sector means investors have to watch the market closely and make timely decisions. In addition, many tech companies don't even have a dividend policy.
And that's exactly why Intel Corporation (NASDAQ:INTC) is special. We recommended Intel stock to readers of our Income for Life advisory in January 2010, and since then, the company has been paying consistently increasing dividends, with its share price climbing steadily as well. With automatic dividend reinvestment, Intel stock has delivered total returns of 196% since our recommendation. This is particularly impressive when you take into account the fact that Intel is a mega-cap stock commanding over $200.0 billion of market cap.
However, you don't have to be an investing genius like Warren Buffett to make the call. Back in 2010, Intel was already the number-one chipmaker in the world and had a generous dividend policy in place. Due to its solid fundamentals, picking Intel stock was actually a pretty easy decision.
INTC Stock Chart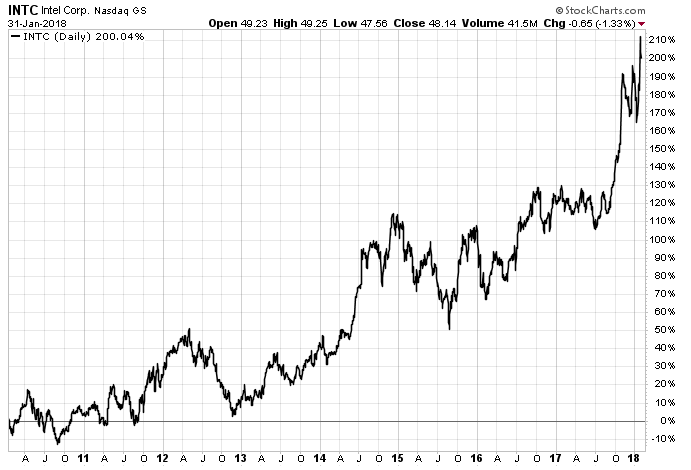 Chart Courtesy of StockCharts.com
Of course, as a legacy tech company, Intel has faced some investor concerns in recent years. In particular, because the company made its name by supplying microprocessors to the first personal computers (PCs) in the world, people have been worried whether the recent slowdown in the PC industry would affect its business.
Also Read:
Intel Stock: 1 Absolutely Simple Reason To Own Intel Corporation
So, should that be a concern for INTC stock investors? Not really. In 2017, the company generated a whopping $34.0 billion in revenue from the Client Computing Group—its PC-centric business, which actually represented a three-percent increase year-over-year. (Source: "Intel Reports Fourth-Quarter 2017 Financial Results," Intel Corporation, January 25, 2018.)
Moreover, other than making chips for PCs, the company has also built a solid presence in other fields. Its data-centric businesses, including the Data Center Group, Internet of Things Group, Non-Volatile Memory Solutions Group, and Programmable Solutions Group, now account for 47% of Intel's total revenue.
And due to the growth in cloud computing and the "Internet of Things, "Intel's data-centric businesses have been firing on all cylinders, which each segment posting double-digit sales growth last year. This helped drive Intel's total revenue up 16% in 2017 to an all-time record of $62.8 billion.
Bottom line turned out to be even better. Excluding one-time items, Intel's adjusted earnings came in at $3.46 per share for 2017, up 28% from the prior year.
Thanks to solid financial performance and the current U.S. administration's tax reform, the company announced last month that it would raise its quarterly cash dividend by 10% to $0.30 per share. Since our recommendation in 2010, Intel stock has raised its per-share payout seven times by a total of 90%. (Source: "Intel Corporation Dividend Date & History," NASDAQ, last accessed January 31, 2018.)
Trading at $48.14 apiece, INTC stock offers an annual yield of 2.5%
For 2018, Intel expects to have another record year, earning $3.55 per share on $65.0 billion of revenue. If it achieves those targets, the company should have no problem continuing its impressive track record of dividend hikes.
In my opinion, the best part about having INTC stock in an income portfolio is that it provides peace of mind. Even though there are hundreds of headlines that could affect tech stocks every day, investors of Intel Corporation could still sleep well at night knowing that the company would provide a steadily increasing stream of income.