How to Begin Collecting "Cannabis Rent Checks"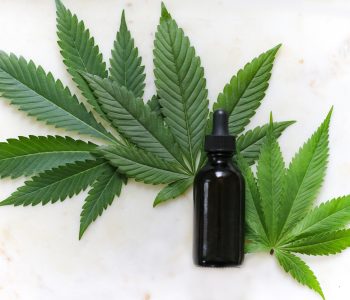 iStock.com/WireStock
Earn Investment Income From Booming Cannabis Industry
Marijuana now represents the biggest investment income opportunity of the 21st century.
Last year, legal U.S. legal cannabis sales topped $11.9 billion. This figure could grow almost sixfold by 2025, according to analysts at Grand View Research, Inc. (Source: "Legal Marijuana Market Worth $66.3 Billion By 2025 | CAGR: 23.9%," Grand View Research, Inc., May 2019.)
One little-known real estate company stands to make a fortune from this boom. As one of the largest marijuana landlords in the country, this firm has seen its profits soar in recent years. And now management is willing to split the profits with us in a program I've nicknamed "cannabis rent checks."
A Source of Cannabis Rent Checks
As you probably know, marijuana legalization has swept the nation.
Today, 33 states have legalized medicinal cannabis. Meanwhile, 11 states plus D.C. have made it legal for adults to buy marijuana for recreational purposes.
That has sparked a huge investment boom, akin to the Oklahoma Land Rush. Companies are racing to scale up marijuana production in an effort to secure their share of this fast-growing industry. Through 2023, analysts project U.S. cannabis production will grow 23% annually. (Source: "Recent Legalization of Hemp Will Support Growth," Yahoo! Finance, July 25, 2019.)
The industry has just one problem: building these new grow houses will require massive upfront investments—far more money than most companies have on hand. That will leave these businesses short on cash for other activities, like marketing and distribution.
That's where Innovative Industrial Properties Inc (NYSE:IIPR) comes in. Simply put, the company serves as the landlord of the marijuana business. Innovative Industrial Properties buys growing facilities from cannabis producers who instantly rent the property back under a long-term lease.
These deals present a win-win situation for everyone. Marijuana producers receive a chunk of cash which they can use to grow their business, while investors in IIPR stock locks in a monthly stream of income which will roll in like clockwork for decades.
And early results look promising. Because of the huge demand for investment capital in the cannabis business, Innovative Industrial Properties can demand generous terms from partners. Last quarter, the company's average current yield on invested capital topped 14.8%. That's an impressive figure in a world of low interest rates. (Source: "Innovative Industrial Properties Reports First Quarter 2019 Results," Innovative Industrial Properties Inc, May 8, 2019.)
This has created quite the investment income stream for shareholders: the aforementioned "cannabis rent checks."
Since the trust went public in 2017, it has boosted the distribution on common shares fourfold. Today, shares pay a quarterly dividend of $0.60 apiece, which comes out to an annual yield of 2.2%.
Executives have also recently rolled out the new Innovative Industrial Properties Inc Series A Preferreds (NYSE:IIPR-PA). This issue allows investors to trade distribution growth in the future for a bigger payout today. The preferreds come with a fixed upfront coupon of 7.5%.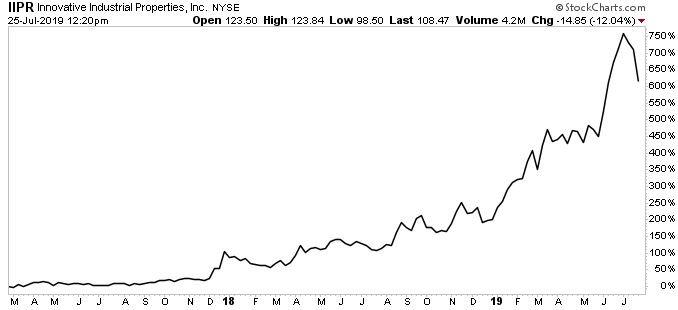 Chart courtesy of StockCharts.com
The Bottom Line on IIPR Stock
IIPR stock isn't without is flaws, of course. Shares, especially the riskier common units, will rise and fall with the fortunes of this cannabis industry. If the marijuana sector runs into a roadblock, so to will this landlord's income stream.
That said, Innovative Industrial Properties Inc would likely do better in such a scenario than the companies actually growing marijuana. Management could renovate its properties and lease them to businesses outside of the pot industry. That provides investors with far more security than investing in traditional cannabis stocks.
IIPR stock allows ordinary investors to claim their stake in the booming marijuana industry. Consider giving this stock a second look today.