Home Depot Inc: An Unexpected COVID-19 Winner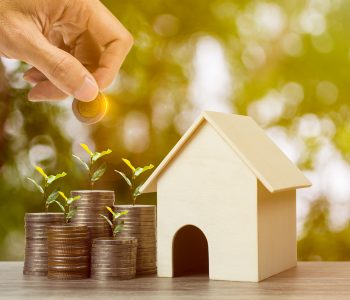 Home Depot Inc Poised for More Gains Post-COVID
Wall Street has worried this summer over a recession, COVID-19, and skyrocketing unemployment. But you wouldn't know it looking at the recent financial results of Home Depot Inc (NYSE:HD).
In August, the home improvement retailer posted blowout second-quarter earnings, topping Wall Street forecasts on both the top and bottom lines. Moreover, shares of Home Depot stock have nearly doubled from their March lows.
Yet this could be just the beginning.
Admittedly, it's a tough time to be bullish on a retailer.
The coronavirus pandemic has rocked the industry, pushing thousands of companies into bankruptcy. Restrictions meant to slow the virus' spread have squeezed profit margins and accelerated the decade-long transition to e-commerce businesses like Amazon.com, Inc.
Home Depot hasn't escaped unscathed. The company is spending more to clean and sanitize stores, as well as for extra compensation for front-line workers. Last quarter, executives paid an additional $480.0 million in employee compensation. And since the pandemic began, executives have spent $1.3 billion on supplementary pay and benefits. (Source: "The Home Depot Announces Second Quarter Results; Declares Quarterly Dividend of $1.50 Per Share," Home Depot Inc, August 18, 2020.)
But the coronavirus pandemic has sparked something of a home renovation boom. As people spend more time at home, many have shifted dollars they would have spent on vacations, restaurants, and entertainment over to domestic projects.  Bank of Montreal estimated that spending on household furnishings, equipment, and maintenance topped $650.0 billion nationwide in June—well above its pre-pandemic level. (Source: "Home renovation spending heats up again after COVID-19 pandemic led to deep freeze," CBC, August 30, 2020.)
"The home has never been more important to the customer," Home Depot Chairman and Chief Executive Craig Menear told investors on a recent conference call. (Source: "Home Depot (HD) Q2 2020 Earnings Call Transcript," The Motley Fool, August 18, 2020.)
"We're all spending lots of time there. We're seeing things that need to be done or things that you want to be done. We're clearly seeing the customer engaged in a really strong way right now." (Source: Ibid.)
Home Depot Inc's Blowout Results
This has translated into blowout financial results.
For the three months ended August 2, 2020, Home Depot saw revenue jump 23% year-over-year to $38.1 billion. Same-store sales in the U.S., which compare sales at stores opened more than a year, increased by 25% from the same period in 2019. This represents the company's best quarterly performance in almost two decades. (Source: Ibid, Home Depot Inc.)
While management saw revenue gains across almost all categories, sales to households in the quarter saw a bigger increase than sales to professional contractors. Executives also reported an uptick in big-ticket purchases, such as riding lawn mowers and patio furniture, which was partially offset by lower sales of items that require intensive indoor installation work, such as kitchens and countertops.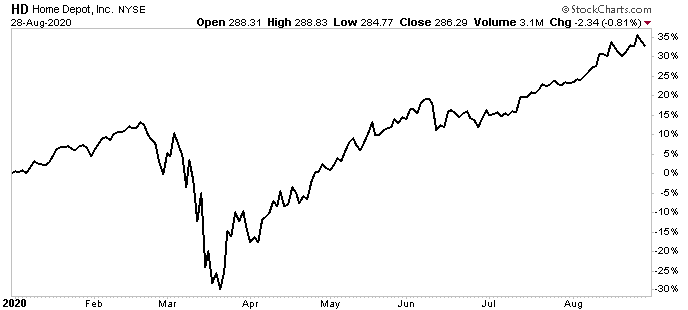 Chart courtesy of StockCharts.com
All of this means that Home Depot Inc has more money to pay shareholders.
Through the first six months of 2020, management has spent $791.0 million on stock repurchases. And last spring, at the height of the pandemic, executives hiked the quarterly dividend 10% to $1.50 per share, raising the forward dividend yield on shares to 2.1%.
This represents an enormous vote of confidence in the underlying business and bodes well for Home Depot stock in 2020 and beyond.