Home Depot Inc: Delivering Both Income & Growth to Investors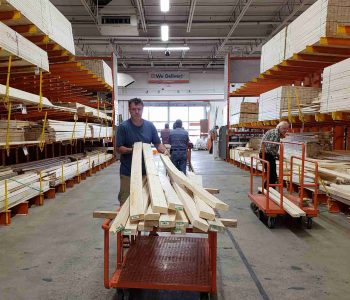 Why Home Depot Stock Could Be Special
In an era when e-commerce stocks are all the rage, who would have thought that a company known for its big box stores would see its share price shoot through the roof?
But it is happening: shares of Home Depot Inc (NYSE:HD) have surged by 138% over the past five years. And that figure doesn't include the additional returns that shareholders have collected through the company's rising dividend payments.
Home Depot is the largest home improvement retailer in the world. The company was founded in 1978 and opened its first two stores in June 1979. Today, it operates approximately 2,300 stores in all 50 U.S. states, the District of Columbia, Puerto Rico, the U.S. Virgin Islands, Guam, all 10 Canadian provinces, and Mexico.
In its current configuration, a typical Home Depot store averages at about 105,000 square feet of indoor retail space, which dwarfs most of its competitors. But we know that brick-and-mortar retailers have suffered from the rise of the e-commerce industry. So, how has Home Depot's business been lately?
Surprisingly well. In the company's fiscal year 2020, which ended January 31, 2021, it generated $132.1 billion in total sales, representing a 19.9% increase year-over-year. (Source: "The Home Depot Announces Fourth Quarter and Fiscal 2020 Results; Increases Quarterly Dividend by 10 Percent," Home Depot Inc, February 23, 2021.)
The company's comparable sales, a critical measure of a retailer's performance, increased by 19.7% in fiscal 2020. Notably, its comparable sales in the U.S. rose by 20.6%.
Keep in mind that these figures were achieved during a period when many sectors of the economy were severely impacted by the COVID-19 pandemic. Yet, even as people were reluctant to visit physical stores, Home Depot grew its business at a double-digit clip. Of course, the company also has its online sales channel. In fact, in its fiscal 2020, Hope Depot's web site received more than 3.6 billion visits.
But there could be another reason why the company has been so resilient in the face of the pandemic and the e-commerce boom. Many of the products sold by Home Depot are simply too large to be shipped for free by "Amazon Prime." As a result, visiting a Home Depot store remains a necessity for many consumers.
The company knows this and offers an interconnected retail experience. For instance, while Home Depot achieved 83% digital sales growth year-over-year in the fourth quarter of its fiscal 2021, about 55% of all online orders were fulfilled through a store. (Source: "Q4 FY 2020 Performance," Home Depot Inc, last accessed September 8, 2021.)
Now, some might think that Home Depot's results were extraordinarily strong in fiscal 2020 because, when people were stuck at home due to the pandemic, they had more time to work on home improvement projects.
Well, Home Depot's latest earnings report shows that, even as the economy has been reopening, the company's business has been growing.
In the second quarter of Home Depot's fiscal year 2021, which ended August 1, it earned $41.1 billion in total sales, up by another 8.1% year-over-year. The company's comparable sales rose by 4.5% for the quarter, with its U.S. comparable sales edging up by 3.4%. (Source: "The Home Depot Announces Second Quarter Results," Home Depot Inc, August 17, 2021.)
Home Depot Inc (NYSE:HD) Stock Chart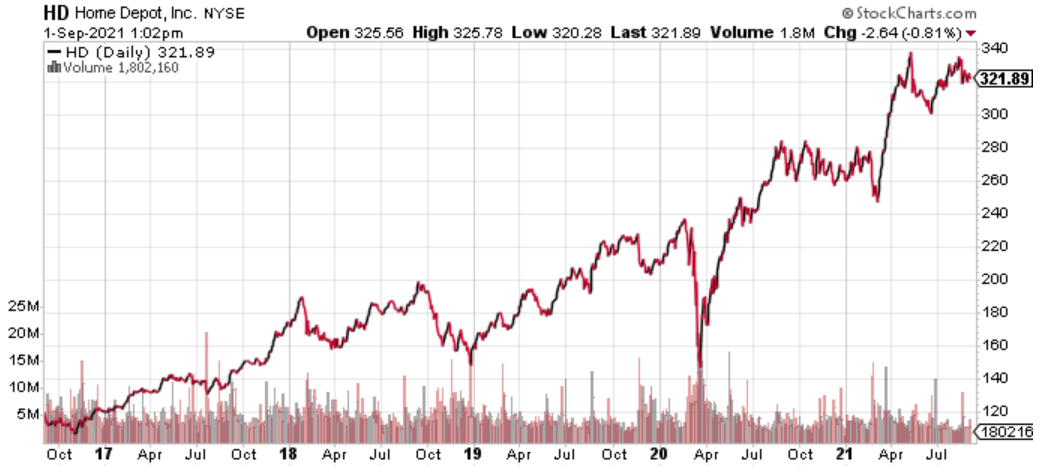 Chart courtesy of StockCharts.com
Continued growth in Home Depot's business is likely one of the main reasons behind the rally in HD stock. But, as mentioned earlier, the company has also been doing a great job on the dividend front.
In February, the company's board of directors approved a 10% increase to Home Depot stock's quarterly dividend rate to $1.65 per share. At its current price, HD stock yields 2.1%.
Over the last five years, Home Depot stock's per-share payout has grown by a whopping 139%. (Source: "Dividend History," Home Depot Inc, last accessed September 8, 2021.)
And thanks to growth in the company's financials, it has no problem covering its rising dividends. In the first half of Home Depot's fiscal 2021, it generated diluted earnings of $8.38 per share while declaring total dividends of $3.30 per share. That translated to a very conservative payout ratio of 39.4%.
All things considered, it's fair to say that HD stock is worth considering by dividend growth investors.