Home Depot Inc Earnings: Get Ready for Another Dividend Hike From HD Stock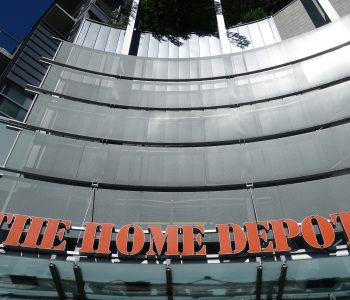 iStock.com/Canadian Photographer
Home Depot Stock Set to Return More Cash to Investors
In a soaring stock market, a few percents of dividends may not seem like much. But if you own shares of solid dividend growers like Home Depot Inc (NYSE:HD), continuous distribution increases can lead to an oversized stream of income.
And now, Home Depot is scheduled to report quarter earnings again. To income investors of HD stock, good news could be on the way.
Like most widely-followed stocks, Home Depot has a set of expectations to beat every earnings season. This time, for the fourth quarter of the company's fiscal year 2018, Wall Street expects the home improvement retailer to earn $26.57 billion in revenue, which would mark an 11.3% increase year-over-year. (Source: "The Home Depot, Inc. (HD)," Yahoo! Finance, last accessed February 19, 2019.)
Bottom-line results are projected to be even better. For the quarter, analysts expect HD stock's earnings to come in at $2.16 per share, which would mark a whopping 27.8% increase from the $1.69 per share earned in the year-ago period.
Stats on Home Depot Stock
| | |
| --- | --- |
| Earnings Per Share Estimate | $2.16 |
| Change From Year-Ago Earnings Per Share | 27.8% |
| Revenue Estimate | $26.57 Billion |
| Change From Year-Ago Revenue | 11.3% |
| Earnings Beaten in Past Four Quarters | 4 |
Source: Ibid.
Looking back, we see that over the past year, Home Depot Inc has beaten Wall Street's earnings per share estimates in all four quarters.
Now, keep in mind that this is an era where media often uses the words "retail apocalypse" in the headlines. If Home Depot, a company that operates brick-and-mortar retail stores, can pull off double-digit growth rates in both top and bottom lines, it would be quite an impressive feat.
Speaking of headwinds in the retail industry, in the earnings season, market participants will also pay close attention to a retailer's same-store sales. In the previous earnings report, Home Depot showed a solid 4.8% same-store sales growth in its third fiscal quarter. This was driven by a 3.5% increase in the average ticket and a 1.2% increase in the number of comparable transactions.
Management also projected that for full-year fiscal 2018, the company's same-store sales would grow by approximately 5.5%. (Source: "The Home Depot Announces Third Quarter Results; Updates Fiscal Year 2018 Guidance," Home Depot Inc, November 13, 2018.)
Furthermore, while e-commerce was the main force behind the downturn in the retail industry, Home Depot has turned this source of headwind into a catalyst. In the third fiscal quarter, the company's online sales grew 28% year-over-year. (Source: "HD – Q3'18 Home Depot Earnings Call," Home Depot Inc, November 13, 2018.)
Home Depot's share price has already been climbing thanks to the market recovery in the last few weeks. If the company delivers strong earnings, comparable sales, and online growth numbers in the upcoming report, it could keep the uptrend continuing for HD stock.
Home Depot Inc Stock Chart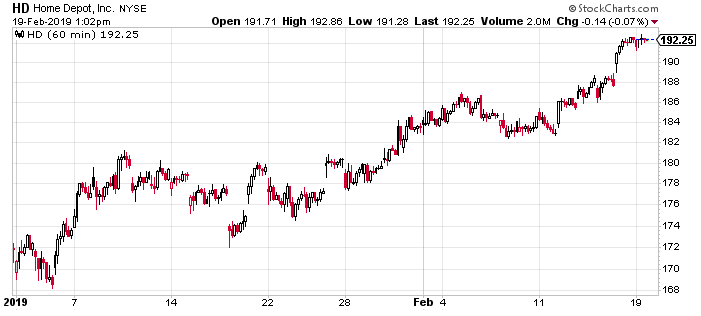 Chart courtesy of StockCharts.com
To make things even better, investors don't need a soaring HD stock to make money from this retailer. The reason is simple: Home Depot Inc regularly returns cash to investors through dividends.
The company currently pays quarterly dividends of $1.03 per share, which comes out to an annual yield of 2.1%.
What's more, the payout has been on the rise. While Home Depot temporarily suspended the increases in the Great Recession, it did not cut its dividend. And since 2010, the company has raised its quarterly dividend rate every single year. (Source: "Dividend History," Home Depot Inc, last accessed February 19, 2019.)
The company also stands out when it comes to dividend safety.
In the first nine months of its fiscal 2018, Home Depot earned a net income of $7.63 per share while declaring total dividends of $3.09 per share. That translated to a payout ratio of 40.5%, leaving plenty of room for future dividend increases.
Get Ready for Another Dividend Increase
Home Depot Inc is scheduled to report fourth-quarter earnings on Tuesday, February 26, before market open. In the past, the company's board of directors usually makes changes to the company's dividend policy at around the same time as its fourth-quarter earnings report.
Given the company's growing financials and conservative payout ratio, investors can look forward to a sizable dividend increase from HD stock next week.