Home Depot Inc Cashing in on COVID-19 Pandemic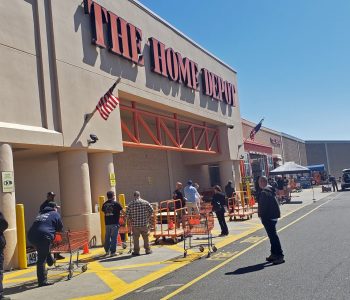 Home Depot Inc Still Thriving Today
We're starting to get a better sense as to how the coronavirus pandemic will impact income investors. And for the most part, the news isn't good.
Dozens of blue-chip businesses have reported sharp drops in sales as a result of government lockdowns. In the best cases, that has resulted in dividend cuts to shareholders. In the worst cases, the plunge in cash flows has forced firms into bankruptcy.
But even in the midst of a crisis, you can still find opportunities. For proof, you only need to take a quick glance at some of the names I've written about for Automated Income subscribers, including Ecolab Inc. (NYSE:ECL), Walmart Inc. (NYSE:WMT), Prologis Inc (NYSE:PLD), and McCormick & Company, Incorporated (NYSE:MKC). These top dividend stocks have continued to thrive through border closures and government lockdowns. And that has resulted in outstanding returns for shareholders.
Today I want to feature another such business: Home Depot Inc (NYSE:HD). The home renovation retailer has been making money hand over fist through the coronavirus lockdown. And I think investors should take notice.
In fairness, Home Depot hasn't escaped COVID-19 unscathed. Since the start of the year, executives ramped up efforts to clean and sanitize stores. Management has also introduced initiatives to support their frontline employees, such as weekly bonuses, expanded time off, paid sick leave, and extensions of certain benefits.
These initiatives, however, don't come cheap. For the first quarter, management said costs related to the expanded employee benefits topped $848.0 million. That took a big bite out of operating margins, which dropped to 11.6%, the company's worst performance since 2014. (Source: "Form 10Q," Home Depot Inc, May 19, 2020.)
But those investments to keep outlets open through the pandemic appear to have paid off. Because many states deemed the retailer an essential service, Home Depot managed to keep most of its stores open. And with many customers taking advantage of the lockdown to undertake home renovations, the company has posted explosive sales growth.
You can see the impact of these trends in Home Depot's recent financial results. During the first quarter, management reported that sales per square foot jumped seven percent year-over-year to $466.58. Average purchases also increased by about 11% to $74.70. (Source: "Home Depot Sales Rise 7% but Higher Coronavirus-Related Costs Drag Down Earnings," CNBC, May 19, 2020.)
That bump in sales translated into outstanding numbers overall. Home Depot Inc's first-quarter numbers in May crushed Wall Street's estimates on both the top and bottom lines. That triggered renewed interest in the retailer among traders, who bid up the price of HD shares to a fresh all-time high.
"We saw strong sales across the store with all departments showing mid-single to double-digit comps," said Home Depot's Executive Vice President of Merchandising Ted Decker during the company's first-quarter conference call. (Source: "The Home Depot, Inc. (HD) CEO Craig Menear on Q1 2020 Results," Seeking Alpha, May 19, 2020.)
"As customers prepared shelter-in-place, we saw particularly strong growth with certain categories like cleaning and safety and security, but we also saw growth above our expectations in other core categories."
Looking beyond the next few quarters, Home Depot has a number of avenues to boost sales further: capitalizing on the stable housing market that has resulted in booming demand for home improvement supplies; expanding into new product categories like appliances and textiles; attracting entirely new types of customers such as professional contractors; building out its e-commerce business to compete with rivals like Amazon.com, Inc. (NASDAQ:AMZN); and seeking out new opportunities to cross-sell products.
But Home Depot's real opportunity will come from squeezing more profit out of each dollar of revenue. As the largest retailer in the home improvement business, management has started pushing suppliers, landlords, and other partners for price breaks and better payment terms. Executives have also invested $1.2 billion into overhauling the company's supply chain, allowing the company to slash transportation costs. (Source: "Home Depot Sets $1.2 Billion Supply Chain Overhaul," The Wall Street Journal, June 11, 2018.)
Technology, however, represents the company's biggest opportunity. Over the past few years, management has transitioned away from advertising channels like television and radio to digital outlets. The company is now the largest single ad buyer on Facebook, Inc. (NASDAQ:FB). (Source: "Most of Facebook's Top 100 Advertisers Have Not Joined the Boycott: Analysis," The Hill, July 1, 2020.)
Executives have also beefed up spending on paid search ads and e-mail marketing. These efforts have allowed Home Depot to boost sales while spending less money, the favorite words of any financial analyst.
You can see the impact of all of these efforts in Home Depot Inc's financial results. Back in 2011, the company earned $0.07 in operating profit on every dollar generated in sales. Today, the business banks almost $0.14. And that figure would be considerably higher if you stripped out the short-term impact of COVID-19.
These small, ongoing efforts have turned the company into a cash machine. Over the past five years, Home Depot has returned $59.0 billion to its shareholders through dividends and share buybacks, about 25% of its current market cap. In February, management boosted the quarterly dividend 10% to $1.50 per share. That move, which was an enormous vote of confidence on the part of management, raised the forward yield on shares to 2.4%.
And Wall Street, it seems, has noticed. Since 2009, Home Depot Inc has posted a total return, including dividends, of 1,300%. Over that period, the stock has increased more than 10-fold in value.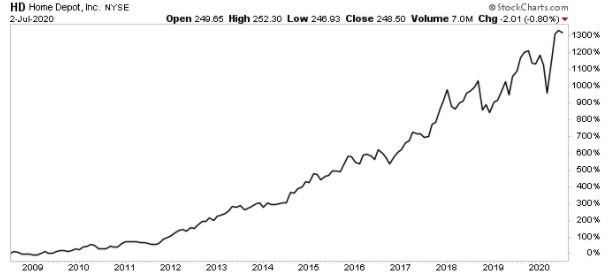 Chart courtesy of StockCharts.com
Obviously, COVID-19 clouds the company's outlook going forward. In May, Home Depot executives withdrew their 2020 earnings guidance. Analysts have called it a reasonable measure, given that projecting future sales amounts to not much more than throwing darts at a board at this point. (Source:"The Home Depot Announces First Quarter Results," Home Depot Inc, May 19, 2020.)
But looking past the next quarter or two, Wall Street expects Home Depot to continue growing its earnings per share at a high single-digit clip. That outlook seems conservative, considering the company's consistent ability to beat analysts' expectations. And given Home Depot's conservative 58% payout ratio, management should have no issue boosting the dividend in line with profits.
Bottom line: even in a crisis, you can still find opportunities. Home Depot Inc is one of the few businesses that have continued to thrive through the pandemic.