Hoegh LNG Partners LP: This High-Yield Stock Pays a Safe 10.1%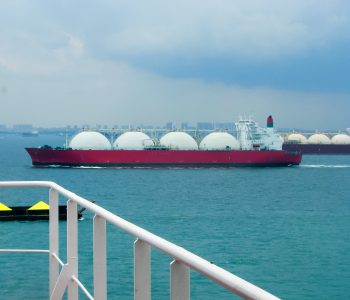 iStock.com/Alexey_Lesik
Can You Really Trust the Payout From This High-Yield Stock?
I skip over most high-yield stocks.
You don't need an MBA to understand why. These names often come with more red flags than a Communist Party parade, which explains why many investors have looked them over and moved on.
But today's stock should inspire confidence, at least as far as we care about dividend safety. Hoegh LNG Partners LP (NYSE:HMLP) owns a fleet of ships which store and transport liquified natural gas (LNG). And with a payout topping 10%, income hunters have taken notice.
But can such a rich distribution possibly be safe? Savvy dividend investors will check the financials before pulling the trigger on such a high-yield stock. Let's dig into the numbers.
Hoegh gushes profits, first off.
Last year, the business generated $72.5 million in distributable cash flow. Over the same period, management paid out $71.2 million to unitholders in distributions. (Source: "Hoegh LNG Partners LP – LATEST PRESENTATION," Hoegh LNG Partners LP, last accessed July 2, 2019.)
As a rule of thumb, I like to see businesses pay out less than 90% of their profits as dividends. That leaves management with a little bit of wiggle room to keep making payments even if business conditions soften. So Hoegh's 98% payout ratio is at the upper end of my comfort zone.
Those cash flows, however, will likely surge.
New technologies have unleashed vast quantities of natural gas, sending prices plunging. Overseas, however, supply shortages have kept commodity rates relatively high.
That mismatch has created an opportunity for anyone that can move natural gas overseas. LNG shipments, according to a recent report by industry trade publication OilPrice.com, are poised to hit an all-time record. That growing demand has sent charter rates for transport carriers soaring. (Source: "The LNG Shipping Market Is Set For A Bull Run," OilPrice.com, Jun 24, 2019.)
Hoegh sees an opportunity. To boost income further, management intends to acquire several new vessels from the firm's general partner. These acquisitions, in concert with price hikes for current customers, should allow management to grow the distribution at a mid-teen annual clip.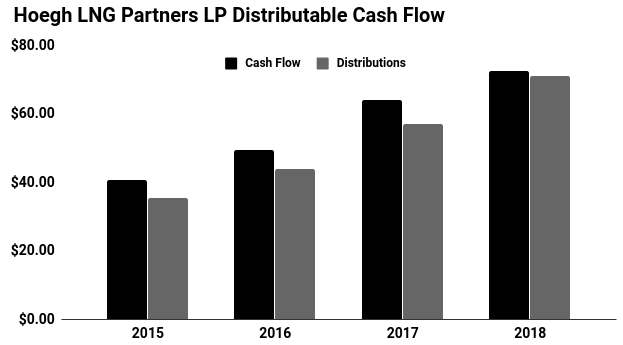 (Source: Hoegh LNG Partners LP, op. cit)
Hoegh LNG Partners stock isn't a slam dunk, of course.
Higher interest rates could clip cash flows. Because Hoegh funds most of its expansion with debt, a large increase in yields could push the partnership's distribution to the limits.
Investors also need to keep an eye on natural gas prices. More specifically, they need to keep an eye on the spread between U.S. and international benchmarks. If the spread between these foreign and domestic prices closes, that will mean less need for LNG carriers.
I'm not too worried, though.
Management has left themselves some financial wiggle room to handle a downturn. And with demand for new ships surging, executives should have no problem paying additional funds to unitholders year after year.
This looks like one of the few high-yield stocks you can trust.