Hoegh LNG Partners LP: A Top Dividend Stock with 9.3% Yield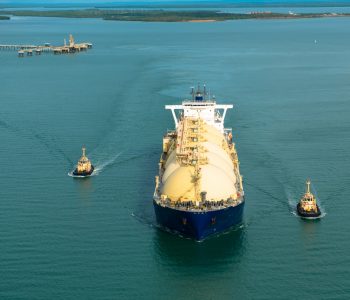 iStock.com/fjasefvb
1 Top Dividend Stock for the Next 10 Years
Today's chart highlights my favorite way to find top dividend stocks: picks and shovels.
Rather than taking the all-or-nothing route of searching for the next big strike, these companies provide tools and services to a commodity boom. They represent the safer (and sometimes more profitable) way to invest in the resource business.
Case in point: Hoegh LNG Partners LP (NYSE:HMLP). Investors have made a fortune on the natural gas gold rush, and this partnership sits on the front line of the boom. For owners, that has translated into a lucrative income stream.
New technologies have turned the United States into the Saudi Arabia of natural gas. We have so much in the way of supply that drillers literally flare the stuff off at wellheads. Rock-bottom prices mean it doesn't make sense to ship, store, and process it.
But that situation won't last. President Donald Trump wants to make America the world's largest exporter of liquefied natural gas (LNG), the clear liquid created when the commodity gets cooled down for export. Over the past few weeks, the administration has greenlighted a number of new terminals to spur shipments. (Source: "Liquefied Natural Gas Is All the Rage in the Trump Administration," Bloomberg, April 25, 2017.)
The market here could be huge. In Asia, for example, consumers pay twice as much for natural gas than households stateside. Their fast-growing economies chug down energy, surpassing output from local drillers.
Last year, America exported almost no LNG. By 2018, however, we could see shipments from the lower 48 states climb to six billion cubic feet per day. For perspective, this figure represents eight percent of the country's current natural gas consumption. (Source: "After six decades, U.S. set to turn natgas exporter amid LNG boom," Reuters, March 29, 2017.)
Hoegh has positioned itself right smack dab in the middle of the boom. The partnership owns a fleet of floating storage and regasification units, or FSRUs. These ships convert LNG from a liquid to a gas, where it's usable to make electricity.
You'll find these ships docked outside any country importing large amounts of LNG, kind of like a floating toll booth. The company earns a fee on every cubic foot of natural gas that flows through its network. If you want to export anything overseas, you have to pay a terminal owner like Hoegh.
And business is booming. World LNG supplies have soared over the past few years, far outstripping current conversion capacity. Because FSRUs can be built faster and cheaper than an onshore facility, Hoegh plays an important role in filling that gap.
For investors, this has created a tidy income stream. Hoegh signs long-term, fixed-rate agreements. This means profits have almost no exposure to the ups and downs in commodity prices. Management can literally circle the dates on the calendar decades in advance for when they'll get paid.
Most of these earnings get passed on to owners. Today, the partnership pays a quarterly distribution of $0.48 per unit, which comes out to an annual yield of 9.3%. That payout will likely grow over the coming years as executives add more vessels to their fleet.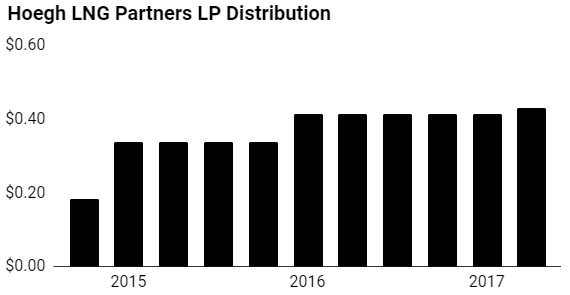 Source: "Distribution History," Hoegh LNG Partners LP, last accessed June 22, 2017.

The Bottom Line on HMLP Stock
Investors can hit it out of the park in a commodity boom by hunting for the next big strike. But for those of us without titanium orbs, pick-and-shovel suppliers represent the sleep-at-night route.
LNG could be the biggest investment opportunity of the next decade, and Hoegh sits on the front line of the boom. If you're looking for a reliable income stream, this is one top dividend stock to investigate further.