Highwoods Properties Stock: Reliable High-Yielder Reports Strong Earnings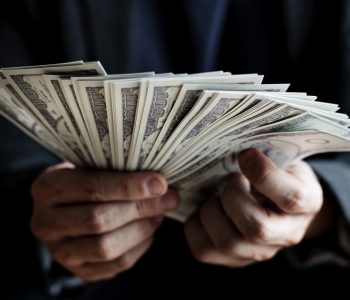 Why HIW Stock Has 35% Upside
It might be time for investors to dip their toes back into real estate investment trusts (REITs), especially profitable ones like Highwoods Properties Inc (NYSE:HIW).
REIT stocks took a big hit during the COVID-19 pandemic and the period since the Federal Reserve began its aggressive interest-rate hike policy in early 2022. Investors likely assumed that rising interest rates have a negative impact on REITs' financial results, but that isn't necessarily the case.
If anything, REITs should do well when interest rates climb. That's because most REITs have annual rent increases built into their leases. Those increases are generally tied to the Consumer Price Index (inflation). Highwoods Properties Inc's rents have been expanding at a compound annual growth rate (CAGR) of four percent.
Now that inflation is cooling and interest rate hikes are expected to wind down, income investors are taking another look at REITs. Apparently, they like what they see. The iShares Core US REIT ETF (NYSEARCA:USRT), which tracks investments in U.S. REITs, is up by roughly 8.8% since the start of 2023 and 15% since March.
That brings us back to Highwoods Properties Inc, which is a member of the S&P MidCap 400 index. It owns, acquires, develops, leases out, and manages office real estate.
The REIT's properties are primarily in areas it calls "best business districts" in Atlanta, Georgia; Charlotte, North Carolina; Dallas, Texas; Nashville, Tennessee; Orlando, Florida; Raleigh, North Carolina; Richmond, Virginia; and Tampa, Florida. (Source: "Investor Presentation: June 2023," Highwoods Properties Inc. last accessed July 24, 2023.)
Why Sunbelt cities? According to the Urban Land Institute, the current top U.S. real estate markets are in the South, including Nashville (No. 1), Dallas/Fort Worth (No. 2), Atlanta (No. 3), Tampa/St. Petersburg (No. 5), Raleigh-Durham (No. 6), and Charlotte (No. 10). The Sunbelt has been reporting employment growth that's two times the national average and population growth that's 2.5 times the national average.
Highwoods Properties Inc's real estate portfolio covers 28.8 million square feet, which is equivalent to about 500 NFL football fields. The properties currently have an occupancy rate of 89.6% and a weighted average lease expiry (which measures the average length of leases) of six years.
In terms of the industries in its tenant base, the biggest sectors by revenue are finance/banking (18%); legal and accounting services (17%); insurance (16%); health care and social assistance (12%); and technology, info media and telecom (nine percent).
Highwoods Properties Inc's biggest tenants include Bank of America Corp (NYSE: BAC), Metlife Inc (NYSE:MET), the U.S. government, and Vanderbilt University. Because of the company's diversification, its top 10 tenants only account for 20.7% of its annualized revenue, while its top 20 tenants account for 28.0% of its annualized revenue.
Strong Q1 Financial & Operating Results
For the three months ended March 31, Highwoods Properties announced that its total revenues increased by three percent to $212.7 million. Its net income climbed in the first quarter by 8.8% to $43.8 million, or $0.42 per share. (Source: "Highwoods Reports First Quarter 2023 Results," Highwoods Properties Inc, April 25, 2023.)
The REIT's first-quarter funds from operations (FFO) came in at $106.3 million, or $0.98 per share. Management also reported same-property cash net operating income (NOI) growth of 0.8%.
During the quarter, Highwoods Properties Inc leased out 522,000 square feet of properties, including 220,000 square feet of new leases. Moreover, it generated rent growth of 15.9% and cash rent growth of two percent.
Also during the quarter, the company sold a 0.2-acre (8,712-square-foot) non-core land parcel in Nashville for $1.9 million. It has a current total development pipeline of $518.0 million, covering 1.6 million square feet.
Ted Klinck, the company's president and CEO, noted, "We delivered strong financial and operating results to begin the year, delivering FFO of $0.98 per share, posting positive same property cash NOI growth and signing 522,000 square feet of second gen office leases with healthy [generally accepted accounting principles] and cash rent spreads." (Source: Ibid.)
He continued, "Additionally, we further strengthened our liquidity by obtaining a $200 million secured loan. We have ample existing capital sources to fund our remaining development spend and repay our consolidated debt maturities through year-end 2025."
Thanks to its solid first-quarter results, Highwoods Properties Inc updated its outlook for full-year 2023, which includes an increase in FFO and same-property cash NOI growth at their respective midpoints:
FFO in the range of $3.68 to $3.85 per share, up from previous guidance of $3.66 to $3.82 per share
Same-property cash NOI growth in the range of -0.5% to +1.0%
Year-end occupancy in the range of 89% to 91%
Highwoods Properties Inc's Dividend & Share-Price Performance
Highwoods Properties stock provides income investors with plenty of safety. It has a long history of paying dividends: 27 years and counting. In April, Highwoods Properties Inc's board declared a cash dividend of $0.50, for a current yield of 7.8%. That's more than twice the current inflation rate of 2.9%. (Source: "HIW Dividend History," Nasdaq, last accessed July 24, 2023.)
In terms of HIW stock's price, as noted earlier, all REIT stocks have been under pressure since the Federal Reserve started raising its key lending rate in early 2022. Recently, however, investor optimism about a pause—and eventual reduction—in interest rate hikes has brought bulls back into the REIT mix.
Highwoods Properties stock may be down by 2.8% year-to-date, but it's up by 14% over the last month (as of this writing).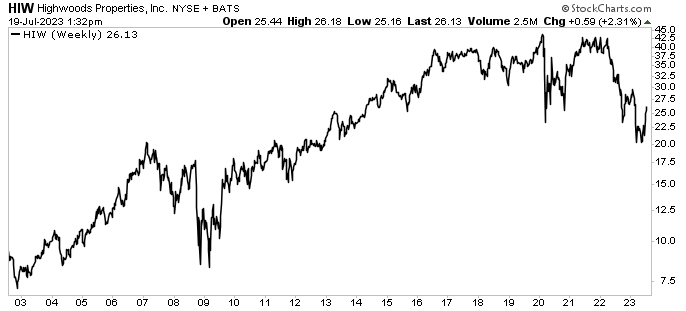 Chart courtesy of StockCharts.com
The upward move is justified, at least according to Wall Street analysts. They've provided a 12-month high estimate for HIW stock of $35.00, which points to potential gains in the neighborhood of 35%.
That would put Highwoods Properties stock back on a trajectory it's been following since the start of the new millennium. The only things that got in the way were the 2008 financial crisis and the COVID-19 pandemic.
Interestingly, HIW stock's current support level, which it recently bounced off of, was the record price it hit in early 2007, before the 2008 financial crisis.
The Lowdown on Highwoods Properties Stock
Highwoods Properties Inc is a great dividend-paying REIT with an office property portfolio that's focused on the U.S. Sunbelt. The company has resilient leasing and operations figures, a solid balance sheet, and plenty of opportunities for business growth. It recently reported excellent financial and operating results and increased its full-year guidance.
Thanks to the REIT's reliable cash available for distribution and FFO (which have grown at a CAGR of seven percent and 3.3% since 2010, respectively), income investors have been on the receiving end of safe, high-yield dividends for decades.
With U.S. economic data pointing to a mild, short recession (if there's a recession at all), the outlook for Highwood Properties' business and HIW stock's dividends and share price is excellent.