Highwoods Properties Inc: Market-Trouncing REIT With Growing 4.5% Yield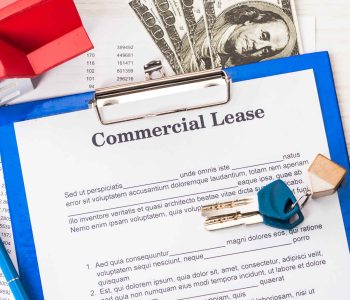 Highwoods Properties Inc Raises Guidance & Increases Dividend
If you want to become a real estate mogul but lack the funds and desire to be a landlord, Highwoods Properties Inc (NYSE:HIW) should be on your investing radar.
A real estate investment trust (REIT) with properties in several major U.S. cities, Highwoods Properties is a great high-yield dividend stock. The company has been doing everything right. Recently, it reported great second-quarter results, raised its full-year funds from operations (FFO) outlook, announced major acquisitions, and sold off some of its non-core assets. Moreover, the company has a solid balance sheet.
That might help explain why Highwoods Properties stock has been outpacing the broader market and its peers. The Vanguard Real Estate Index Fund ETF (NYSE:VNQ) is up by 30% year-over-year. That outpaces the S&P 500, which is up by 29% year-over-year. Both, though, trail the gains made by HIW stock, which is up by 36% over the same time frame.
With more and more people heading back to offices, and Highwoods Properties Inc strengthening its diverse property portfolio, it's safe to say the company's outlook is bullish.
Highwoods Properties stock needs to climb by seven percent to get to its record pre-coronavirus level of $48.72. If conservative Wall Street analysts are to be believed, HIW stock will surpass that in the coming quarters.
Of the analysts providing a 12-month share-price target for Highwoods Properties Inc, their average estimate is $50.67, with a high estimate of $53.00. That points to potential gains of 12.3% and 16%, respectively.
If you're a buy-and-hold investor and those double-digit gains aren't enough, you could sit back and take solace in knowing that the company is paying a high dividend yield of 4.5%.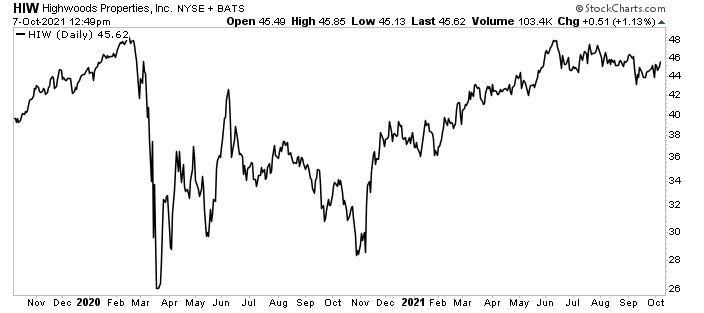 Chart courtesy of StockCharts.com
Highwoods Properties is a retail REIT that owns, develops, acquires, leases out, and manages properties primarily in "best business districts" (BBDs) in Atlanta, Charlotte, Nashville, Orlando, Pittsburgh, Raleigh, Richmond, and Tampa. (Source: "At-a-Glance: 1Q21," Highwoods Properties Inc, last accessed October 8, 2021.)
The company's property portfolio covers 28.3 million square feet and has an occupancy of 89.5%. Because of Highwoods Properties' solid tenant base, even during the COVID-19 pandemic, it has been able to collect 99% of its rent. And regardless of what has been going on with the local economy, the REIT still manages to raise its rents. From 2013 to 2021, the company increased its rents at a compound annual growth rate of (CAGR) of 4.1%.
Highwoods Properties Inc's top 10 tenants by percentage of rent are General Services Administration (GSA); Bank of America Corp (NYSE:BAC); MetLife Inc (NYSE:MET); Bridgestone Americas Tire Operations, LLC; PPG Industries, Inc. (NYSE:PPG); MARS Petcare; Vanderbilt University; EQT Corporation (NYSE:EQT); Bass, Berry & Sims PLC; and Tivity Health Inc (NASDAQ:TVTY).
Collectively, these 10 tenants account for 21.2% of the REIT's total annual rent.
Acquisition of Development Land In Nashville
On October 6, Highwoods Properties announced that it had acquired the remaining 77 acres of development land in the Ovation project in the Cool Springs district of Franklin, TN, one of Nashville's BBDs, for $57.8 million. (Source: "Highwoods Acquires Development Land in Nashville Area," Highwoods Properties Inc, October 6, 2021.)
Highwoods Properties now owns all of the Ovation development project, which encompasses 145 acres overall and is the largest planned mixed-use project in Williamson County.
Under the original master plan approved in 2015, the Ovation project was approved to develop 1.4 million square feet of office space, more than 400,000 square feet of retail space, 950 residential units, 450 hotel rooms, and 56 acres of perpetually dedicated green space. Highwoods Properties intends to reimagine the master plan as a high-density, mixed-use development.
The Ovation project is currently home to the U.S. headquarters of Mars Petcare, one of the world's leading pet-care providers,
$120-Million Non-Core Portfolio Sale
On October 4, Highwoods Properties announced that it had sold two non-core office buildings for $119.7 million. The company expects to record non-FFO gains of approximately $37.3 million in the third quarter in connection with these sales. (Source: "Highwoods Announces $120M of Non-Core Asset Sales," Highwoods Properties Inc, October 4, 2021.)
Management noted that the sale of the REIT's non-core assets, which now total $163.0 million, came as a result of its planned acquisition of Preferred Apartment Communities, Inc. (NYSE:APTS).
Back in July, Highwoods Properties announced that it had acquired a portfolio of office properties from Preferred Apartment Communities for $683.0 million, including planned near-term building improvements and transaction costs.
The company's long-term plan is to fund the acquisition primarily by accelerating the sale of $500.0–$600.0 million of existing non-core assets by mid-2022, approximately half of which is planned to close by year-end 2021.
Highwoods Properties Inc Reports Strong Q2, Raises Guidance, & Raises Dividend
For the second quarter of 2021, Highwoods Properties reported net income of $59.3 million, or $0.57 per share, up by 60% from its second-quarter 2020 net income of $37.0 million, or $0.36 per share. (Source: "Highwoods Reports Second Quarter 2021 Results," Highwoods Properties Inc, July 27, 2021.)
Its Q2 2021 FFO were $99.5 million, or $0.93 per diluted share, versus Q2 2020 FFO of $99.2 million, or $0.93 per diluted share.
The company ended the second quarter with $58.0 million of cash on hand and restricted cash, $595.0 million available on revolving credit facility, and full availability under an expected $200.0 million unsecured bridge facility.
Given its great second-quarter results and outlook for the remainder of the year, Highwoods Properties Inc announced that it had increased its full-year FFO guidance to the range of $3.62–$3.73 per share, versus the prior range of $3.54–$3.66 per share (which was provided on April 27).
The company also raised its quarterly dividend by 4.2% quarter-over-quarter to $0.50 per share. That translates to a yield of 4.5%.
The dividend is safe, too. The payout ratio is just 84.5%, well below the 90% threshold I like to see.
The Lowdown on Highwoods Properties Stock
Highwoods Properties Inc continues to be one of the best retail REITs out there. The company reported excellent second-quarter results and its highest quarterly leasing volume since 2019, which is also above its long-term quarterly average. Furthermore, the REIT's leasing volume was broad-based across markets and included the highest count of new deals since 2014.
This helped Highwoods Properties deliver strong FFO and robust same-property cash net operating income growth. That demonstrates the continued strengthening of its cash flows. It also allowed the company to increase HIW stock's high-yield dividend.