High-Yield Stocks: Little Known "Alternative Banks" Pay 21%+ Yields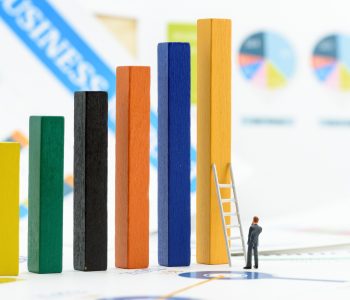 iStock.com/William_Potter
You Can Still Find High-Yield Stocks Hiding Here
Searching for high-yield stocks nowadays feels like panning for gold near an old mine: it's tough, backbreaking, and increasingly less profitable work.
Each week, I comb through dozens of income opportunities. I screen for high-yield dividend stocks on a regular basis, hoping to find something new for readers.
But nowadays, it feels like others have already staked the best claims. With interest rates at rock bottom levels, investors have bid up the price for the best income-producing assets. So when you stumble upon a name with a decent payout, it often turns out to be fool's gold—a second-rate business with diminishing prospects that will likely soon slash its distribution.
That said, you do find exceptions.
Once in a while, I find nuggets buried among the rubble of other high-yield stocks. And recently, I've found one of these opportunities in the real estate business.
Regular readers know I'm a big fan of mortgage real estate investment trusts (mREITs). Like the name implies, these partnerships borrow money from investors and invest the proceeds into mortgages. Management milks these loans for interest income, most of which they pass on to unitholders.
My colleague Jing Pan often describes these firms as "alternative banks." As he explains, they work in the same manner as tradition institutions: borrowing money from depositors and lending out their capital. But because mREITs have no ATMs, bank tellers, or physical branches, they can pay out much higher yields.
This industry, however, has had a tough go in recent years. mREITs make their money on the difference, or the "spread," between short- and long-term interest rates. The tighter the spread, the tighter their margins.
You can see the problem in the chart below. Today, the difference in yields between a 10-year U.S. Treasury bond and a two-year U.S. Treasury note stands at only 0.25%. That figure sits considerably below the long-term historical average and represents the smallest spread since the 2008 financial crisis.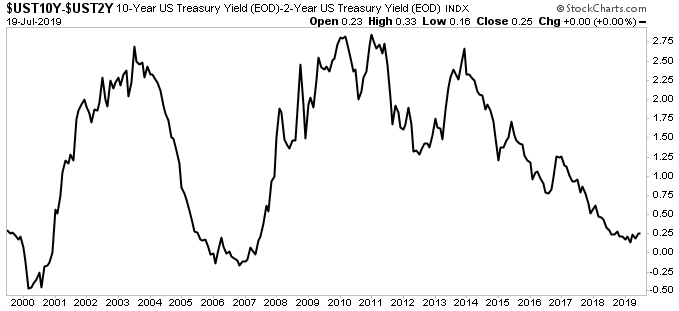 Chart courtesy of StockCharts.com
I can't predict where interest rates will go next. But over the next few years, the spread between short- and long-term yields will most likely increase. That outcome looks especially likely with the Federal Reserve poised to begin cutting interest rates over the next few months.
If we can buy an mREIT that can solider through these tough times, units could surge in value as business conditions improve. Namely, consider high-quality trusts like Annaly Capital Management (NYSE:NLY), AGNC Investment Corp (NASDAQ:AGNC), or Two Harbors Investment Corp (NYSE:TWO). In the meantime, some of these partnerships pay yields as high as 21%.
In short, investors have to shift through more rubble to strike dividend gold nowadays. But if you're willing to put in the homework, you can still find good, high-yield stocks. mREITs represent one of the best sources of income gold in the stock market today.