High-Yield Stocks: Collect a 13.1% Payout From This "Alternative Bank"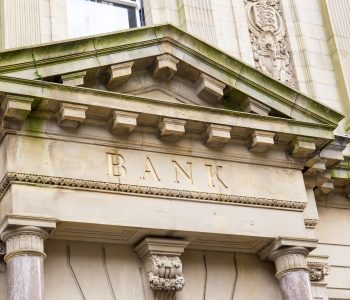 iStock.com/brinkstock
"Alternative Banks" Make for Great High-Yield Stocks
Income hunters searching for high-yield stocks should give this quiet industry a second look: "alternative banks."
My colleague Jing Pan coined the term to describe the growing industry officially known as mortgage real estate investment trusts (mREITs). Like regular financial institutions, these companies borrow money from lenders and invest the proceeds into higher-yielding mortgage loans. But unlike traditional firms, alternative banks have no ATMs, tellers, or physical branches.
These cost savings mean almost every dollar of interest income flows straight to the bottom line. As a result, mREITs are some of the best high-yield stocks around. It's not uncommon to see some of these partnerships paying yields as high as 21%. Not to mention that they represent one of the safest income streams.
Take New Residential Investment Corp (NYSE:NRZ). Since going public in 2011, the company has accumulated a portfolio of $3.0 billion in residential loans.
People tend to skip their mortgage bill last when they run into financial trouble. And even if a homeowner does default, lenders have the house as collateral. Moreover, residential loans pay reliable interest. This creates a generous stream of income for NRZ stock investors—one which rolls in like clockwork month after month.
New Residential supplements this income stream further through its mortgage service business. In essence, this means the company acts as the liaison between homeowners and lenders: the company sends out bills, manages escrow accounts, and processes monthly payments. New Residential also coordinates the collections process in the event a borrower defaults. In exchange for these services, the company earns a fee in exchange, based on the principal value of the loan.
This diversification separates the partnership from other alternative banks. If interest rates drop, New Residential Investment Corp earns higher margins from its residential loan business. If interest rates rise, the firm collects more fee income from its service business because borrowers often don't refinance their mortgages. Simply put, when one business zigs, the other zags. That allows the company to make money no matter what the economy does.
Most of this money gets passed on to investors. Since going public in 2013, New Residential has delivered a total return of 138%. Over that same period, the mREIT has more than tripled the size of its common distributions. Today, NRZ stock pays a quarterly dividend of $0.50 per share, which comes out to an annual yield of 13.1%. (Source: "Dividends, New Residential Investment Corp, last accessed July 19, 2019.)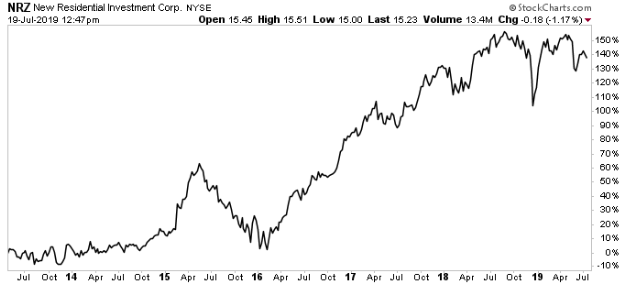 Chart courtesy of StockCharts.com
And I expect that income stream to keep growing in the years ahead. Last fall, New Residential announced its acquisition of mortgage originator and servicer Shellpoint Partners LLC for $190.0 million. Months later, this purchase was followed by a strategic investment in loan service provider Covius Holdings Inc. (Source: "New Residential Investment Corp. Announces Strategic Investment in Covius Holdings," New Residential Investment Corp, May 1, 2019.)
Aside from padding the bottom line short-term, these purchases give New Residential first crack at some of the best mortgage loans going forward. Also, size and scale will spread the partnership's fixed costs over a wider base of service fees, boosting profit margins from that business.
The Bottom Line on NRZ Stock
Now this is the part where you might be thinking about how to cash in. As usual, I like to present readers with two options.
Investors who can stomach the risk might want to consider New Residential Investment Corp's common units. This issue offers the highest yield and growth potential over time. These higher potential returns, however, come with more volatility because common unitholders stand last in line to get paid.
Alternatively, New Residential Investment Corp. 7.5% Series A Fixed-to-Floating Rate Cumulative Redeemable Preferred (NYSE:NRZ.PA) presents a good income opportunity. The issue will pay a fixed dividend of $1.875 per annum until August 15, 2024. Thereafter, investors will receive ongoing payments which will fluctuate based on prevailing interest rates at the time. While these shares pay a lower yield, payments will roll out in a much more predictable fashion.
Regardless of which option you choose, alternative banks present some of the best high-yield stocks around.