5 High-Yield Dividend Stocks Yielding Up to 11.4%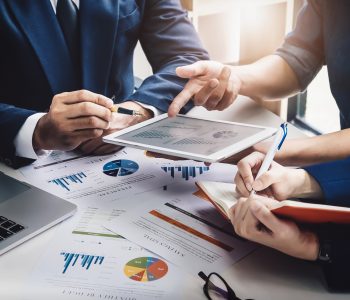 iStock.com/Jirapong Manustrong
Where to Find High-Yield Dividend Stocks Right Now
I know the feeling. You're searching for a decent stream of income. But when you check the yields on bonds or bank CDs, you find that they pay next to nothing.
You can earn higher returns in the stock market. Blue-chip stocks, though, yield only one or two percent. Worse, high-yield dividend stocks seem about as safe as standing between a mama bear and her cubs.
And you're not the only one. I get e-mails from readers every day complaining about today's low interest rates. It feels downright impossible to fund a comfortable retirement without a seven-figure nest egg.
Thankfully there's an answer.
For years, I've shown readers how to invest in high-yield dividend stocks. More importantly, I have managed to invest in this niche without suffering big losses.
The trick? You need to do extra homework and bring a healthy amount of skepticism. In other words, I've adopted the philosophy that every company is guilty until proven innocent.
This approach will allow you to spot hidden opportunities and avoid stomach-churning losses. You can find great payouts out there, but only if you're willing to kiss a lot of frogs.
The 3 Pillars
To help get you started, I have created a quick stock screen.
In my paid advisories, I sometimes write about the "three pillars" of a safe distribution: yield, debt, and cash flow. If a company has these three traits, you might have a winning candidate.
First, and perhaps most obviously, I only included stocks that pay out at least five percent. I don't mind a small yield that can grow over time, but today we're looking for hefty distributions to pad our income right now.
Second, I want to see low debt-to-equity ratios. High debt loads can squeeze a firm's cash flows during a downturn. And if creditors rein in lending, over-leveraged businesses often have to cut their distributions.
Finally, I need to check cash flows. Businesses have to generate real profits in order to pay shareholders. If distributions exceed the cash flow generated by the business, the income stream stands on borrowed time.
5 Top High-Yield Dividend Stocks
My screen returned dozens of results. In the table below, I have picked out the top five high-yield dividend stocks:
| | | |
| --- | --- | --- |
| Company | Industry | Yield |
| Buckeye Partners, L.P. | Pipelines | 8.9% |
| Main Street Capital Corporation | Business Lending | 7.8% |
| Global Net Lease Inc | Real Estate | 11.4% |
| Enable Midstream Partners LP | Pipelines | 9.5% |
| Iron Mountain Inc | Storage | 6.8% |
(Source: Yahoo! Finance, last accessed April 16, 2019.)
Now let me be clear: I haven't slapped a "BUY" rating on all of these high-yield dividend stocks. The list above only represents a place to begin further research.
That said, you have some interesting ideas here.
Take Iron Mountain Inc (NYSE:IRM), for instance. Document storage is a relatively recession-proof business, with high switching costs forcing customers to roll over contracts year after year. Warehouses require little upkeep, so much of the business's revenue flows straight to the bottom line. As a result, Iron Mountain makes for one of the few safe seven-percent yields around.
You should not be surprised to see two pipeline businesses on this list: Enable Midstream Partners LP (NYSE:ENBL) and Buckeye Partners, L.P. (NYSE:BPL). New technologies have unlocked vast quantities of oil and natural gas across the United States. New production, however, has exceeded the industry's transportation infrastructure. This has allowed incumbent firms to jack up their tolls on existing pipelines, resulting in outsized dividends to shareholders.
Global Net Lease Inc (NYSE:GNL) is the most marginal candidate in this table. And that should come as no surprise, seeing as it has the highest yield. This real estate investment trust pays out almost all of its cash flows to unitholders, which doesn't leave management with a lot of wiggle room. That said, executives operate the business with a minimal debt load.
Furthermore, the partnership's cash flows are backed by rock-solid tenants like ING Group (NYSE:ING) and FedEx Corporation (NYSE:FDX). That situation has funded a steady stream of distributions for investors since Global Net Lease went public a few years ago.
Finally, take a look at Main Street Capital Corporation (NYSE:MAIN). The company makes loans to small and mid-sized business across the country. Because most banks ignore this area of the market, Main Street can charge high interest rates.
And given that the company enjoys senior status on most of these deals, management can recoup most of their money if the borrower's business goes bust. As a result, Main Street has funded a monthly dividend to shareholders for over a decade. Executives supplement this income stream further through the occasional special distribution.
The Bottom Line on High-Yield Dividend Stocks
Don't get discouraged by today's low interest rates. If you're willing to do some homework, you can invest in high-yield dividend stocks. The list above provides a great starting place for research.