The High-Yield Dividend Stock Defying the Coronavirus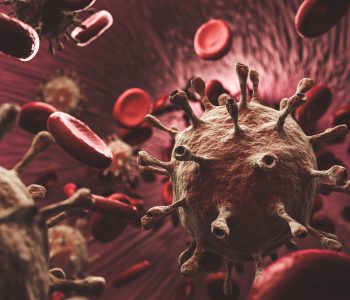 My Favorite High-Yield Dividend Stock for 2020
Most high-yield dividend stocks won't survive COVID-19.
A nationwide shutdown has forced many companies to close their doors. That means they don't have any cash coming in to make rent or payroll. It also means they don't have any cash to pay shareholders.
We have already seen hundreds of blue-chip businesses suspend their payouts: Alaska Air Group, Inc. (NYSE:ALK), Royal Caribbean Cruises Ltd (NYSE:RCL), National-Oilwell Varco, Inc. (NYSE:NOV), Molson Coors Beverage Co (NYSE:TAP). But one high-yield dividend stock appears to be bucking the trend.
CoreSite Realty Corp (NYSE:COR) is one of the largest owners of data centers in the world. Much of the country's Internet traffic passes through its facilities each day. So every time you send an e-mail, stream a video on "YouTube," or upload a picture on "Facebook," chances are your digital traffic passes through a CoreSite center somewhere in the country.
The business model is pretty straightforward: companies lease space at CoreSite facilities to store their data terminals. In exchange, these businesses pay CoreSite lease payments that roll in at the end of each month.
You probably know many of the company's customers: Amazon.com, Inc. (NASDAQ:AMZN), Microsoft Corporation (NASDAQ:MSFT), Oracle Corporation (NASDAQ:ORCL), Alphabet Inc (NASDAQ:GOOG), and IBM (NYSE:IBM). In other words, CoreSite's tenants are a veritable "who's who" list of Silicon Valley's top companies. (Source: "Earnings Release and Supplemental Information Quarter Ended March 31, 2020," CoreSite Realty Corp, last accessed June 26, 2020.)
That explains why the company has sailed through the recent pandemic without so much as a hiccup in profitability. In May, CoreSite's operating revenues topped $147.4 million. That comes out to a 6.1% increase year over year. Fund flows from operations per share, a common measure of business performance in the real estate industry, improved by 3.2% from the same period in 2019. (Source: "CoreSite Reports First Quarter 2020 Financial Results," CoreSite Realty Corp, April 30, 2020.)
That growth rate might not knock your socks off. But during a period when hundreds of thousands of businesses will shut their doors, any growth whatsoever looks exceptional.
More impressively, management even maintained their profit outlook. For full-year 2020, CoreSite executives project that operating revenues will come in between $600.0 and $610.0 million. Over the previous year, that comes out to a 6.5% increase at the high end. (Source: "Earnings Release and Supplemental Information Quarter Ended March 31, 2020," CoreSite Realty Corp, op. cit.)
"First, we're fortunate to be in the data center space," explained CoreSite's President and Chief Executive Officer Paul Szurek to investors on a recent conference call. "Our data center campuses and related connectivity services meet essential needs of businesses, governments, healthcare and academia as they work through the challenges of this pandemic, along with their normal operations." (Source: "CoreSite Realty Corporation (COR) CEO Paul Szurek on Q1 2020 Results," Seeking Alpha, April 30, 2020.)
For shareholders, this reliable income stream has allowed management to continue paying distributions. In May, management declared a quarterly payout of $1.22 per share. That comes out to a dividend yield of 4.1%, but flat from the same period in 2019. (Source: "CoreSite Realty Corporation – Dividend History," CoreSite Realty Corp, last accessed June 26, 2020.)
No doubt, that decision disappointed some investors who have grown accustomed to a payout bump each spring.
But given that companies elsewhere have slashed payouts left and right, maintaining a dividend represents an achievement. And in light of the economic depression elsewhere, I would call CoreSite's decision to keep a little extra cash on hand a prudent measure.
I don't, however, expect this high-yield dividend stock to keep that payout flat for long.
The massive work-from-home experiment, courtesy of the COVID-19 pandemic, has triggered a spike in Internet traffic. Think about all of the extra e-mails, "Skype" calls, and "Zoom" meetings that office workers make now that they can't connect face to face.
Much of that boost in demand will likely be sustained even as we move to a "new normal" post-coronavirus. That will keep vacancy rates for data centers abnormally low for the foreseeable future.
CoreSite, in particular, is well positioned to cash in on this increased demand.
The company has four new centers under construction, with new sites opening soon in New York, San Francisco, Chicago, and Los Angeles. And this spring, management completed construction on phase three of its massive data center project in New Jersey. (Source: CoreSite Realty Corp, April 30, 2020, op. cit.)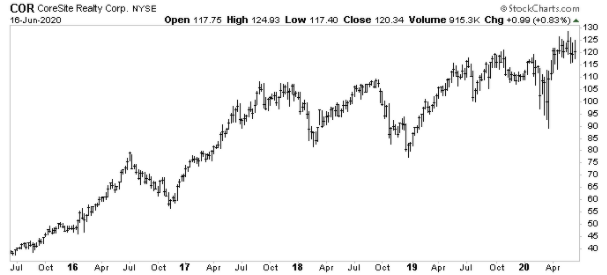 Chart courtesy of StockCharts.com
All that should allow CoreSite to continue padding its bottom line.
Over the next five years, analysts project that the company will grow its cash flow at a 15% compounded annual clip. Executives could boost that growth rate even further through acquisitions.
That should eventually translate into distribution hikes once the pandemic ends.
Bottom line: Despite the recession, CoreSite Realty Corp's financial position remains strong. That has allowed this real estate investment trust to continue paying distributions while other companies suspend or slash their payouts. And as we emerge from the COVID-19 crisis, the distribution from this high-yield dividend stock will likely surge.