Uniti Group Inc: A 10% Yielder High Dividend Opportunity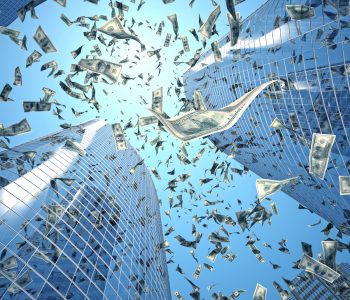 Earn 10.1% Yield from This Top Dividend Stock
Usually, investors would think twice before putting their money in high-dividend stocks. In most cases, high-dividend stocks are able to offer such attractive yields only because of their disappointing stock price performance. If a stock's poor performance is due its deteriorating business, it would not be a good dividend stock no matter how high its yield is. Because eventually, a deteriorating business will have no option but to cut its payout.
However, that does not mean income investors should ignore high-dividend stocks altogether because once in a while, there could be a forgotten dividend-paying gem. With investors around the world searching for yields, few things are better than picking up a solid dividend stock on the floor.
I believe Uniti Group Inc (NASDAQ:UNIT) represents one of those opportunities.
Readers of this column would know that I'm a big fan of telecom companies. Because of the high barriers to entry of this industry, competition is limited. This allows companies in the industry to generate sizable profits year after year.
Uniti Group Inc is not a telecom company. Instead, it focuses on the acquisition and construction of communications infrastructure. By the end of March, the company owned 4.2-million fiber strand miles, 468 wireless towers, and other communications infrastructure in the U.S. and Latin America.
The communications infrastructure owned by Uniti Group is leased to companies in the telecom industry, as well as governments. On a pro forma basis, wireless carriers are the biggest revenue contributors to Uniti Group, accounting for more than 60% of the company's total revenue. (Source: "Deutsche Bank 25th Annual Media & Telecom Conference Presentation," Uniti Group Inc, March 8, 2017.)
Now, you might be wondering, since wireless carriers make so much money, why should investors consider a telecom infrastructure company?
Well, one of the things that make Uniti Group unique is that it is structured as a real estate investment trust (REIT).
For a company to qualify as a REIT, it needs to meet certain income and diversification requirements. Moreover, REITs are required by law to distribute almost all their profits to shareholders in the form of dividends. The benefit is that they pay little or no income tax at the company level.
In other words, REITs act as a pass-through entity, reducing the effects of double taxation. Their required distributions also make them great candidates for high-dividend stocks.
REITs can specialize in many areas: retail properties, residential properties, health care properties, etc. Uniti Group is a telecom infrastructure REIT. While this is not the most common type of REIT, Uniti Group does have a solid strategy in place.
First of all, the company has some high-quality tenants. Among its key tenants are wireless carriers such as Verizon Communications Inc. (NYSE:VZ), AT&T Inc. (NYSE:T), and T-Mobile US Inc (NASDAQ:TMUS). Moreover, Uniti Group's infrastructure assets are also leased to Internet giants like Amazon.com, Inc. (NASDAQ:AMZN) and Alphabet Inc (NASDAQ:GOOG).
This High-Dividend Stock Offers a Unique REIT Investment Platform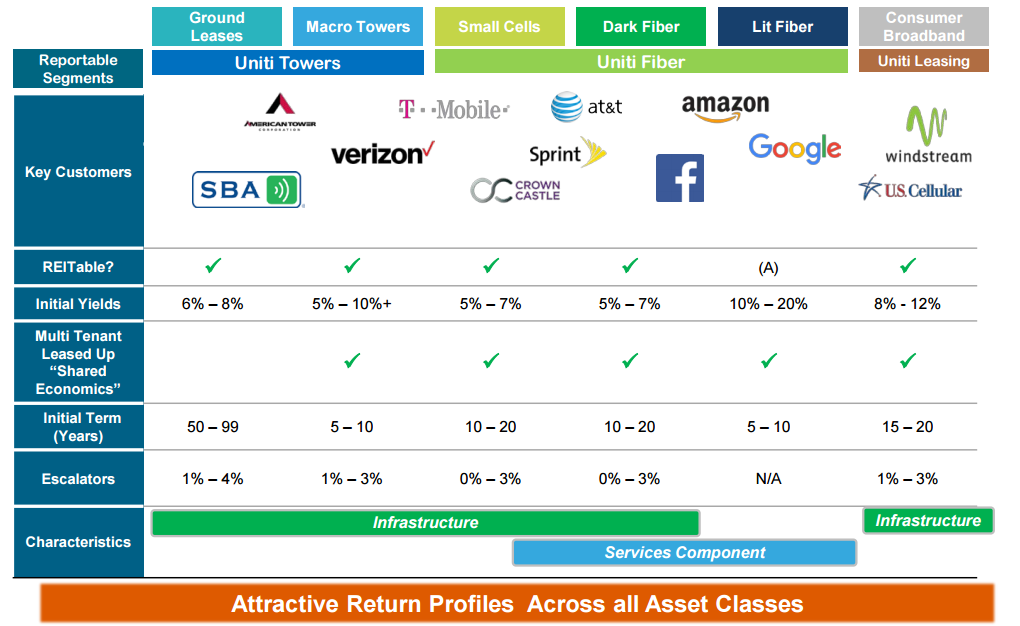 Source: "Deutsche Bank 25th Annual Media & Telecom Conference Presentation," Uniti Group Inc, March 8, 2017.
At the same time, due the nature of the telecom industry, Uniti Group's tenants are willing to sign long-term leases. If you've ever been a landlord, you know you would consider yourself lucky when you find a tenant who's willing to sign a one-year lease. Uniti Group's tenants, on the other hand, are willing to lease up to 10, and sometimes 20, years.
In the real estate business, few things are better than having high-quality tenants that are willing to lease on a long-term basis. This adds stability and durability to Uniti Group's cash flows.
Right now, the company pays quarterly dividends of $0.60 per share. At today's price, that translates to an annual yield of 10.1%, making Uniti Group a true high-dividend stock.
Going forward, there should be plenty of growth opportunities for the company. A lot of wireless carriers are divesting their infrastructure assets. Uniti Group could acquire those assets and lease back to the carriers.
The Bottom Line on This High-Dividend Stock
At the end of the day, keep in mind that communications infrastructure represents a unique class of asset. It's extremely difficult to get the permission to build them, and once they are operating, there isn't much competition. As a company that owns a large amount of these unique assets, Uniti Group is worth considering for investors looking for high-dividend stocks.
Als Read:
10 Best Blue-Chip High-Dividend Stocks for 2017
10 Highest-Paying Dividend Stocks for 2017