Omega Healthcare Raises Its Payout Every Quarter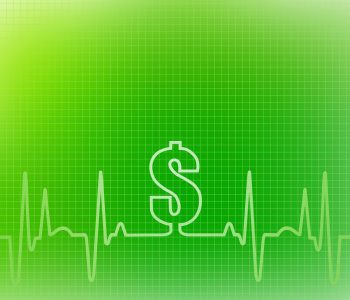 1 High-Dividend Stock Currently Yielding 8%
In most cases, higher returns come with higher risk. But there are exceptions. For instance, the high-dividend stock I'm looking at right now has an eight-percent yield and is backed by a rock-solid business with great growth prospects.
The company in question is Omega Healthcare Investors Inc (NYSE:OHI), a real estate investment trust (REIT) headquartered in Hunt Valley, Maryland. As the name suggests, Omega is a healthcare REIT or, more specifically, one that focuses primarily on skilled nursing facilities. Right now, 86% of the company's property investments are in skilled nursing and transitional care facilities, while the remaining 14% are in senior housing facilities.
The first thing to note is that healthcare is a classic example of a recession-proof industry. Whether the economy is booming or contracting, people who need medical care will most likely go get it. For a real estate company that leases its properties to healthcare operators, this could translate to a stable stream of rental revenue.
Second, the ongoing demographic trend works in favor of the long-term care industry. According to the Population Reference Bureau, the number of Americans age 65 and older is projected to more than double from 46 million today to over 98 million by 2060. As more baby boomers enter their golden years, the demand for long-term care could see a significant increase. (Source: "Fact Sheet: Aging in the United States," Population Reference Bureau, last accessed June 2, 2017.)
What does this mean for this high-dividend stock? Well, Omega Healthcare predicted that, without reducing the lengths of stay and increased utilization of alternative care sites, the aging demographics would drive occupancy rates of skilled nursing facilities beyond capacity in less than 10 years.
Business Set to Grow Due to Ongoing Demographic Trend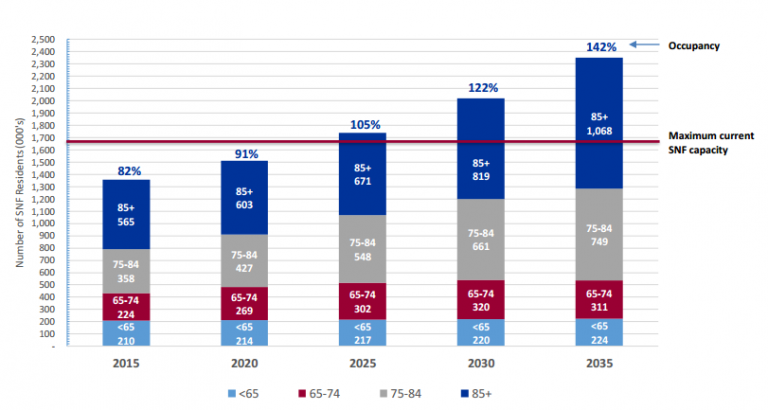 Source: "Investor Presentation," Omega Healthcare Investors Inc, last accessed June 2, 2017.
So, the company is in the right type of business. But since it's offering such an attractive yield, it must mean it had a terrible stock price performance, right?
Well, not exactly. While some companies are offering high yields because of their subdued share price, Omega Healthcare has actually been delivering solid returns. The chart below shows Omega's share price performance from December 2002 to December 2016. During this period, OHI stock achieved a compound annual growth rate of 16.4%.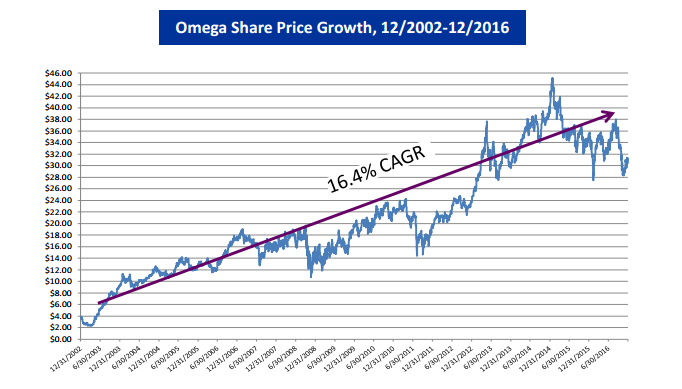 Source: "Investor Presentation," Omega Healthcare Investors Inc, last accessed June 2, 2017.
The main reason why this high-dividend stock can offer such an attractive yield is the company's ability to raise its payout. While most dividend growth stocks like to boast how they raise their dividends every year, Omega Healthcare Investors decided to grow its dividends more frequently—on a quarterly basis. In fact, OHI stock investors have been enjoying quarterly dividend increases for 19 consecutive quarters. In the past 10 years, the company's quarterly dividend rate has increased 133%. (Source: "Dividends," Omega Healthcare Investors Inc, last accessed June 2, 2017.)
With a rock-solid business and a rising payout stream, this high-dividend stock deserves a spot on every income investor's watchlist.
Also Read:
Best 3 Healthcare ETFs to Invest in 2017
10 Best Real Estate Stocks to Own in 2017